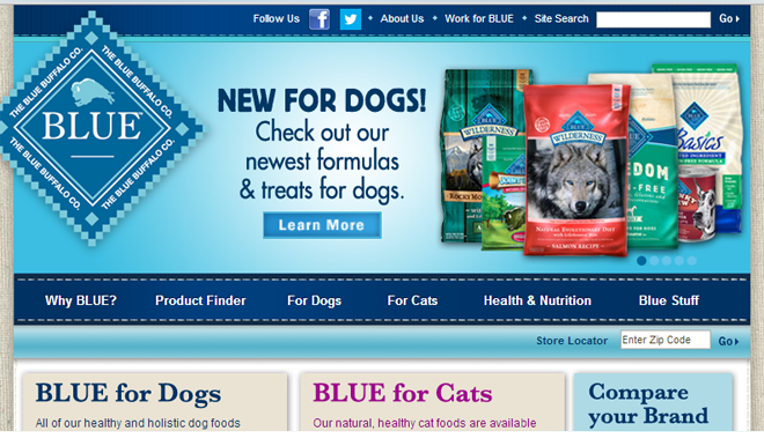 There's a war brewing in the pet-food kingdom.
Nestle's Purina PetCare -- a mainstay in the pet-food realm -- sued its smaller competitor Blue Buffalo Tuesday for allegedly misleading customers on claims about ingredients in its foods.
At the kernel of the case is a claim by St. Louis, Missouri-based Purina that Blue Buffalo's dog foods do in fact contain animal by-products, corn and other items that its advertising specifically says the company forbids. If substantiated, the accusations could deal a powerful blow to the fledgling firm that has based its success on transparency about the ingredients it uses.
In an exclusive interview with FOX Business, Blue Buffalo's founder and chairman, Bill Bishop, aggressively fired back at the pet-food powerhouse.
Bishop, whose career took roots in the advertising sector, painted a story of David vs. Goliath.  In his view, Purina is trying to wreck its much smaller rival by leveraging its size and legal team.
"We became the fastest growing pet food … (and it) really pissed off a lot of bigger companies," he said in the telephone interview. "We find ourselves at a place where our friends at Nestle are [in] the 'if you can't beat them, sue them'" mindset.
Purina, which was founded in the late 19th century as a seed company and then turned into a pet food producer in the 1920s, is a unit of Swiss-based Nestle, which has a market capitalization of around $250 billion. Blue Buffalo was founded about 12 years ago, and while Bishop declined to specify exactly how large the privately-held firm is, he said it's about one hundredth the size of Nestle's value.
Blue Buffalo has gone head-to-head against Purina and other mainstream dog brands. The Wilton, Conn.–based company markets its foods as being free of animal by-products, corn, and various other grains that are commonly used in animal foods.
Bishop founded the company after his dog Blue, an Airedale Terrier, was diagnosed with cancer. He previously had success as one of the founders of the SoBe beverage company. Blue Buffalo's claim isn't so much based on the nutritional quality of the food, but about the transparency of the ingredients.
"We advertised very aggressively on the basis of you should really know what's in your pet's food," he said. "We tapped into a broad-based trend 'if you love your pet like family, you want to feed them like family.'"
'Weird Science' or Searing Indictment?
Purina's allegations that Blue Buffalo has misled customers about its ingredients strike at the very core of the company.
Bishop alleged Purina's laboratory results were "based on some kind of weird science." He categorically denied Purina's allegations and said the pet-food company didn't reach out to Blue Buffalo before hitting it with a lawsuit in federal court.
"We haven't purchased one kernel of corn, nor have we bought one ounce of by-product meal," he said, noting that he can't imagine how Purina's independent lab tests found any of the substances in the foods.
Blue Buffalo uses third-party co-manufacturers to produce its foods, but Bishop said the company provides all of its own ingredients. Bishop said, however, that he trusts his manufacturers and that his firm has "people watching the manufacturers" closely for quality-control purposes.
Still, Bishop wouldn't entirely rule out the possibility of a small-scale snafu at the manufacturer level.
"Could anything happen with one isolated incident?" he asked, "Possibly, but it's really unlikely."
He also noted that the company is currently working on developing its own manufacturing facilities.
Keith Schopp, a spokesperson at Purina, shot back at Bishop: "This is exactly what we expected from Blue Buffalo, which isn't being honest about the quality of the ingredients in its pet foods," he said in a statement.
Schopp also responded to Bishop's assertion that Purina's lab results represented voodoo science, saying "we are confident in our independent testing and we look forward to proving our case in court."
Bishop vowed to "respond aggressively" to Purina's legal suit, although he didn't say whether the company would counter-sue.
Stuck in the Middle
Another side of this war in the pet space is that it places pet-store chains in an awkward position between two feuding suppliers whose items they stock. For now, it appears the major brands are sticking on the sidelines.
Lisa Epstein Stark, a spokesperson for Petco, said the firm prefers not to comment on the matter. While Erin Gray, who represents PetSmart, said, "as a practice, PetSmart does not comment on pending litigation." She added that the firm will be "monitoring the litigation closely and will take next steps as appropriate."
Incidentally, Petco is teaming up with Blue Buffalo on Pet Cancer Awareness Month in May, in which the duo is looking to gather $2 million in donations for research on the subject. And Blue Buffalo actually initially launched its brand in PetSmart's stores, according to Bishop.
The market for pet food has blown up in recent years. Nestle saw sales of about $12.83 billion in its pet care division globally last year, with organic growth of 6.8%, according to regulatory filings.
The American Pet Products Association estimates $22.62 billion will be spent by Americans on pet food this year, up from $21.57 billion last year. The trade group's data show total U.S. spending on pets has surged some 244% to $58.51 billion over the past 10 years.