Pet Parents, aka Big Spenders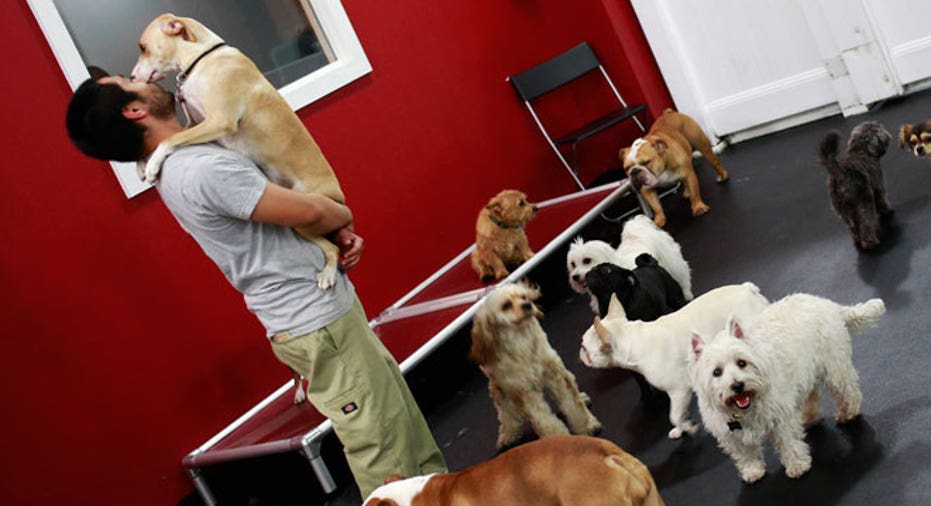 Chances are you own a pet—according to the American Pet Products Association (APPA), 68% of American households (or 83 million homes) do. This is up from 56% in 1988, the first year the APPA conducted its National Pet Owners survey. In all, there are more pets (396 million) than people (318 million) in America, though to be fair, that's skewed by the number of freshwater fish (145 million) people own. In terms of popularity, cats (96 million) outnumber dogs (83 million), although more Americans own dogs than any other pet (57% of U.S. households own one).
The APPA estimates Americans will spend $59 billion on our pets this year, while market research firm Packaged Facts projects we'll actually spend $73 billion by year's end. And while this is a record number (and more than triple what we spend two decades ago), the trend is in what we're spending that money on.
According to Packaged Facts, "humanization," which is when the products consumers buy for their pets mimic the types of products they buy for themselves, is a growing trend.
These "pet parents" (I shuddered a little typing that phrase) are considered premium pet shoppers. The Toronto Globe and Mail says, "In the past our pets were beloved, now they are full-fledged members of the family." And a recent article in The Los Angeles Times focused on a new trend in home design. The paper talked to architects and home designers who noted, "More dog owners are considering their pets' needs when building or remodeling their homes: asking for pooch-friendly spaces, ordering specialized cabinets for pet bowls and food, and adding canine-only showers and tubs."
Marketing Daily, a marketing newsletter, talked to George Puro, the Packaged Facts analyst who wrote the report. Puro says pet retailers are selling human-like products, such as energy bars (Purina), glucosamine and omega3 supplements (GNC), gluten-free foods, pet bowls from ultra-chic designer Bottega Veneta and Simmons Beautyrest pet beds.
The good news for retailers targeting the pet industry is there's a lot of money being spent. Marketing Daily reports that these premium pet shoppers have household incomes of $70,000 and more annually and have put the past "economic doldrums" far behind them. Other Packaged Facts surveys have shown that for these consumers, money is no object when spending on their pets. One survey found that 30% of pet product buyers agree with the statement, "I prefer to shop at pet product retailers that offer the best products available, even if they are more expensive."
Obviously this is an industry loaded with potential for small business owners. Your target market is predisposed to spending—and spending big. You could start selling online—or even offer unique products on sites like Etsy. And unlike buying for kids, the pets can't whine to their "parents" about what they bought them, likely minimizing returns.
Rieva Lesonsky is CEO of GrowBiz Media, a media and custom content company focusing on small business and entrepreneurship. Email Rieva atrieva@smallbizdaily.com, follow her on Google+   and Twitter.com/Rieva, and visit her website, SmallBizDaily.com, to get the scoop on business trends and sign up for Rieva's free TrendCast reports.