Pet Debt: How Animals Cost You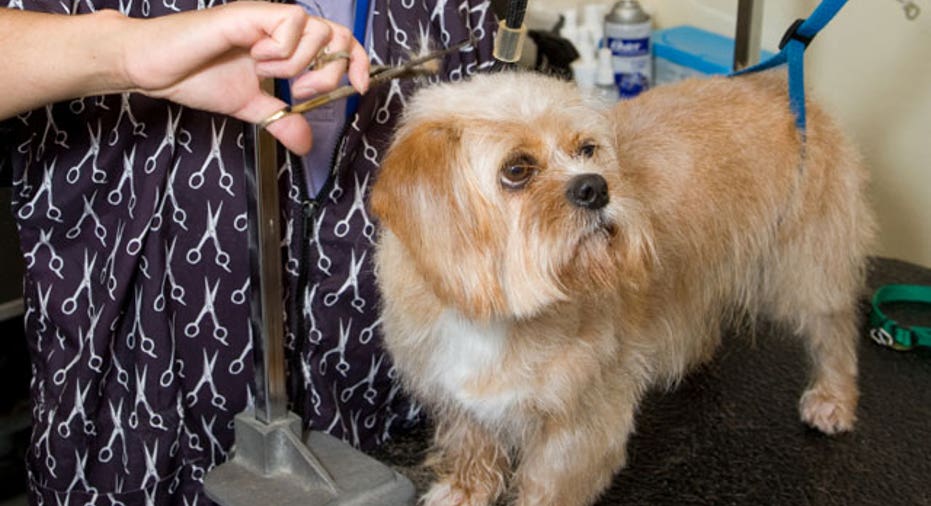 If only all our beloved pets were as lucky as former hotel magnate Leona Helmsley's Maltese, Trouble. Bequeathed millions after Helmsley's death in 2007, Trouble passed away in December 2010 after living in the lap of luxury. Vet bills? No problem. Round-the-clock care? Covered.
It's the rest of us bourgeois pet owners who routinely fall into debt as we struggle to pay for the care and feeding of our beloved furry, feathered or other nonhuman friends. And this upkeep can sometimes push us over the edge financially.
Upkeep versus over-keep
The real cost of a pet just begins at acquisition. In fact, Americans spend vast sums keeping their animals happy and healthy. The American Pet Products Association estimates that U.S. citizens will drop more than $50 billion on them in 2011, a figure which includes food, supplies, over-the-counter medicine, veterinary care, grooming and boarding.
"I think one of the most important things people forget is how to be a knowledgeable consumer," says Chicago based veterinarian Bruce Silverman. "After working in a huge number of [pet] hospitals, I've seen fees for services, medications and products vary all over the board."
Lynn Edwards, owner of Dirty Dogs Pet Services in Highland, N.Y., has observied the spending habits of pet owners for more than 14 years and notes that some owners go to selfless extremes. "People will give up something like taking their families to a movie or getting their own hair done so that they can get their dog groomed," says Edwards. "People will actually cook for their dogs or buy them a special diet to keep them healthy when they can't afford it."
Prepare for daunting veterinary bills
Of all the expenses that go into caring for an animal, it's the unexpected medical procedures that can derail a budget the fastest. Romping with Fido? A pet's torn knee ligament costs an average of $1,578, says a June 2011 analysis of claims filed with Veterinary Pet Insurance Co., which insures 485,000 pets in the United States and compiled a list of the 10 most-expensive pet injuries.
To get the best care, many pet owners sacrifice their financial stability. For example, Betsy Lampe of Highland City, Fla., says she willingly went into debt to pay for her dog Cheech's renal disease treatment, even while struggling with her own medical bills from her kidney cancer. "My efforts kept him alive for almost two years after diagnosis," says Lampe. "He lived to be 14." Her costs included Cheech's regular erythropoietin shots, which were $70 each, expensive lab work to assess his anemia and kidney function, and a constant stream of vet visits for examinations.
And as Tobi Kosanke, owner of Crazy K Farm in Hempstead, Texas, knows, it's not only mammals that can inspire overcharging. "I spent nearly $4,000 on the chicken love of my life," says Kosanke of her bird Lucy, who was ill and needed several exploratory surgeries to determine what was wrong. She had a specialist flown in, and his bill alone was $2,600. "Would I do it again?" asks Kosanke. "For Lucy, yes. I do not regret spending the money. I only wish she had survived. I am still paying down that credit card debt."
Still, big vet bills can be avioded. Silverman asserts that while top dollar can buy great pet health care, comparative shopping makes sense. "Pet care needs to be a team effort between pet owners and their veterinarian. In this way, people may avoid excessive debt," he says.
Pet insurance to the rescue
Kosanke learned from her experience. Today she has pet insurance policies on most of her animals, which runs just $12 per month in premiums per bird. "I have since had two chickens with similar problems to what killed Lucy, and one passed away under anesthesia, but the insurance covered 90% of her $800 bill."
Greg McFarlane, author of "Control Your Cash: Making Money Make Sense," is an advocate of these pet wellness plans. "The small monthly investment can save you from getting into big debt if you don't have the savings to cover something as common as a teeth cleaning," says McFarlane, who credits the insurance for saving him nearly $5,000 in pet care bills over the past three years.
According to Dr. Jules Benson, vice president of veterinary services at the pet insurance company Petplan, the average premium for a dog is around $30 per month and $17 for a cat. As with all insurance policies, you're hedging your bets. If your animal doesn't need expensive care, you're out the money. But if it does, the benefits can be monumental. "We have clients who have been reimbursed over $40,000 for their pets' health problems," says Benson. "It's simply not realistic to think these families would have been able to stay out of considerable debt -- or even afford the treatments at all -- without pet health insurance."
No insurance? You have alternatives
So what happens if you don't have pet insurance, but you're faced with a large bill that you can't cover with cash? Most veterinarians have partnered with companies that offer no-interest payment plan options.
CareCredit, for instance, offers people a way to pay for vet bills over six to 24 months, finance-charge free. Mind, though, that to qualify you must have good credit and that GE Money Bank (the company  offering these credit lines) will assess an annual interest rate of 26.9% to the balance if you don't pay in full within the agreed-upon time.
Of course, you can charge the expenses with your credit card, too, and many do. "No one wants to be cheap when it comes to possibly saving a pet's life, and when faced with that choice without an emergency fund there, most pet owners are going to turn to credit cards to plug the hole," says Kelley Long, a Chicago CPA and personal financial coach. If you do charge the bill, delete the balance within a few months to minimize interest from increasing the amount you owe.
Prepare for unexpected pet expenses
Above all else, develop a comprehensive cash flow plan with your pet in mind. Food, regular "wellness visits" to the vet, grooming and even pet-sitting services are easy to predict and need to be budgeted for -- just like one would budget for their own groceries, annual visits to the doctor and dentist, says Long.
Open a separate savings account for your companion's out-of-the-ordinary needs, too. "As far as budgeting for the unexpected illness, accident or even necessary dental cleanings, I advise at least a $500 pet savings fund to help with those times," says Long.
In the end, building the wide spectrum of animal care costs into your budget will go a long way toward avoiding crushing pet debt.
More from CreditCards.com: