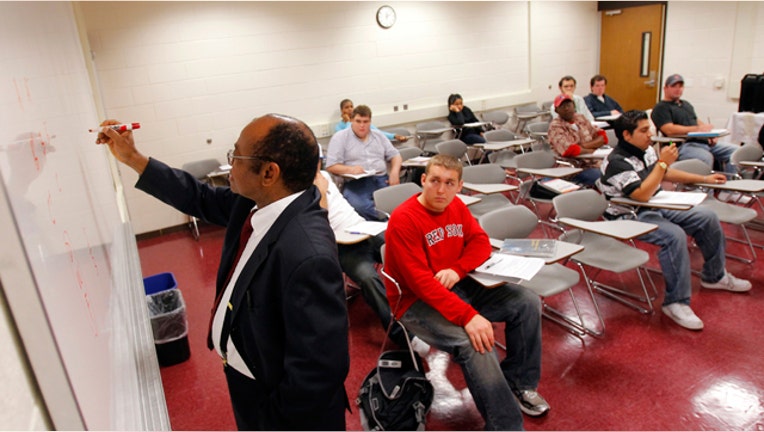 Growing up is tough enough without the worries of your financial future, so Money101  is here for you. E-mail us your questions and let us take off some of the pressure.
The adjustment from high school to college can be a hard transition--but now students can get some extra help making the jump from a virtual tutor.
According to a new report from McGraw Hill Education, higher education institutions are increasingly using advanced educational tools that include futuristic ways of learning to help students become more accustomed to lecture-hall style learning and campus living.
The report, titled "Brave New World of Education: Personalized Adaptive Learning Tools Promise One-on-One Tutoring for All Students," explains that through three main programs (LearnSmart, ALEKS and Power of U), students can constantly update their inventory of what they have and haven't learned.
Referred to as "adaptive learning", digital and web-based software assess a student's current knowledge on a subject and how that knowledge is evolving. The program builds on an initial assessment of the level of comprehension, and increases in difficulty as it  tracks a student's progress in real time.
McGraw Hill designed these programs to cater to the needs of students of all ages, with the math pilot program Power of U directed toward middle school students, and LearnSmart (an interactive study tool) and ALEKS (a web-based assessment and learning system) for college students.
"In a classroom of 30 different students, you have 30 different learners and trying to teach to the middle, maybe five to 10 of those students actually can be reached and the other 20 are basically are left to their own devices," says Travis Hamilton, director of data-driven engagement for Power of U at McGraw-Hill School Education. "What adaptive technology allows us to do is to be able to create personalized groups and classes for students on an everyday basis."
Student Reaction
A common misconception about adaptive learning is that it is only useful for students who are struggling or have learning disabilities, says Jay Chakrapani, vice president and general manager of McGraw-Hill Higher Education's Digital Group.
"If you have a really capable student who's not being challenged, they start to tune out and that's just as much as of an issue as if you have a struggling student who's having trouble keeping up," he says."
Hamilton says personalized learning has also led to an increase in student engagement in classrooms.
"I see students whose attendance rates go up, their performance rates go up, their test rates go up, their outcomes improve when you use this kind of adaptive learning technology at the K-12 level," he says. "Teachers are more efficient, I see students that are better learners, and I see entire school buildings that are being more successful."
College students are also responding positively, says Ohio University chemistry professor Shadrick Paris, who has been using LearnSmart in his classroom for the past year and says his students prefer using the program to traditional calculation based homework.
"They find that when they come to my office, they seem to feel more prepared to answer questions and we can get down to the root of the problem rather than going through the process of identifying what do they know and what do they not know," he says.
Chakrapani says that non-traditional students who are older with career and family obligations find the programs allow them to learn more efficiently with limited time.
He cited a nursing school student that uses the program to keep her accountable for her own learning. "Without it, she would be staring at a text book and a pile of notes she took from an online lecture, [but LearnSmart] is like a personal coach and knows what she should be doing next."
In the Classroom
The intent of super adaptive technology is not to replace teachers in the classroom but to make them more effective and efficient, says Hamilton.
"Our focus is on how do we save teachers time, how to help them personalize instruction in a way that's more efficient to them," he says.
Paris explains that as an instructor, he feels confident that students are coming to class with a certain level of knowledge from multiple resources rather than trying to learn everything from lectures.
"One of the biggest problems is that students don't want to do a lot of reading outside of the classroom and LearnSmart bridges that gap," he says. "It's giving you a lot of the information you would get from the book without having to read straight through."
What's to Come
Chakrapani says that the performance data McGraw Hill gathers from students who use programs like LearnSmart allows them to see how personalized learning can affect education and career pathways.
"There's so much potential with what we're doing, and we're starting where we are because we're basically building critical mass usage around this," he says. "Right now in the higher ed space, we've got three million new learners a year using our systems. With that basic data, we can start to tackle these big macro challenges in education."
Paris points out that as college enrollment continues to increase year after year, personalized learning programs will allow schools to better serve students with different learning styles.
"The hardest thing when you get into class with 300 students and you have to teach a certain aspect of that subject--how do you reach all of them?" he say. "[Adaptive technology] is a way to reach a broad range of students, which is something we haven't had in the past, and many of these students would have suffered and couldn't quite grasp the concepts in class--I think we're reaching those students now."