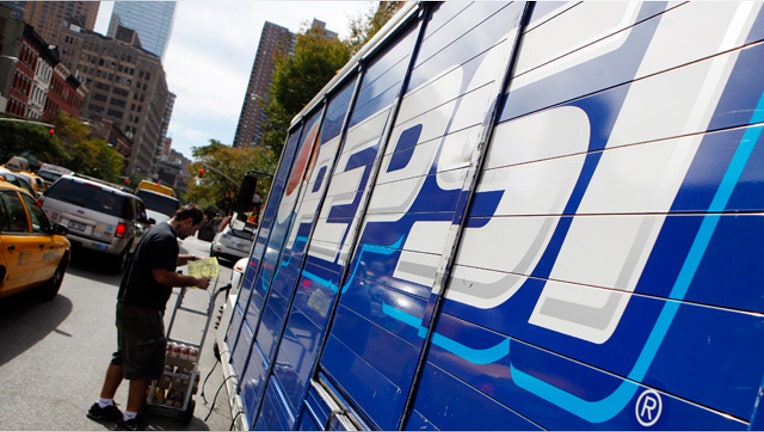 Food and beverage giant PepsiCo (NYSE:PEP) revealed a stronger-than-expected 17% jump in fourth-quarter profits on Thursday amid solid organic revenue growth and strength in Latin America.
Shares of the parent of Gatorade and Tropicana rose about 2% in response to the earnings beat, which was disclosed shortly before Warren Buffett announced a $28 billion bet on the food industry by acquiring H.J. Heinz (NYSE:HNZ).
PepsiCo said it earned $1.66 billion, or $1.06 a share, last quarter, compared with a profit of $1.42 billion, or 89 cents a share, a year earlier.
Excluding one-time items, it earned $1.09 a share, down from $1.15 a year earlier but above the Street's view of $1.05.
Revenue dipped 1% to $19.95 billion, besting consensus calls from analysts for $19.7 billion. However, organic revenue jumped 5%. Operating margins were unchanged at 11.1%.
"We're encouraged by the progress we're making and expect performance in the coming year to be consistent with our long-term targets," CEO Indra Nooyi said in a statement.
Looking ahead, PepsiCo forecasted 2013 organic revenue growth in the mid-single digits and core EPS growth of 7%.
PepsiCo also unveiled plans to raise its annualized dividend in June by 5.6% to $2.27 a share, up from $2.15 a share.
PepsiCo's fourth-quarter net income was impacted by a number of one-time items, including a tax benefit worth 14 cents per share and a pension settlement of 8 cents a share.
The company's Americas food group generated an 8% jump in organic revenue, while Doritos maker Frito-Lay logged 5% organic revenue growth.
PepsiCo said its Latin America foods group enjoyed a 13% leap in organic revenue, while Quaker Foods North America saw organic revenue rise 5% and its Americas beverage division increased organic sales 2.5%.
Shares of Purchase N.Y.-based PepsiCo rallied 2.10% to $73.00 Thursday morning, extending their 2013 gain of 4.5%.