Peloton Riding the Boutique Fitness Craze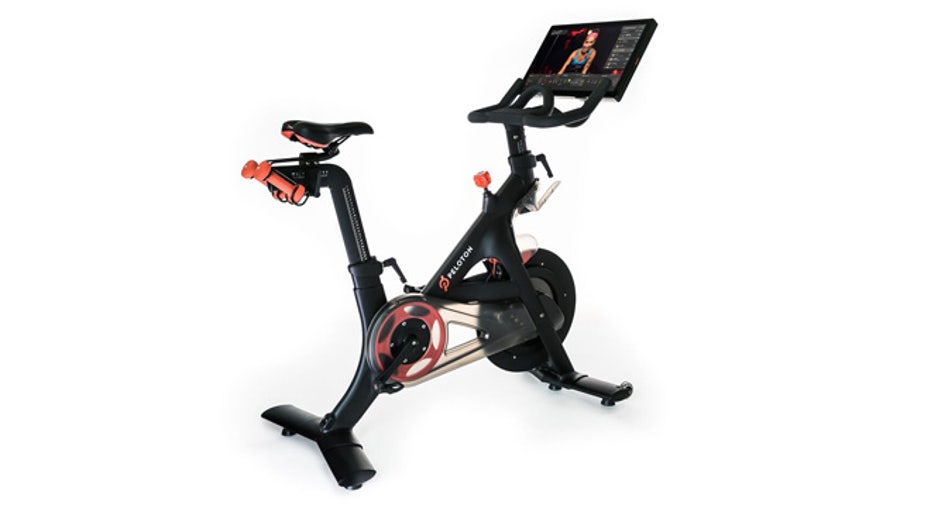 Imagine participating in a top-notch boutique fitness class from the comfort of your home. That's the experience Peloton aims to deliver to its customers.
Peloton, which refers to the main group of riders in a road bicycle race, was founded in 2012. It operates a cycling studio in Manhattan and sells its top-of-the-line bikes at several retail locations around the U.S. as well as online. Its most recent retail store opened on Long Island on August 17.
"From a design standpoint, it's not your grandparents' at-home fitness equipment," Peloton's Chief Revenue Officer Tim Shannehan told FOXBusiness.com. "We deliver an experience that allows people to get a boutique fitness workout from the convenience of their home."
The bike comes equipped with a monitor that is four times the size of an iPad screen. Peloton bike owners can live stream any of the classes conducted at the Manhattan studio. They can also choose from thousands of previously filmed classes to stream on-demand.
The price of the bike is $1,995, plus $39 per month for unlimited streaming.
"We deliver an experience that allows people to get a boutique fitness workout from the convenience of their home."
John Foley, CEO and founder of Peloton, told FOXBusiness.com he and his wife had always been fans of boutique fitness, but found it difficult to fit classes into their schedules after having kids.
"My wife would be at home with the kids, put one of them down for a nap and say, 'wouldn't it be great if I could get in a workout right now?'"
John, a competitive cyclist and tri-athlete, also yearned for classes that he could easily incorporate into his daily routine as a working father.
"We thought about just being a software company, but it turned out there were no good bikes on the market," Foley said. "We wanted something that was really immersive."
Foley says he contacted boutique cycling studios that already had a well-established market presence, but was unable to forge a partnership. It was then that he decided to open his own studio.
Foley initially raised $400,000 from friends and family, which was enough to open the first office, hire the very first employees and get the first bicycle prototype built.
A production team developed a television-style studio. They implemented moving cameras and special lighting effects suitable for live streaming classes.
As for the bike, Foley says the company wanted to make it as interactive as possible. Those at home can track their metrics in the same way that those riding at the studio can, while a leaderboard ranks everyone participating. At-home riders can also video chat with other remote riders during a class to up the participatory element.
The first bikes were shipped out in February 2014. Since then, 10,000 bikes have been sold. As of August, over 500,000 rides have taken place in 50 states and 22 countries.
"We are growing 500% year-on-year," Foley said.
Celebrities are even climbing on board the Peloton bike. Though the company cannot disclose exact names, they say 50 celebrities own the bike. Sofia Vergara and P. Diddy each posted pictures to social media of themselves on their Peloton bikes.
In order to keep up the momentum, Peloton is focusing on increasing their manufacturing capabilities. The company can now make tens of thousands of bikes per year, whereas a year ago they were on back order. They currently employ around 200 people and are looking to hire an additional 150 in the coming year, including more software engineers and salespeople. Peloton also seeks to improve their software and open more retail stores.
"We can push new software through your local bike; each week there's new features to introduce," Foley said.
Peloton plans on opening four to five new retail stores by year end, and adding another five by the end of the second quarter in 2016. Though boutique fitness brands including Soul Cycle have recently filed for IPOs, Foley says the time is not quite right yet for Peloton.
"The idea of going public is enticing, but we're probably a couple of years out."
The company's headquarters are located in Manhattan.