Pebble Demand a Good Sign for Apple Watch?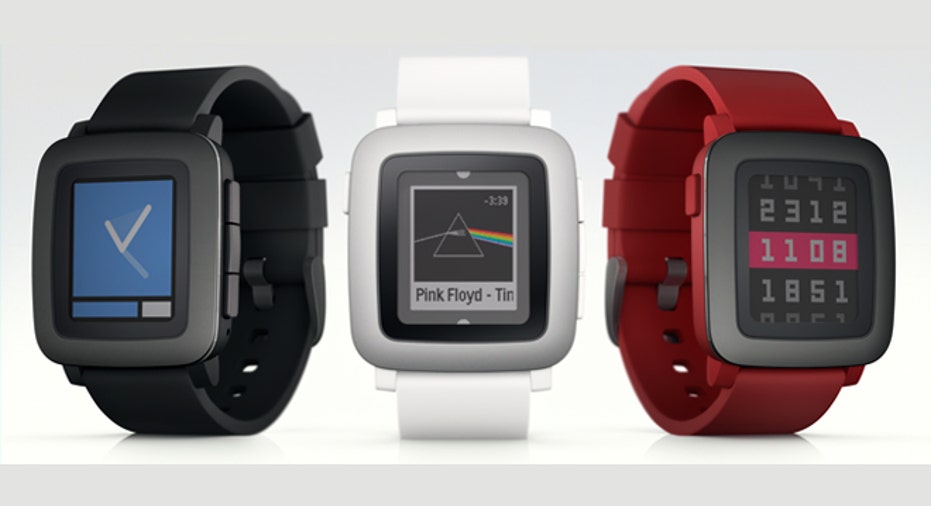 In what could be considered a sign of optimism for the smartwatch market, Pebble Time raised almost $10 million dollars by its second day on crowdfunding site, Kickstarter.
An early pioneer in the smartwatch category, Pebble came to prominence in 2012, with its original crowdfunding campaign. Since then, bigger players like Samsung and Sony have entered the marketplace.
The Apple (NASDAQ:AAPL) Watch is scheduled for release in April, and investors are watching other smartwatch sales as a possible bellwether of things to come. A particular emphasis has been placed on design, as consumers seek wearable devices with style.
"Most people wear a watch not simply to tell time but as a piece of a jewelry," Robert Cihra, analyst at Evercore, said. "A big hurdle for smartwatches is the fashion element."
And Yoko Yamada, analyst at Daiwa Capital Markets, said, "A smartwatch is a kind of sports watch, I don't think it's very fashionable. ... Some geek might like Pebble watch but it's not for every person."
But most analysts feel that the cult-like following of Apple will help set this device apart from the herd. Smartphone integration is a key component for the watches, and Apple has already garnered a significant portion of the U.S. market.
"There's a pretty good chance that Apple is the only successful smartwatch out there," Cihra said, who is forecasting that 18 million Apple Watch devices get sold in 2015.
Colin Gillis, analyst at BGC, is bullish on Apple Watch sales, but says that investor expectations may already be too high. It could be the "fastest sellest product in Apple's history but that may not be enough to move the stock," Gillis said.
Gillis says the lower price point is part of what helps Pebble, with the watches expected to retail for $199. The Apple Watch is expected to start at $349 and may cost thousands for some of the customized gold versions. Both Gillis and Cihra are predicting an average retail price of $500.
Others in the wearable space include fitness bands, Jawbone and Fitbit. While the fitness bands are retailing at lower price points than the Apple Watch, the smartwatches have more capabilities beyond health tracking.
"While in a lot of ways it's going to be a competitor to fitness-only products, Apple might just raise demand for all wearables," Cihra said. Fitbit has been rumored to IPO this year, but lackluster sales in the face of increased competition could potentially derail it.
But regardless of the overall appetite for smartwatches, the consensus seems to be that Apple will be the clear leader.
"I think it's likely to be the only smartwatch that does well," Cihra said.