Peace Corps Seeking a Few Good Boomers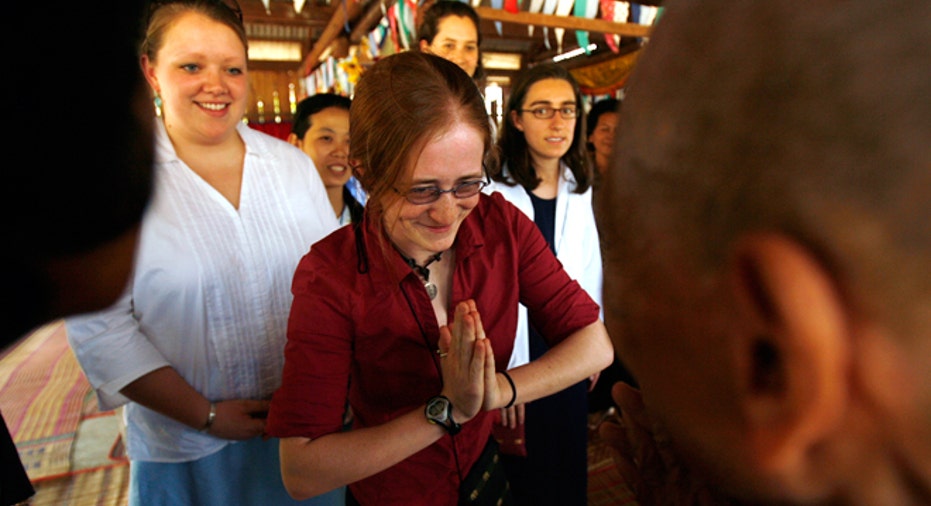 The Peace Corps and Baby Boomers have something in common: age. The Peace Corp will celebrate its 54thanniversary in March this year. Today, about 7% of the program's volunteers are 50 or older.
"I'd like it to be closer to 15 percent" said Peace Corps Director Carrie Hessler-Radelet. "The Peace Corps has always been open to volunteers of all ages, but we've made a much more purposeful effort to recruit older volunteers." Four generations of Director Hessler-Radelet's family have served as volunteers in the Peace Corps.
I had a chance to discuss the challenges for older Americans and why the Peace Corp is looking for a "few good boomers" with Hessler-Radelet. Here is what she had to say:
Boomer: What are some of the reasons the Peace Corps is looking for volunteers from the baby boomer generation?
Hessler-Radelet: The Peace Corps is a life-defining experience for Americans of all ages. Peace Corps service is a great way for older Americans to continue their careers in a non-traditional environment. Volunteers age 50 and over have a wealth of life skills, professional experience, and tested maturity that prepares them to make a lasting impact in the communities they serve. And in many cultures, older members of society are viewed and treated with a great deal of respect. They also play a valuable role as mentors and resources for our younger volunteers.
Peace Corps volunteers serve across 64 countries around the world, and there is no upper age limit to service. In 2014, about 7 percent of our volunteers were 50 and over. Historically, Peace Corps volunteers have ranged in age from 18-85. Arthur Goodfriend of Honolulu, Hawaii, was the oldest Peace Corps volunteer in the agency's history. He was 87 when he completed his service in Hungary in 1994.
Four generations of my family have served as Peace Corps volunteers, including my grandparents, who served later in life.
Boomer: What challenges do older volunteers face in joining the Peace Corps?
Hessler-Radelet: Each volunteer experience is unique, but there are some age-based differences. Older volunteers may have more difficulty learning a new language, so they can request an individualized approach to language learning during their pre-service training.
The medical evaluation process is the same regardless of an applicant's age; however, the medical assessment process may take longer for applicants with more involved health histories. We encourage our older applicants to review the living conditions and medical considerations sections of a volunteer opportunity before submitting their application to find the service opportunity that's right for them.
Boomer: How does the application process work, and can I choose where I want to go?
Hessler-Radelet: This summer, we announced sweeping changes to our recruitment and application process that makes applying to the Peace Corps simpler, faster and more personalized than ever before. Now, applicants can choose the specific programs and countries they want to apply to, so older Americans considering Peace Corps service can seek out new experiences or put their past experience to work. If applicants want to speak Spanish, they can apply to Spanish-speaking countries. If they want to work in the health sector, they can apply to health programs.
All of our programs are listed on our website (www.peacecorps.gov) by country, work area and departure date, so applicants can browse service opportunities. After completing our new, shorter online application that takes about an hour, applicants can select the programs they'd like to apply to. Each person can apply to up to three specific countries and program areas at a time or say "send me where I'm needed most." All of our service opportunities also now have clearly identified apply by and know by deadlines, so applicants know when they can expect to receive an invitation.
Following our application reforms, we were delighted to see a substantial increase in the number of applications we received from Americans age 50 and over.
Boomer: Once assigned to the Peace Corps, what is the usual length of stay?
Hessler-Radelet: The traditional Peace Corps program is 27 months, which includes an average of three months of in-country training in language, cross-cultural and technical skills. In addition to our two-year program, our Peace Corps Response program offers short-term, high-impact overseas assignments for returned Peace Corps volunteers or professionals with at least 10 years of work experience. These positions are highly technical and are shorter-term placements, ranging from three months to one year.
We also have a new opportunity for health professionals called the Global Health Service Partnership, which is a public-private partnership program that places qualified nurses, physicians and other health professionals as adjunct faculty in medical or nursing schools overseas. This is an exciting program that is growing, and it's our first formal, organized effort to send U.S. healthcare professionals abroad with a focus on teaching and expanding clinical capacity.
Boomer: What do I need financially once I am assigned? Will my room and board be taken care of? What can I expect to be paid for my services?
Hessler-Radelet: The Peace Corps provides volunteers with housing and a living stipend that enables them to live in a manner similar to the local people in their community of service, including food and incidentals. It also covers the cost of transportation to and from their country of service.
Volunteers receive comprehensive medical and dental benefits during service. Each post has a Peace Corps Medical Officer to provide primary care, and full medical insurance covers 100 percent of primary care, hospitalization, medical evacuation, prescriptions and dental care needs during service. Other benefits include 48 paid vacation days, a readjustment allowance of more than $8,000 upon completion of service, and job support and federal employment advantage after service.
We hope you'll visit our website, www.peacecorps.gov, to learn more about the Peace Corps!