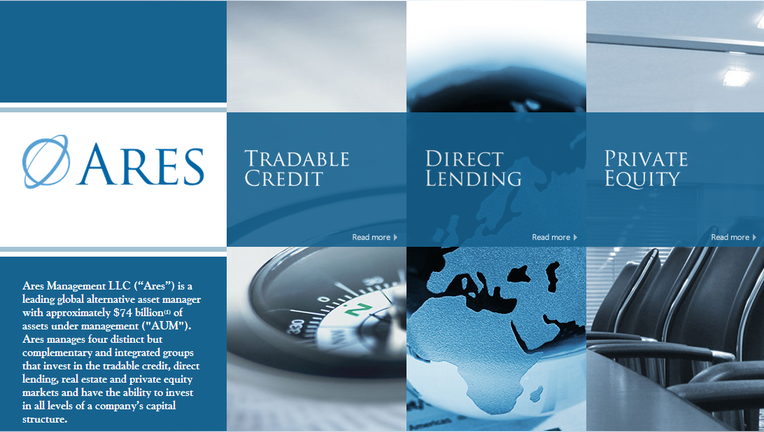 Investment firm Ares Management LP said on Tuesday its initial public offering is expected to raise up to $419 million and that its chief executive and co-founder Anthony Ressler received $138.6 million in pay and dividends in 2013.
The disclosure, made in an update of the Los Angeles-based firm's IPO registration filing, underscores how even the most publicity-averse credit investment and private equity firms such as Ares have to reveal sensitive financial information, including on their founders, if they wish to go public.
The offering of 18.2 million common units is expected to be priced between $21 and $23 per unit, the company said in the filing. Ares will offer 11.36 million common units, while selling shareholders will offer the rest.
Ares will have a market value of about $4.86 billion at the high end of the expected range if all the common units outstanding after the offering are exchanged for newly issued common units.
In 2013, Ressler, 53, received $15.5 million in compensation, mostly from performance fees generated from his firm's funds, and $123.1 million in dividends as a result of his stake in Ares, according to the filing.
By comparison, already public peer Blackstone Group LP Chief Executive Stephen Schwarzman received $374.5 million in pay and dividends in 2013, Apollo Global Management LLC CEO and co-founder Leon Black received $369.4 million, KKR & Co LP co-CEOs Henry Kravis and George Roberts received $161.4 million and $165.5 million respectively, while Carlyle Group LP founders David Rubenstein, William Conway and Daniel D'Aniello each received $92.9 million.
Ressler will only sell a small portion of his equity in the firm and own as little as 30.2 percent of Ares' outstanding common units following the IPO, Ares said in the filing.
Ressler invested $16.6 million of his own money in Ares' funds in 2013 and received $15.2 million in the same year as a result of his personal investments in the firm's funds in previous years, according to the filing, which does not disclose how much of that is profit for Ressler.
SHADOW BANKING
Ares is more known for its high-profile leveraged buyouts such as the $6 billion acquisition of luxury department store operator Neiman Marcus Inc last year.
Ares had $74 billion of assets under management as of the end of December, $55 billion of which were in private and public credit strategies, rather than private equity. It also runs Ares Capital Corp, the largest among shadow banking vehicles involved in direct lending known as business development companies.
Its stronghold in direct lending and wider credit investments can be traced to the roots of its founders, Ressler, John Kissick, Bennett Rosenthal and David Kaplan. Ressler and Kissick worked as bond traders in the 1980s at Drexel Burnham Lambert, and in 1990 co-founded Apollo alongside Black, Marc Rowan and Joshua Harris.
At Apollo, Ressler and Kissick led the firm's capital markets business and in 1997, spun it out into Ares, which became independent in 2002. Rosenthal joined Ares in 1998 from Merrill Lynch & Co's global leveraged finance group while Kaplan joined in 2003 from investment firm Shelter Capital Partners LLC.
Ares has said it will use proceeds from the offering to repay debt and to fund growth initiatives. It reported economic net income of $329 million in 2013, down from $402 million in 2012.
J.P. Morgan and BofA Merrill Lynch are the lead underwriters to the offering.