Paying Guests? Check Your Homeowners Policy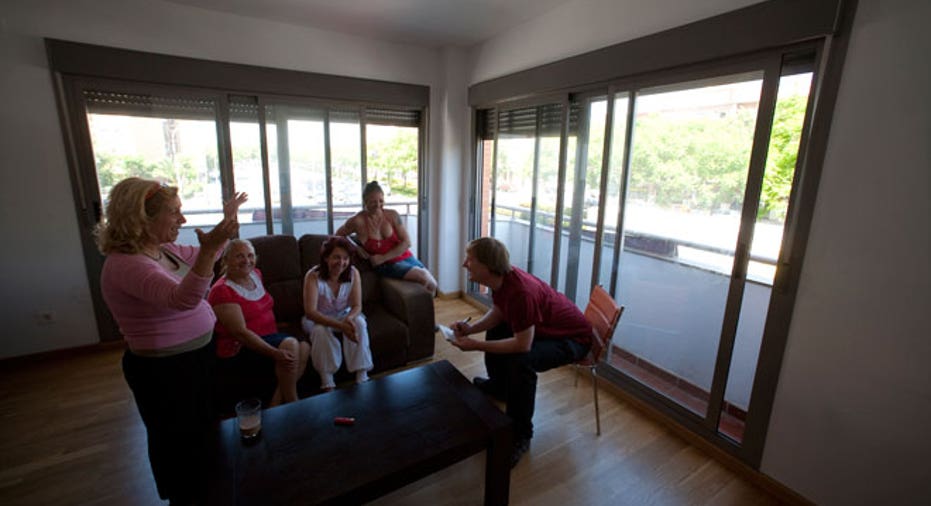 As the sharing economy flourishes, you may be tempted to rent out your home through a service such as Airbnb as a way to generate extra income.
But don't expect anyone to help share the costs if you need to file a homeowners insurance claim and you don't have the proper coverage in place.
"It's important to discuss your particular circumstances with your insurance agent before you ever engage in an Airbnb-type arrangement with your property," says Chris Hackett, director of personal lines policy for the Property Casualty Insurers Association of America.
With Airbnb and similar services, individuals use the companies' websites to list everything from spare bedrooms in their own residences to opulent castles they own as rentals for travelers from around the globe.
Airbnb was launched in 2008, and it now boasts more than 800,000 rental listings in 190 countries.
While it may seem like a nice way to share your extra space and earn extra bucks in the process, things can quickly get tricky if you intend to rent out all or part of your home.
"It's important that property owners and tenants consider the risks and the benefits and the pros and the cons," Hackett says.
The Fine-Print Fest
If you don't have the right homeowners insurance coverage lined up, you could run into major financial issues if something goes wrong and you need to file an insurance claim.
"Depending on the circumstances and type of claim, you may be responsible to pay money out of pocket. Not having adequate coverage could put you at financial risk," Allstate product operations manager Christy Hradek and landlord package product line manager Katie Boyle said in a written statement.
Listing your home on a site like Airbnb also could run you afoul of local regulations. In a number of communities, these arrangements have come under criticism for violating residential zoning regulations and failing to collect hotel taxes.
Airbnb officials declined to comment on any of its practices or on the need for homeowners to have the proper insurance in place.
On its website, Airbnb advises homeowners and apartment dwellers to review their insurance policies and cautions that not all insurance policies will cover damage or loss caused by renters.
If you intend to occasionally rent out your home or part of your home, your current homeowners policy will probably cover you, Hackett says. "Most homeowners insurance policies will provide liability coverage on an occasional basis."
But there's no standard definition of what constitutes an "occasional" rental.
Allstate's website says that if you live in your home most of the time and plan to rent it out only once in a while, such as for an annual festival, your homeowners insurance should cover you.
To be safe, Hradek and Boyle recommend talking to your insurer before deciding whether to rent out your home.
"Peer-to-peer sharing services are an area we continue to monitor to see how our policies and customers are impacted," they said.
So, What Extra Coverage Do You Need?
Hackett says if you live in your home and plan to rent out a room on occasion, your property might be covered by your existing homeowners insurance policy. "People tend to be more respectful when they know the owner is right there," Hackett says.
Even if your home is covered, that coverage would not extend to your renters' personal property if it's stolen or damaged, Hackett says.
Airbnb provides a Host Guarantee, which offers $1 million in coverage if your property is damaged. It doesn't apply to certain possessions, such as jewelry and collectibles.
If you plan to rent your house out on a regular basis, "that morphs from residential exposure into business exposure," requiring a commercial policy as you would need if you're operating a hotel or a bed and breakfast with several rooms, Hackett says.
If you move out of your current home and plan to rent it regularly through a site such as Airbnb, or if you want to list your vacation home, you should consider purchasing landlord insurance, Hradek and Boyle say.
"A typical homeowners policy may not protect you and your property if you rent out your home regularly. Renting out your home on a regular basis and residing elsewhere presents you with unique risks," they said.
Allstate's standard landlord policy provides protection of your home and other structures on your property.
You can also get extra coverage, such as for personal property, fair rental income and liability coverage, Hradek and Boyle said.
Personal property coverage will cover your appliances and other property you own that is used at your rental home. Fair rental income coverage will help cover the rental income you would lose if your rental unit becomes uninhabitable due to a covered loss. With liability protection, you can be protected from financial loss if someone is hurt on your property.
The original article can be found at Insurance.com:Paying guests? Check your homeowners policy