'Pay To Play' Colleges Get Windfall Deals From Nike, Under Armour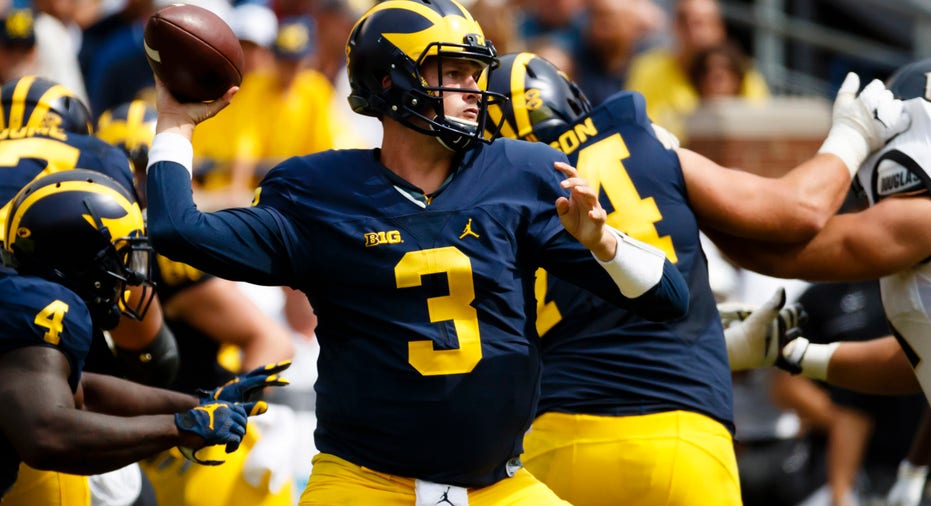 Increased competition between apparel titans Nike (NYSE:NKE), Under Armour (NYSE:UA) and Adidas is forcing all three brands to pay more money than ever before to outfit top college football programs like Michigan and Ohio State in their latest gear. But current NCAA apparel deals – while huge compared to similar contracts of years past – are still a bargain for the companies as they jockey for market share.
Under Armour's recent emergence and Adidas' renewed emphasis on American consumers have shaken Nike's control of college sports and allowed university officials to charge tens of millions annually for apparel deals. The Portland Business Journal, which maintains a database of apparel deals at public colleges, estimates that Nike, Under Armour and Adidas will spend more than $300 million on these contracts in 2016 alone. And that number will only grow as more universities cash in on the rush to reach millennial consumers.
"From my perspective these last few large sponsorship agreements are less of an unexpected explosion in the costs of the agreements and more of a regression to their true value in the marketplace," Jonathan Jensen, an assistant professor in the sports administration program at the University of North Carolina at Chapel Hill who studies NCAA apparel deals, told FOXBusiness.com. "Their real value is only now being realized due to the intense competition being provided by challenger brands Adidas and Under Armour and the universities are becoming much more aware of the value of their campuses as a whole."
By partnering with college athletic programs, brands gain access to a built-in network of customers via current students and alumni networks – customers that will buy a Jordan brand Nike football jersey or an Under Armour-made UCLA hat regardless of whether the team just won a national championship. The apparel companies also keep the vast majority of profit from apparel sales and free exposure through the ever-popular television broadcasts of college football and basketball.
That's compared to the $200 million that brands regularly pay to associate with a single professional athlete – a risky investment given the possibility of injury, such as former Chicago Bulls point guard Derrick Rose's series of knee issues after signing a massive contract with Adidas.
The college apparel boom peaked in May, when Under Armour agreed to pay UCLA a record $280 million in cash and gear over 15 years. The record stood at a comparatively paltry $90 million as recently as 2014. Other recent deals, such as Nike's 15-year, $252 million contract with the Ohio State Buckeyes and $250 million agreement with the Texas Longhorns, have been similarly expensive.
"This was epitomized by the agreement made by Ohio State and Nike this summer, which leveraged the 50,000 students on campus and their large alumni base to bolster the overall value of the agreement for Nike," Jensen said. "The schools have just in the past few years become much more savvy about negotiating these agreements from a position of strength due to the recent re-investment in the North American market by Adidas and Under Armour's willingness to spend big in their efforts to grow market share."
While Nike's brand has long dominated sports in the United States and is becoming increasingly entrenched overseas, Under Armour is in the early stages of its development. The company's chief executive, Kevin Plank, is still searching for ways to bring Under Armour products to consumers that weren't previously aware of the brand and how it differs from legacy companies like Nike and Adidas.
Deals with colleges like UCLA and Cal Berkeley give Under Armour an entry point into the West Coast market, Plank explained during a July conference call.
"Bringing both the UCLA and Cal Berkeley athletic programs into the Under Armour family raises the profile in California that we already have through great partners in sporting goods, mall, as well as existing and even new department store partners like Kohl's, which has over a 100 stores in California," Plank said.