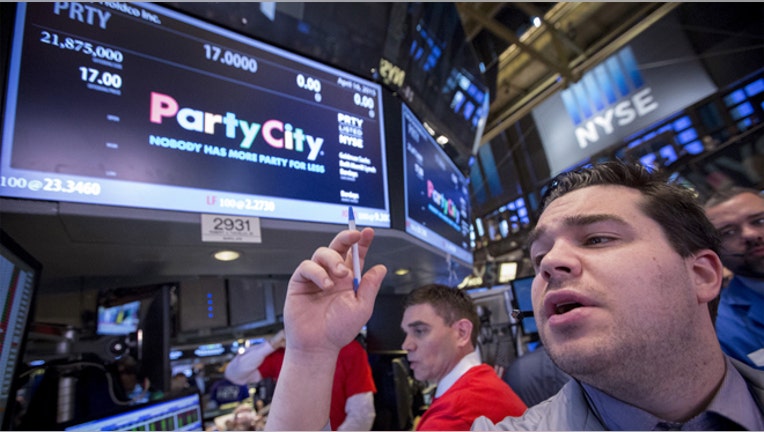 Shares of Party City Holdco Inc , backed by buyout firm Thomas H. Lee Partners LP, jumped as much as 22.6 percent in their debut on Thursday as initial public offerings of private-equity backed companies as continued to draw investors.
PE-backed offerings have done relatively better in a lackluster U.S. IPO market this year.
"Private equity firms have been big users of the IPO markets, especially over the past 3-4 years for exits from their investments," said Neil Dhar, partner and U.S. capital markets leader at PricewaterhouseCoopers.
IPOs of companies backed by PE firms have clocked average returns of 24 percent from debut to the end of the first quarter, ahead of 16 percent for all IPOs, according to a PwC report.
Thomas H. Lee bought a majority stake in Party City, the largest U.S. party goods retailer, for $2.69 billion from private equity peers Advent International Corp, Berkshire Partners LLC and Weston Presidio in 2012.
Party City shares opened at $20.50 on the New York Stock Exchange and touched a high of $20.84 in early trading, valuing the company at about $2.4 billion.
Thomas H. Lee's stake in Party City fell to 56.2 percent from 69.3 percent after the IPO. Advent has a stake of about 19.3 percent.
The company has 900 party superstores in the United States and Canada that sell Halloween costumes and party supplies such as paper and plastic tableware, balloons and gifts.
Founded in 1947 as Amscan, the company acquired Party City in 2005 and has grown through acquisitions.
Stores designed on events and themes have helped the company hold off pressure from mass-market retailers such as Wal-Mart Stores Inc and Target Corp.
"We do not sell items, we sell collections," Party City Chief Executive James Harrison said ahead of the IPO. "You can't have the cup, or the plate or the napkin; you got to have the whole thing pulled together."
Party City's revenue rose 11 percent to $2.3 billion last year. Net income jumped to $56.1 million from $4.2 million a year earlier. The company had debt of about $2.18 billion as of Dec. 31.
The company sold all 21.9 million shares in the IPO at $17 each, at the higher end of the expected range, raising about $372 million.
Goldman Sachs and BofA Merrill Lynch were the lead underwriters for the offering. (Editing by Joyjeet Das)