Parents of Aspiring Olympians Wrestle With the Cost, TD Ameritrade Finds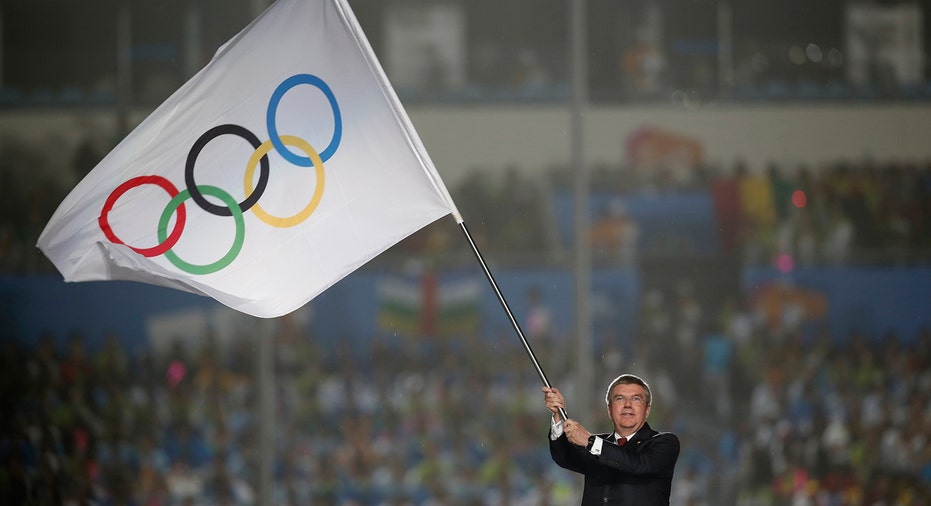 Raising an Olympian can be expensive, and TD Ameritrade (NASDAQ:AMTD) wants to help.
The online brokerage, a sponsor of the Olympics, announced on Monday the findings of a new survey that says many parents put their own savings and financial needs on the back burner to pay for youth sports. The lesson, though, isn't to give up on dreams of making it to the Olympics or professional sports, according to Carrie Braxdale, managing director of investor services at TD Ameritrade. Parents should commit to finding the right balance.
Based on responses to the survey, parents believe participating in sports teaches life lessons, boosts confidence and provides health benefits through regular exercise. Families also find sports to be fulfilling. Parents said they enjoy watching their children excel in sports, and they can bond with kids over a shared interest.
Parents spend an average of $100 to $500 a month per child on competitive sports, TD Ameritrade said. Nearly 20% spend at least $1,000. Although 58% of parents wouldn't have done anything differently, 42% wish they found a better balance between sports-related spending and saving for the future.
"There are a lot of things that kids do benefit from because they have sports in their lives. The message isn't to not support those things, but when we talk to parents who spent a lot on athletics, they wish they had a better balance. You want to make sure you are saving for those long-term goals," Braxdale told FOXBusiness.com.
The Binder family knows all too well the cost of staying active in an Olympic sport. Sylvie Binder is a 16-year-old fencer and a U.S Olympic hopeful for the 2020 games in Tokyo. From the time she was 7, Sylvie's parents have supported her journey up the ranks of the sport, from a beginners fencing class to the Fencing Cadet World Championships the past two years.
"Fencing is very expensive if you compare it to basketball or other sports. You have to own your own equipment, there's travel, coaching fees and club memberships," said Sylvie's father, Jeff, who noted that foundations exist to provide young fencers with financial assistance.
"Like anything in life, you get out of whack, and you have to pull in the reigns and get back into balance. The short answer is we've deferred a lot of our own spending to spend on fencing," Jeff added. But the Binder family sees it as money well spent. "There are so many good things that have happened to our family because of fencing that totally outweigh the financial strain."
There's also the time commitment. Sylvie, a rising senior at Byram Hills High School in Armonk, New York, won a gold medal in April at the world championships in France. She was one of four Olympic hopefuls who will travel to the 2016 Summer Olympics in Rio de Janeiro, Brazil, this week, thanks to TD Ameritrade. One day, she hopes to attend the Olympics as a competitor.
"Everybody wants to go to the Olympics. For me, it's a very daunting goal, but the Olympics are the biggest goal," Sylvie said. "I spend upwards of 20 hours a week of training. It's probably more than most kids, but I do it because I love it."
She added, "I'm so thankful to my parents. Many people have helped me on my fencing journey so far. I wouldn't have been able to reach the level where I am without them."
To help pay for the spring trip to France and last year's trip to Uzbekistan, Sylvie set up a funding campaign on RallyMe.com, a website used by young athletes and teams to fund their endeavors. She also donated 10% of the funds to the United Nations human rights office.
In TD Ameritrade's survey, athletes' parents acknowledged they save less to spend on sports activities, with 33% saying they don't regularly contribute to a retirement account like a 401(k).
---
What do parents think about sports?
77% said youth sports affect household budgeting. Top expenses include travel, team fees, equipment and additional coaching or training.
57% don't have a long-term financial plan
60% are concerned about their ability to save for the future due to the cost of youth sports
35% believe a financial coach would benefit them, even though nearly all respondents feel their child's coach is important
---
TD Ameritrade has launched a new digital tool, the Retirement Calculator, to help savers determine if they are on track to meet their financial goals. The company also offers parents a complimentary goal-planning session with an investment consultant.
When making financial decisions, parents should consider the likelihood of one day cheering their child on at the Olympics, Braxdale said. Out of 1,001 parents questioned in the survey, 34% think their kid will make it to the Olympics or turn pro. However, just 2% of young athletes reach those goals.
Braxdale added that by using online tools, parents can stay informed about their spending habits.
"You have to periodically stop and say, how much did we spend the last month on fencing? You don't want to see you spent $100,000 on fencing this year, and you didn't realize it," Jeff said.
Sylvie's mother, Cindy, also advised other parents to prepare for unforeseen costs.
"Obviously, we had no idea Sylvie would need to go to Uzbekistan. You just figure out a way to make it work, and you have to have an overall plan," she said.