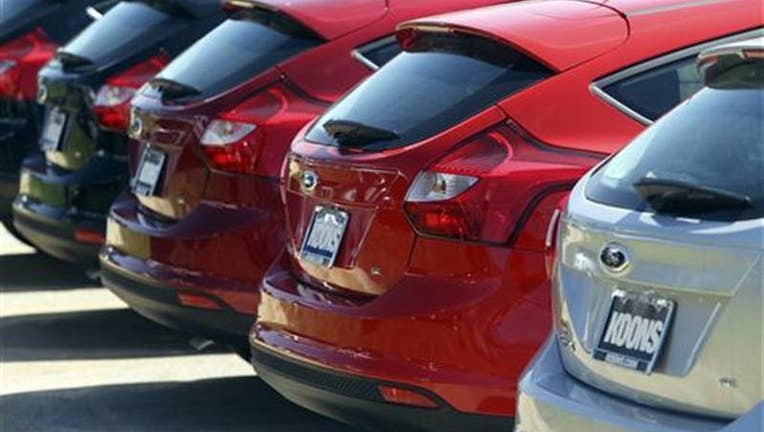 Ford (NYSE:F) posted a steep drop-off in first-quarter net income on Friday amid a higher tax bill and losses overseas, but the auto maker's results still beat the Street amid its highest North American profit in a more than a decade.
Shares of the iconic U.S. company advanced less than 1% in the wake of the numbers.
Ford said it earned $1.4 billion last quarter, well off from $2.6 billion the year before. On a pre-tax basis, operating profits came in at $2.3 billion, or 39 cents a share. Analysts had called for EPS of 35 cents.
Revenue slipped 2.2% to $32.4 billion, but that topped the Street's view of $31.27 billion.
"Our team delivered a solid performance during the first quarter, with particularly strong results in North America, despite a challenging global external environment," CEO Alan Mulally said in a statement.
Ford posted total vehicle wholesales of 1.4 million units last quarter, down by 45,000 units year-over-year amid sinking sales in Europe and Asia Pacific and Africa.
Ford's results were highlighted by its North American division, which enjoyed a $289 million jump in profits to $2.1 billion -- its highest quarterly profit since at least 2000 when the company began to report it as a separate division.
In South America, pre-tax profits tumbled to $54 million from $210 million due to higher costs and unfavorable exchange rates.
Ford disclosed a pre-tax operating loss of $149 million in Europe, reversing a profit of $293 million the year before, due to lower industry volumes and shrinking demand for parts and accessories.
Meanwhile, Ford said it lost $95 million on a pre-tax operating basis in its Asia Pacific/Africa division, compared with a profit of $33 million the year before.
Ford blamed the higher tax bill on the release of a tax valuation allowance in the fourth quarter of last year.
Looking ahead, Ford projected flat pre-tax operating profits for 2012 and its U.S. market share to slip from 2011's 16.5%.
The report came just days after Fitch Ratings upgraded Ford's credit rating to investment grade, marking a dramatic turnaround in the company's finances over the past six years.
Ford said on Friday it slashed its automotive debt by $2.9 billion year-over-year to $13.7 billion at the end of the first quarter and it ended the period with $32.9 billion in total automotive liquidity.