Oscars Candy Stunt a Sweet Surprise for Red Vines, Junior Mints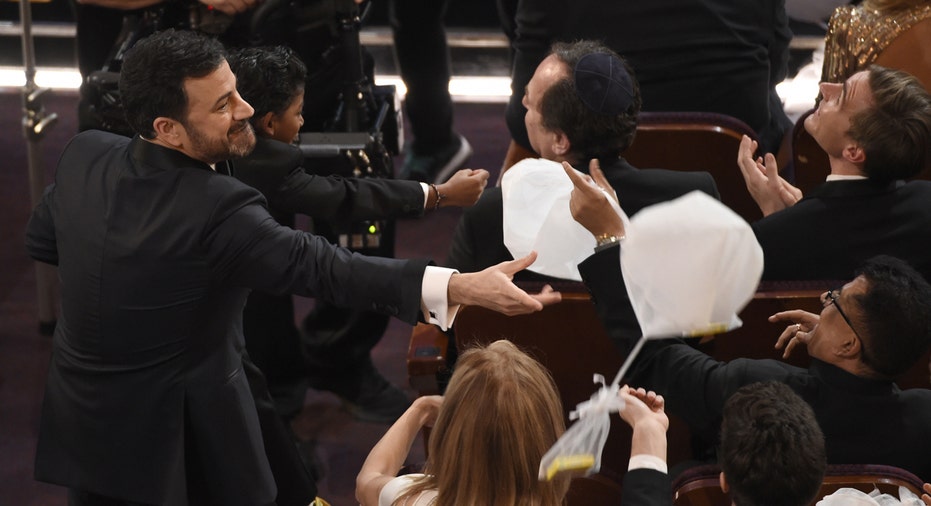 The Oscars was full of surprises this year, as Red Vines and Junior Mints said on Monday that Jimmy Kimmel's candy stunt fell out of nowhere.
Boxes of the movie candies literally fell from the ceiling about an hour into the show, drawing ecstatic reactions from the celebrity audience. However, neither Red Vines nor Junior Mints were in on the gag.
Kristi Shafer, director of marketing for the American Licorice Company, which manufactures Red Vines, said the brand had "nothing to do with" the candy parachutes.
"The only credit we can take is having a great West Coast brand that is revered as the perfect movie companion. Red Vines is manufactured in Union City, California," Shafer told FOX Business. "Although we are not responsible for the partnership, we greatly appreciate all the Red Vines love from Jimmy Kimmel and the Oscars."
A representative for Tootsie Roll Industries, which manufactures Junior Mints, also confirmed that the company wasn't directly involved.
"There was not a partnership or donation of product," the representative told FOX Business.
The Oscars candy drop was a hit on social media and became one of the night's top viral moments, earning more than 240,000 views on YouTube, as of noon ET on Monday. The stunt generated $2.4 million in equivalent advertising value for Junior Mint and $1.9 million in value for Red Vines, according to calculations by Apex Marketing Group.
The Oscars communications staff did not immediately respond to FOX Business' request for comment.
"The Oscars are about the movies and you can't have movies without movie candy, it's un-American," Kimmel, host of the 89th annual Academy Awards broadcast, said as the candy boxes dropped down to the audience via parachutes.
Kimmel isn't the first Oscars host to hand out snacks to celebrities as they wait for their awards. Comedian Chris Rock, who hosted last year's show, handed out boxes of Girl Scout cookies, while 2014 emcee Ellen DeGeneres "ordered" boxes of pizza.