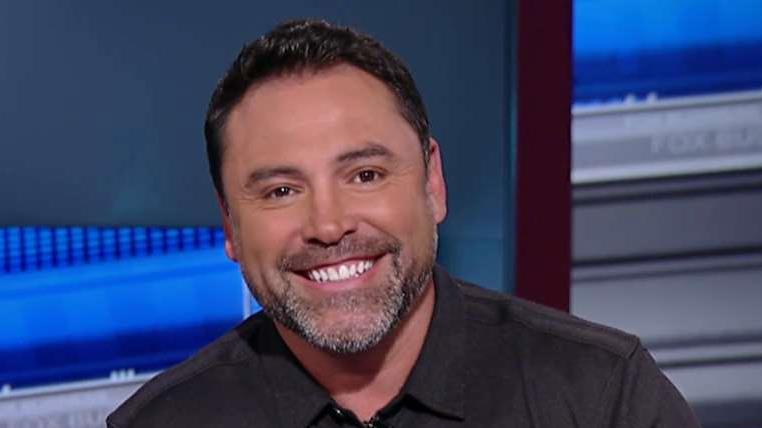 Boxing legend Oscar De La Hoya on Wednesday took a jab at President Donald Trump's decision to roll back the Deferred Action for Childhood Arrivals (DACA) program.
In an interview with FOX Business' Neil Cavuto of "Cavuto: Coast-to-Coast," De La Hoya said he is not a fan of Trump's decision to rescind the so-called 'Dreamers' program because it's an attempt to divide families.
"[Trump] is obviously trying to get Congress to settle the issue but look, have some compassion for these kids who, yes, came into this country at such a young age who know the American Dream, who are all about the American Dream, who stand behind our country, who are hardworking citizens," he said.
Though he doesn't believe Trump is a racist, De La Hoya urged the president to show compassion toward 'Dreamers.'
"I've played golf with President Trump. I've been around him several years. He didn't seem like a racist to me," De La Hoya said. "He has a lot of employees that are Hispanics who help build his businesses."
De La Hoya, who is promoting one of the biggest and final fights of 2017 as Golden Boy Promotions CEO, said the upcoming Canelo Alvarez vs. Gennady Golovkin fight will take viewers back to the classic boxing duals between Sugar Ray Leonard, Thomas Hearns and Marvin Haggler.
"It's that type of fight. These two guys are the top guys and look it's going to do huge business," he said.
Alvarez (49-1-1, 34 KOs) takes on Golovkin (37-0, 33 KOs) for the unified middleweight world championship on Sept. 16 at the sold-out T-Mobile Arena in Las Vegas. Although it hasn't received the amount of hype that the Floyd Mayweather vs. Connor McGregor fight did, De La Hoya called the Alvarez vs. Golovkin a "real fight."
"For me boxing is so pure that I think about the fight first and then the business will come," De La Hoya said said.