Oscar De La Hoya Looks to the Future of Boxing and His Business Ventures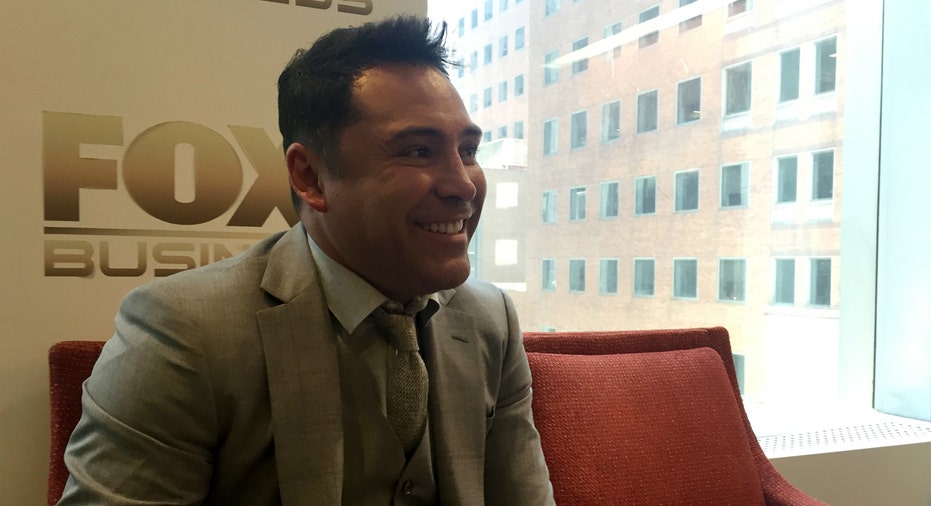 Oscar De La Hoya, the legendary boxer and 10-time world champion, is now busy working on several business ventures and revolutionizing the way boxing fans follow the sport.
The megafight between Floyd Mayweather Jr. and Manny Pacquiao was a huge hit for pay-per-view, setting a new record with 4.4 million buys and $410 million in domestic revenue between Time Warner's (NYSE:TWX) HBO and CBS's (NYSE:CBS) Showtime. In De La Hoya's view, the challenge is keeping those fans that were new to the sport.
De La Hoya is the founder and CEO of Golden Boy Promotions, which launched two ad-supported streaming video networks early this year in a partnership with FilmOn TV Networks. The Golden Boy Channel features 2,000 hours of De La Hoya's fights, and The Ring showcases live bouts as part of Golden Boy's L.A. Fight Club monthly series.
De La Hoya visited FOXBusiness.com this week to talk about the future of boxing on TV, Saul "Canelo" Alvarez's upcoming fight, and his financial advice for athletes. This is a transcript of the interview, which has been slightly edited for clarity.
FBN.com: What's your financial advice to athletes?
First of all, overhead. It's unnecessary to buy toys and homes and this and that. If there's one thing I would have done differently when I was making those multi-million dollar purses, it's live modestly. Buy a small, comfortable home, which I live in now. I'm not one to spend a lot. And save up for a rainy day, or save up and invest. Also, surround yourself with good people.
FBN.com: What's the next business venture for you?
I'm very diversified. I call myself an opportunistic investor. I've been involved, for instance, in a building here in New York. I'm now part-owner of a Major League Soccer team (the Houston Dynamo). I'm looking at a fast-food chain, which is very interesting. It was voted one of the fastest-growing fast-food chains in the country, called BurgerFi based in Florida. It's an eco-friendly, healthy type of fast-food chain which is taking Florida by storm. And there are smart people behind it. That could be my next big business venture.
FBN.com: Back to boxing. You launched a couple of online video channels this year. Is that the next opportunity in boxing, where you can bring fights right to consumers online?
We're doing it already with RingTVLive.com with Golden Boy Promotions. We're streaming fights all over the world. That's the now. We're obviously getting ready for the future, but that's the now. We're currently saturating the market, partnering up with online vehicles that can give us the necessary eyeballs to start generating some big number. Therefore, we can go to advertisers and ask for the dollars that are necessary to continue growing.
But eventually, we want to bring that experience to the fight fan, the experience that you can't see on the TV. We can take you behind the scenes, show you how the fighter prepares the night of the fight, his rituals of the foods that he eats during the day and how one fighter prays with the whole family. So there are different elements to it where we can give you that experience, and that's what the public wants to see.
Right now, the consumer doesn't want to be told what to watch, when to watch it and where to watch it. They're watching on their mobile app, their laptop. That's where we are going.
FBN.com: The Mayweather-Pacquiao fight set records for pay-per-view. Do you think the sport is moving beyond that to reach consumers in a different way?
That broke our records. We attracted maybe a couple million new fans, but after the fight, guess what, they were disappointed and maybe they're not going to watch boxing ever again. So how can I attract those fans once again? It's by making the best fights ever.
Obviously, on May 7, Canelo vs Khan is an exciting fight. Both participants engage and give you excitement. I think as long as we continue to bring fight fans the best fights, slowly but surely we can attract those new fans that the Mayweather-Pacquiao fight lost.
FBN.com: What's the excitement level surrounding next week's fight?
This is a mega event. This is a guaranteed action-packed fight.
Canelo Alvarez is the superstar of the sport now. He's exciting, he comes forward and he wants to knock you out. This is going to be one of the most exciting fights that anyone can watch.
FBN.com: Everyone wants to know if Canelo Alvarez will fight Gennady Golovkin in the future. 'Triple G' has been vocal that he wants to fight Canelo. Do you have any doubts that an agreement can transpire?
No doubts whatsoever. That's exactly what I'm talking about. Those are the types of fights that people want to see.
But first things first. Canelo has a very, very difficult task in front of him with Amir Khan. On May 8th, we can start talking about who his next opponent is going to be.