Organic Baby Products: What's Worth the Money?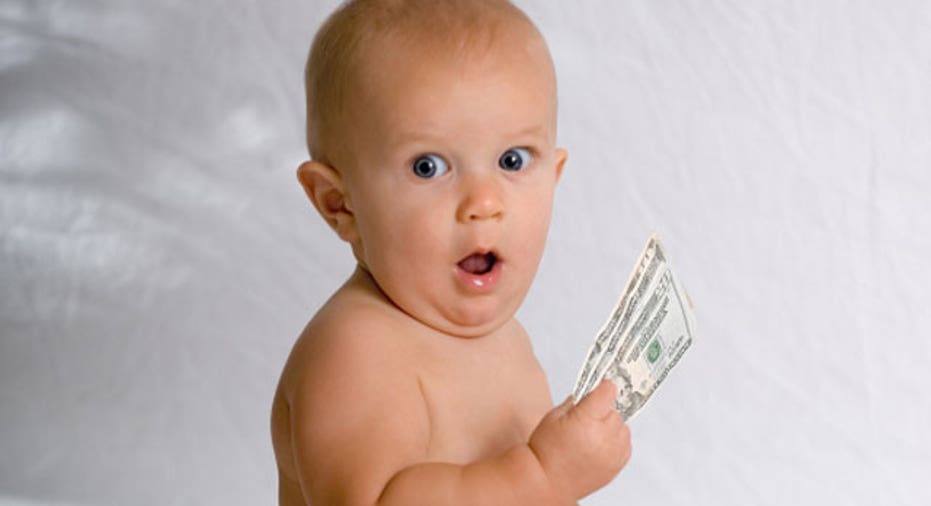 When a baby is born, mom and dad are suddenly thrown into a world full of diapers, rashes, sleepless nights, seemingly never-ending fits of crying and anxiety. Parents want nothing but the best for their babies and are bombarded with products touting the benefits of green and organic products.
But organic products often come at an added cost, and for families on a tight budget, they may have to prioritize what organic items are worth the price tag.
"Honestly, with organic products, it's really about, how much am I willing to pay for a theoretical benefit of using an organic product? For me personally, I feel that if the organic product is 5 to 10% more, it's probably worth it, and if it's more like 20 to 30% more, I'm less likely to shell out the extra cash," says Kristin Mallon, a mom of two young children in Rahway, N.J.
Mallon makes an exception when it comes to food, and pays the higher prices for certain organic food products.
"We know now about the problems with the use of antibiotics and hormones in our meat and dairy and the effects that can have on children, and we know about the harm DEET and other pesticides can cause etc… So for organic produce, I'am usually willing to pay whatever the extra cost is to get organic. "
Erika Jones, publisher of the Organic Baby Resource website and author of the e-book, The Organic Baby Food Guide, started her online community in 2008 for parents seeking natural and safe baby products. As a new stay-at-home mom, Jones was searching for that information herself.
"I look from the inside out in terms of priority, meaning, what is going to be in closest contact with my child?"
Experts breakdown the following items that might be worth splurging on and getting organic:
Food
For parents using formula, they can avoid pesticides and hormones found in most non-organic dairy products.
Jones says that finding organic formula a frequently-asked question on her site. A six-pack of 32-ounce bottles of Similac organic infant formula is about $4 more than the non-organic counterpart.
When a child starts eating solids, The Environmental Working Group and other organizations recommend always going organic when it comes to the so-called "Dirty Dozen:" apples, bell peppers, celery, lettuce, grapes, nectarines, peaches, pears, potatoes, raspberries, spinach and strawberries.
"There's just too much already well-known research about the dangers of food and the chemicals and preservatives and dyes," says Ayo Hart, founder of Dolphin Organics skin care line and mom of twin girls.
While there are many organic baby food lines available on store shelves, you can save money by making your own. If you can't afford all organic produce, you can buy environmentally-friendly produce washes that will get rid of the chemical residues. 
Skin Care
Many companies are also selling organic products that go on your kids, including lotion, shampoo, soap and toothpaste.
Hart's company, for examples, offers 100% organic and natural baby shampoos, bath soap, and other items. According to Hard, organic baby shampoo tends to be about $4 more than its non-organic counterparts, but she says babies' and children's skin is more porous than adults.
"Whatever you put on your baby's skin is being absorbed into the bloodstream – actually, 60% of whatever you put on is being absorbed."
To save even more money, try home brews, like using olive oil to moisturize baby's skin instead of pricey lotion, Jones recommends. Rubbing baby's scalp with oil and a toothbrush also helps remove cradle cap.
Clothing & Bedding
 When it comes to clothes, it may not be necessary to fork over a lot of cash for organic materials; 100% cotton may do just fine, the experts say.
"I often feel like it's a status symbol, like having a Coach bag," Mallon says of organic clothing. She continues to say 100%-cotton apparel is a good standard.
Jones recommends steering clear of clothing made up largely of polyester, or very dark colors because that means heavy use of dyes. Avoid fabrics that have been treated with formaldehyde-based resins that could cause allergic skin reactions, and be sure to wash clothes a few times before putting them on baby for the first time.
As for mattresses, while organic ones are considered safer because they tend to consist of fewer harmful chemicals, they are pricey. A more cost-effective solution is to instead use organic mattress pads or sheets, duvet covers and other topical bedding. Be sure those products are flame retardant, and air the non-organic mattress out well before being used
Diapers
While cloth diapers are better for the environment, the required dumping and washing of the diapers is a turnoff for some and a cloth diaper cleaning service can be pricey. While organic diapers are widely available, some moms feel they just aren't worth the money after one too many leaks or blowouts.
"Your baby's in diapers all day long ... they're sweating in the diapers and what not. So I think that another important decision you have to prioritize" is what to put on baby's bottom, Jones said.
Companies like Seventh Generation offer diapers free of chlorine processing, fragrance, latex and petroleum-based solutions. Big-named brands like Huggies are also offering a similar line.
Any new parent is aware the cost of diapers quickly adds up, and organic diapers are even pricier. To help keep costs down, experts recommend opting for diapers that are at least chlorine free.