One-Size May Not Fit All on U.S. Bike Shares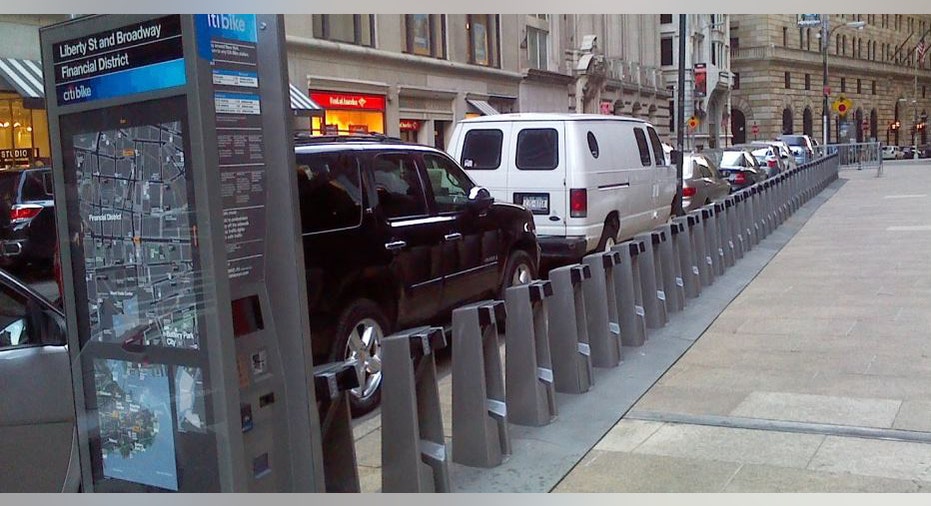 Bike share programs are launching in cities across the country and while cycling enthusiasts and go-green advocates applaud the initiative, some business owners want to hit the brakes.
Citi Bike is scheduled to hit the roads this month in New York City, and the bike sharing stations have started to pop up all over Manhattan and Brooklyn. The program is sponsored by Citibank and operated by the Department of Transportation.
"Some of the bike lanes took away a whole block of parking," says Erica Taylor, an optician at the Eyedrop Optique in Dumbo, Brooklyn. "There's limited free parking, and you're asking a person to come here and pay for parking if they can't find any," she says, predicting that the stations will at least slightly hurt business.
But fewer parking spaces is only one of the side effects of the New York City program, which follows on the heels of bike sharing programs in Denver and Washington, D.C., among other U.S. cities. Safety concerns are prevalent, and the newly installed stations have dislocated some licensed street vendors.
But in Denver many say the bike sharing has been a success – and Chicago announced last week that it will introduce 75 bike stations this June, and 400 within the year.
Station Location an Issue
Choosing locations for the bike sharing stations was an extensive process for New York's Department of Transportation, according to its Bike Share Outreach Report.
To select locations, the city used an interactive station planning map in which residents could suggest stations. Then, planners presented the public and community boards with 2,881 options for the 600 stations NYC Bike Share planned to open.
But some area business owners complain there wasn't enough communication, and that planners overlooked some common-sense problems.
Near Taylor's store in Dumbo, she points out the cobblestone streets will be dangerous for cyclists, especially when wet.
"It's dangerous – you can't get traction on wet cobblestone," she says.
Brooklyn Suites owner Benjamin Wilchfort predicts a need for better law enforcement for cyclists to avoid accidents.
"I grew up in Germany, where they require a test for bikers. In this country, bikers believe they're exempt, that they're pedestrians on wheels – but they share in the traffic!" Wilchfort says.
And even Atlantic Bicycles owner Tony Scarfelli, who calls Citi Bike "wonderful," says his downtown Brooklyn neighborhood is hard enough to navigate without adding bike stations and more cyclists.
"They really take up a lot of space on the city streets … It's so congested, with bus stops and bike lanes," Scarfelli says.
Brooklyn Council Member Letitia James held a town hall meeting recently to discuss the program.
"About 200 people came out: There was a lot of support but also a lot of opposition, which had to do primarily with process and the lack of outreach," says James.
She says many individuals were questioning station placement and felt they had never been consulted by the city.
"Some take issue with the location when it comes to deliveries, and I've witnesses this now myself – for certain restaurants that get daily deliveries, the bike station raises safety issues," says James.
She adds, "I support the program, but certain conditions need to be highlighted."
Street Vendors Pushed Aside
While some of the New York City bike stations have been placed in the street, others have been built on sidewalks, pushing aside street vendors who have worked in those locations for years.
"Last Monday, five vendors got to work and their spots were blocked," says Sean Basinski, the director of the Urban Justice Center's Street Vendor Project.
Basinski says aside from upscale food trucks, "99% of vendors are in the same spot every day," and points out that zones that prohibit vending – as well as locations staked out by other vendors – make it difficult for displaced food carts to find a new home.
According to Basinski, there are 20,000 vendors in NYC, making an average of $15,000 in revenue a year – not a lot, he argues, when you consider they are also subject to taxes and fees from the city.
One of the displaced NYC vendors, Kabir Ahmed, had set up his cart on Liberty St., near Broadway, for years, selling about $1,200 a day in juices and smoothies. Due to the bike station, he was forced to find a new location behind the same building – but says he now only makes $200 to $300 a day, as there's less foot traffic.
He says competition from other vendors makes it difficult to find a good new spot, adding that he has taken a loss every day since the bike station went up.
Last week, a co-op in New York City's West Village sued the city for endangering its residents with the location of the Citi Bike station in front of their building at 99 Bank St. While the suit was rejected by the court on Friday, Citi Bike removed four bike docks located right in front of the building, replacing it with a rock, likely intended to block cars from hitting the bikes.
Bike Shares Racing Across the U.S.
In Chicago, officials hope that the recently announced bike sharing program will decrease traffic and help businesses.
Mayor Rahm Emanuel told the Chicago Tribune the city's first protected bike lane had "a positive impact on the economy," and that the program, known as Divvy, will increase accessibility to different neighborhoods. Divvy is federally funded, and is expected to cost $22 million to operate. New York's Citi Bike is funded solely through sponsorship agreements.
As U.S. cities attempt to find the right recipe for bike sharing success, they may want to look at Denver. The city's B-Cycle program is in its fourth season – and it's been so successful they're still adding stations, says Mark Stevens, a consultant for B Cycle.
"There's been no pushback from business owners. We've definitely been embraced by the community," says Denver Bike Sharing deputy director Nick Bohnenkamp.
He points out, however, Denver had a great bike infrastructure network, and the stations were set up on private and public lots – not on the streets, where they would take up parking or road space.
Courtney Lis, the manager of Denver's Hotel Monaco, which is located near a B-Cycle station, says B-Cycle is an attraction to visitors and has helped make the city more accessible, providing access to "museums, sporting events, shopping, dining and theater."
And over at Denver's Biker Jim's, a gourmet hot dog restaurant, manager Daniel Stuart says a lot of his regulars roll up in rental bicycles.
"There are no issues with congestion – it's pretty wide open," Stuart says.
Some businesses in New York are hopeful Citi Bike will have the same effect. At Mémé Mediterranean, a restaurant located near the Bank St. apartment building, manager Jacob Cohen says he believes Citi Bike will be good for business.
"More people in the neighborhood is better for me," adds Cohen.