One Entrepreneur's Tale: First You Don't Succeed, Try, Try Again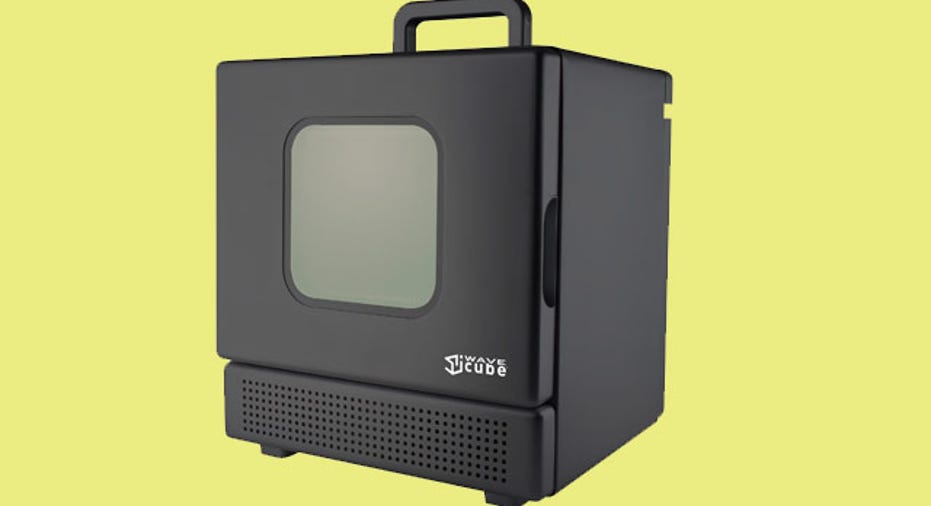 If there was ever an entrepreneur who epitomizes perseverance, it's Phil Davis.
The Cleveland-based entrepreneur has started a number of businesses--one of which fell victim to a Ponzi scheme in 2004 and crashed and burned, along with his reputation.
"I said 'if this is the lowest point in my life, I can only go up from here. I'm going to take my lumps and do whatever I have to do to rebuild and regain my place,'" Davis recalled of his near-destruction.
And rebuild he did. Davis is now touring the world selling his latest idea, the iWavecube, the world's smallest personal, portable microwave, and trying to convince investors that with a little more cash, his product can be a global sensation.
'I've Got to Reinvent Myself'
Davis started his first entrepreneurial endeavor with Fun 'n Fresh, an aluminum-free deodorant for pre teens, in 1990--a year before Mennen introduced its popular Teen Spirit line. Between 1990 and 1994, Davis said Fun n' Fresh was sold in as many as 10,000 stores, including Target (NYSE:TGT), Walmart (NYSE:WMT), Kmart (NYSE:SHLD) and Walgreens (NYSELWAG). Fun 'n Fresh enjoyed national success until Walmart pulled it from the shelves citing lack of sales. Losing placement on the retail giant's shelves was a devastating blow; cash flow dried up and he was unable to continue to compete in the growing market. In 1995, Davis wound down the business, but not without taking a way an important business lesson: the power of a niche market.
"I knew I was able to create a product that would resonate; even though it was a niche, it was a powerful niche."
Davis then became a sales and marketing consultant, and cooked sweet potato pies, peach cobbler and other comfort food for social events in his spare time. When enough of his friends said they'd pay for his tasty fare, Phil opened a "comfort food for the soul" food service in May 2001 out of the basement of a Cleveland-area church; the star attraction was his fried chicken and waffles.
After the Cleveland Plain Dealer ran a story featuring his basement brunch, business boomed and at the end of January 2002, he opened Phil the Fire, a casual dining restaurant in Cleveland that quickly became an area hotspot for diners seeking out his unique combination of fried chicken and waffles.
"We went from zero to 60 so quickly that by Mother's Day [2002], we had a three-hour wait," Davis said.
The establishment generated annual sales of more than $1 million in 2002 and 2003, according to Davis.
Davis met hedge fund manager Kirk Wright in 2003 and the pair made plans to open a second location with Wright promising capital contributions and support.
Wright didn't make good on his promises, and after an initial infusion of cash, his funding dried up. In April 2004, both of Davis' restaurants closed within a week of each other. In 2008, Wright was found guilty of numerous counts of fraud after swindling investors out of more than $150 million.
"My name was mud… I was strapped," Davis said. "I went literally from being the toast of the town … to the talk of the town within a week."
Davis described the experience as a "very dark day, very dark moment" one from which he wasn't sure he would emerge. "It was one of those moments where you ask yourself 'is this how it all ends?' Because your world unravels so quickly."
It was a long fall for Davis.
Despite having a bachelor's in economics from Stanford University and an MBA from the University of Virginia, he couldn't' find work. He took a nigh job as a UPS loader making $8.50 an hour in 2004 so he could have health-care coverage for his daughter. After three days of loading boxes and waking up sore, he realized "I've got to reinvent myself."
From Down-and-Out to Up-and-Coming
In November 2004, Davis was shaving in his bathroom and realized he needed a hot towel for his face. "I thought, 'if only there was a microwave in the bathroom,'" he said.
By this time, Davis had risen through the ranks at UPS and was account executive. The skin-care market was booming, but he was realistic: He knew no one would buy a tiny microwave just for men's use. But if women could also use it for paraffin wax or other beauty treatments, then he'd  have something to market for both audiences.
Davis spent every night on his dialup AOL Internet service researching the market and competition. He eventually met the owner of a product design company, who liked his microwave idea, and with a $25,000 check from a college friend, the iWavecube was born.
By January 2007, Davis quit UPS and three weeks later he was in China presenting his product to potential manufacturing partners.
The .66 cubic-foot iWavecube is 12-inches high, 10-inches wide and 9.5-inches deep, and costs just under $100. In 2008, it was being sold in Sharper Image stores and in SkyMall; singer Carrie Underwood publicly said she took the iWavecube on the road when on tour and the portable microwave was even featured on ABC's "The View."
The start of the Great Recession hit retailers hard in 2008 as cash-strapped consumers tightened the purse string.  Sharper Image filed for bankruptcy in February 2008 and soon after, so did Linens 'n Things--with whom Davis had a pending purchasing order. The stock market crashed and once again, Davis thought he was doomed.
To avoid more financial meltdowns from brick-and-mortar retailers, Davis made his business Internet based and now has more than 6,000 iWavecube customers and has users all across the globe, including France, Germany, Japan, and China.
"Right now we're at that point where we've sort of proven the concept so I'm out here going after growth capital. We've got healthy margins, we've got a niche, we've got intellectual property, we've got trademarks," Davis said.
But he needs more capital to grow the business internationally, so he's on the road--or in the air-- making his pitch to potential investors. With adequate investment, Davis claims he can generate $1 billion with margins of 45% or more within five years.
"We should be able to demonstrate very quickly that we can scale from a very small company to one with a global footprint if we have capital to grow," he said.
Davis also got another round of investment capital from the college friend who helped him launch the iWavecube to reopen Phil the Fire; the restaurant will reopen in a suburb of Beechwood, Ohio, in July.
Lessons Learned
Throughout his entrepreneurial ups and downs, Davis has learned many lessons:
-Put your ideas down on paper and have people critique them.
-Sweat the details. The iWavecube almost didn't make it to market after a slight difference in popcorn brands used to test the product in China caused unanticipated results.
-Bring in topical experts. If you're not a chef, don't try to cook in your new restaurant's kitchen; hire a professional and deal with the managerial aspects you're good at. "It's no sign of weakness to say 'hey, I'm not good at x, y, and z,'" Davis said. "I focus on what I'm good at and I get other people to buy into my vision."
But the biggest business – and life – lesson Davis has learned is not to let others get you down.
"It's real easy to be dissuaded by people who say your ideas have no merit. I can't tell you how many people laughed at me when I told them I wanted to start a deodorant for kids company," Davis said.
"I just had to go out and make it happen. I had to leverage all my resources. …I'm a one-man band on paper but I truly have a global footprint."