Olive Garden Woes Prompt Darden to Slash '12 View, Issue Weak 2Q Forecast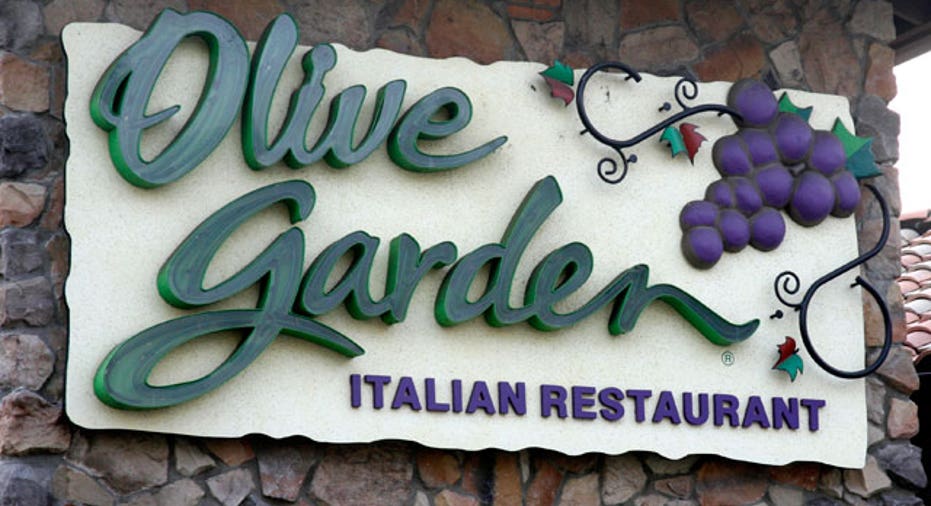 Darden Restaurants (NYSE:DRI) took an axe to its 2012 financial projections and issued a gloomy forecast for the current quarter amid weakness at its Olive Garden restaurants and rising food costs.
Shareholders of the Orlando-based parent of Red Lobster, LongHorn Steakhouse and other restaurants punished it for the news, sending its stock slumping more than 9%.
Darden downgraded its full-year EPS growth view to 4% to 7%. That marks a significant downgrade from its earlier call for a jump of 12% to 15%.
Similarly, Darden expects revenue to rise 6% to 7%, down slightly from 6.5% to 7.7% previously.
Darden warned it sees EPS in the current quarter coming in at just 41 cents, which would mark a wide miss compared with the Street's view of 54 cents.
Darden detailed more trouble at its Olive Garden restaurants, which are expected to suffer a 2.5% decline in same-restaurant sales for the current quarter. Same-restaurant sales at the Olive Garden slipped 0.8% in September, 1.5% in October and 5.7% in November. Traffic also continues to decline, falling as much as 5.7% in November.
CEO Clarence Otis blamed the ugly Olive Garden numbers on incentives and a reluctance to raise prices despite higher food costs.
"At Olive Garden, we're addressing the erosion in one of the brand's essential attributes, its value leadership in casual dining," Otis said in a statement. "In working to re-establish that historical value advantage, Olive Garden more strongly emphasized containing check growth this quarter than in prior periods, and that was reflected in its promotion and in-restaurant merchandising tactics."
On the other hand, Darden sees same-restaurant sales this quarter rising 6.8% for Red Lobster and 6% for LongHorn Steakhouse.
Shares of Darden took the news hard, sinking 9.09% to $43.39 ahead of the opening bell. The company's stock had been up almost 3% on the year as of Monday's close.