Olive Garden Rolls Out Fresh Food Deals as Margins Tighten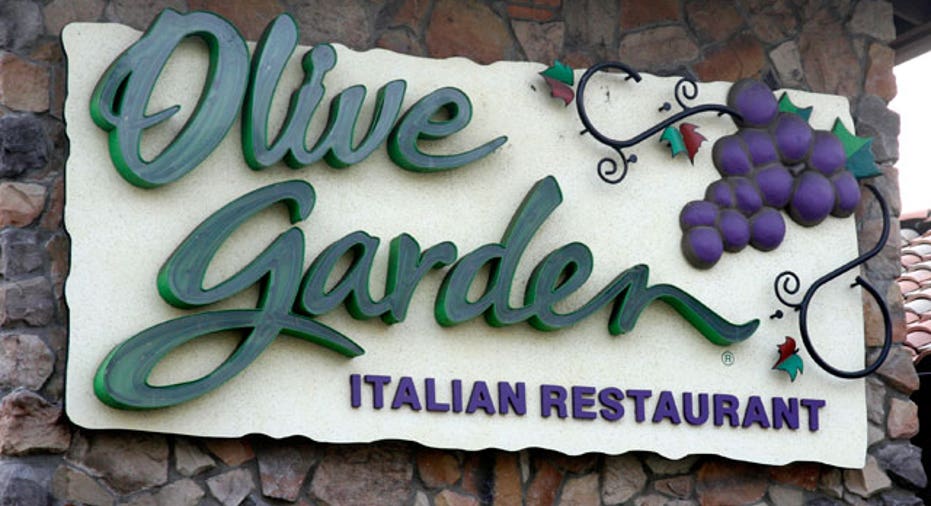 The endless breadsticks and salad at Olive Garden may leave some patrons too full for dinner, but a new regional test by Darden Restaurants (NYSE:DRI) beginning this week may have young and cost-conscious customers sticking around for more.
The Orlando, Fla.-based restaurant operator, known for popular chains like Red Lobster and LongHorn Steakhouse, is playing with small and family style dishes (the latter is rival Carmine's claim to fame) at Olive Garden as it looks to gauge customer preference.
Darden has been revamping operations at Olive Garden, including modernizing its logo and motto last year to try to shed some of its more traditional stigmas. It's a bid to further overhaul the Italian eatery, which suffered in the aftermath of the financial crisis.
The move, which also includes new online-only lunchtime deals, comes days after Darden warned earnings would likely fall in the coming months despite recent promotions that have helped improve sales. Executives at the company told analysts they see a 3% to 5% drop in earnings per share next year amid widening employee and operation costs.
But Darden did tout the success of previous promotions, and on Monday unveiled a new batch of them as it looks to revive the chain's sales.
Among those are new lunch flash sales only available through a Groupon-lookalike website the day of the lunch. The eatery is looking to target tech-savvy Millennials by offering the sales on its website in a service that plays on Groupon's (NASDAQ:GRPN) "Now" deals.
A few times a week the website will offer up to 25% off meals that day, with the savings declining every hour leading up to lunchtime in an effort to incentivize patrons to "choose Olive Garden" earlier in the day. Patrons interested in the flash lunch deals can also subscribe to receive email notifications about the promotions, similar to how daily deals sites like Groupon mail coupons to users.
Separately, Olive Garden began testing the small plates and family-style promotions this week in an effort to get a better idea of what patrons are looking for when they come to the restaurant.
The first promotion, which it is calling "Tastes of Italy," includes smaller-serving items starting at $3.99 including risotto bites, pizza fritta napoli and parmesan roasted asparagus. It was launched in select markets including Atlanta, Washington D.C., Los Angeles, Louisville, Portland and New Jersey and Olive Garden says it hopes to roll out the feature nationally later this summer.
The restaurant giant also began regional testing on Monday at 40 Olive Gardens of a new "weeknight family-style dinner" promotion, available from Monday through Thursday and including both dine-in and take-out orders. The deal features meals like fettuccini alfredo, spaghetti with meat sauce and eggplant parmesan that serve four for $29.99.
Darden served up an annual profit of $412.6 million Friday, a year-over-year decline of 12% as sales failed to offset growing expenses. Shares of Darden were trading virtually flat on Tuesday just above $49. They are up about 9% year-to-date.