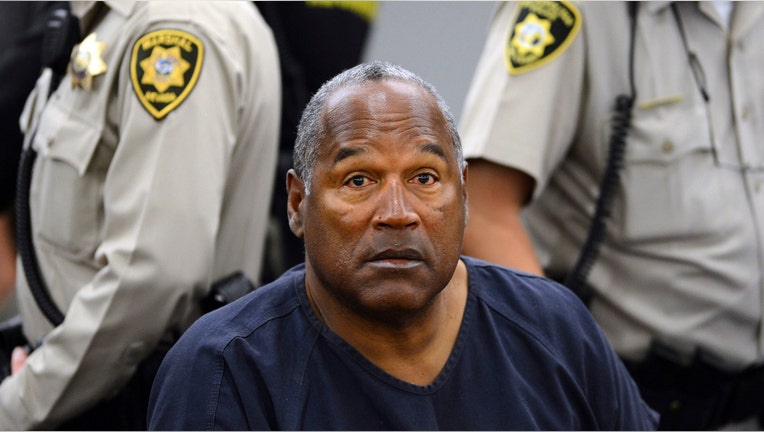 A judge on Tuesday denied a legal request that would have forced O.J. Simpson to forfeit any earnings he received from autograph signings after his release from prison to pay a $70 million wrongful death judgment.
Judge Gerald Rosenberg denied the request on the grounds that Fred Goldman, whose son Ronald was slain alongside Simpson's ex-wife Nicole Brown in 1994, could not demonstrate who had paid Simpson for the autographs. An attorney for Goldman had asked the judge to force Simpson to turn over earnings from future autograph signings and celebrity appearances.
"Mr. Simpson has sought to subvert this wrongful death judgment by his abject refusal to pay, much less accept personal responsibility," Goldman's attorney, David Cook, said in court filings, according to the Associated Press.
Simpson was acquitted of the murders of Nicole Brown Simpson and Ronald Goldman after a highly-publicized trial in 1995, but was later found liable for their deaths in civil court and ordered to pay millions to the victims' families. Simpson was released from prison on parole last October after serving nine years for armed robbery.
Simpson autographed football helmets and other items that were later sold for $399.99 or more through Steiner Sports, a New York-based memorabilia company, FOX Business reported last October. Simpson's lawyers argued that he sold the autographs to cover legal bills, not to personally profit.
Simpson's attorney, Ronald Slates, wrote in court documents that Goldman and his attorney "attempted to drag Mr. Simpson into court every time they hear a rumor, see something on television, or read in an internet news posting, a mere vague allegation involving Mr. Simpson's commercial exploitation of himself."
It's unclear how much of the $70 million judgment Simpson has paid. Any money Simpson earns through his NFL-related pension payments is exempt from the wrongful death suit.