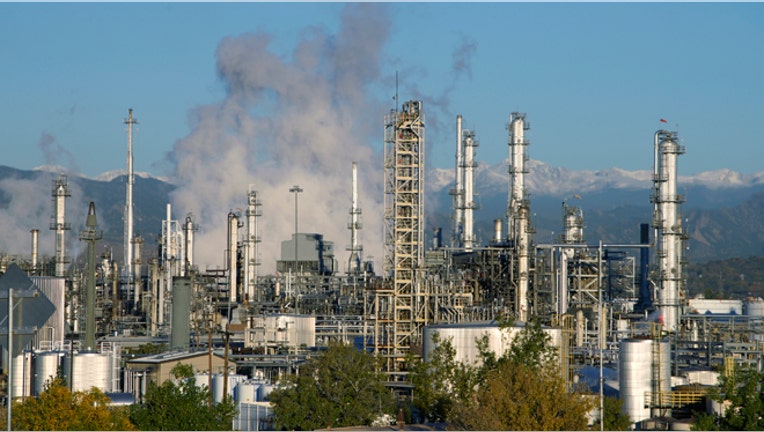 Oil prices eased off 2015 highs on Friday after Iraq said its crude oil exports hit a record in April, and as the dollar strengthened.
Brent and U.S. crude rallied between 20 and 25 percent in April, helped by a weaker dollar and bets that a global supply glut would ease, following the June-to-January sell-off that halved prices from above $100 a barrel.
Friday's pullback was sparked first by news that Iraq's oil exports rose in April to a record 3.08 million barrels per day (bpd) from 2.98 million bpd in March, which served as a reminder of ample supply in the market.
OPEC supply in April rose to its highest in more than two years at 31.04 million bpd, according to a Reuters survey.
June Brent was down 78 cents at $66 barrel at 1:35 p.m. EDT (1735 GMT), up from its $65.52 low after matching Thursday's 2015 peak of $66.93. Brent jumped 21 percent in April.
U.S. crude for June delivery was down 86 cents at $58.77, after hitting a 2015 high of $59.90 and recovering from a $58.32 intraday low. U.S. crude futures gained 25 percent last month.
Trading was thinned as some major markets were closed for the May Day holiday.
"What is driving prices these days is less physical markets, which remain very weak, but more expectations of future tightening," said Amrita Sen, chief oil analyst at Energy Aspects.
Despite a sharp drop in new U.S. shale drilling in recent months, there have been few signs that a global supply glut is easing.
Crude futures recovered slightly from lows after oil services firm Baker Hughes Inc showed U.S. drilling activity fell by 24 rigs this week, though that was fewer than the 31 rigs idled last week.
Futures and options trades suggest U.S shale producers are locking in production costs for next year, which could pave the way for a rebound in production.
"If markets don't tighten as quickly as people are expecting, the sell-off can be large," Sen said.
The U.S. dollar index was on pace for its biggest gain in more than two weeks, up off a two-month low on signs that the U.S. economy may be stabilizing after a soft patch.
The stronger dollar helped pressure several dollar-denominated commodities, including oil.
(By Robert Gibbons; Additional reporting by Ron Bousso in London and Aaron Sheldrick in Tokyo; Editing by David Evans, Bernadette Baum and Richard Chang)