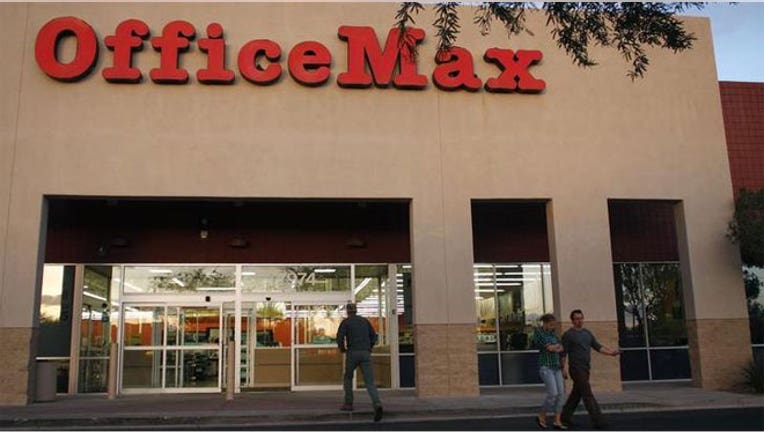 OfficeMax (NYSE:OMX) reported weaker-than-expected results in the first quarter amid declining same-store sales.
The office-supply retailer also unveiled a special dividend of $1.50 a share related to an $85.6 million deferred gain from plywood maker Boise Cascade's (NYSE:BCC) initial public offering. OfficeMax partially owns the company.
That gain boosted unadjusted earnings, while adjusted numbers were weighed down by a 5.4% drop in same-store sales, surpassing Wall Street expectations. Office Depot (NYSE:ODP), which agreed to merge with OfficeMax, last week reported similar struggles.
The two retail rivals announced in February their plans to merge in an all-stock deal that values OfficeMax at roughly $1.19 billion. They said the merger will create a combined company with $18 billion in sales. Office Depot and OfficeMax are currently the second- and third-largest office supply chains, respectively, behind industry leader Staples (NASDAQ:SPLS).
OfficeMax gave similar merger updates as Office Depot did last week, saying it expects to get regulatory approvals in time to close the transaction late in 2013.
In the first quarter, OfficeMax posted a $56.8 million profit, or 64 cents a share, up from $5.4 million, or 6 cents a share, in the year-ago period. However, adjusted per-share earnings that exclude one-time items, such as the investment gain from Boise Cascade, slipped to 11 cents from 22 cents.
Analysts were looking for adjusted per-share earnings of 23 cents.
Revenue fell 5.7% to $1.77 billion, missing estimates of $1.83 billion. Adjusted for the impact of stores closed and opened, the year-over-year difference in the number of business days and the impact of foreign exchange rates, revenue declined 4.3%.
Gross margin widened to 26% from 25.8%.
"We experienced a challenging first quarter, with a sales decline that reflected weak macroeconomic conditions and continued industry declines in technology sales," OfficeMax Chief Executive Ravi Saligram said in a statement. "We will continue to drive gross margin improvement and have put in place a significant cost reduction plan that should improve results in the second half of the year."
The company expects sales to decline in the current quarter, while analysts are projecting revenue to drop 1%. OfficeMax also said full-year sales, including an expected favorable impact of foreign currency translation, will likely decline compared to a year earlier.
Shares were trading about 1.1% lower at $11.61 in early morning trading.