Office Depot, OfficeMax Rally on Upgrades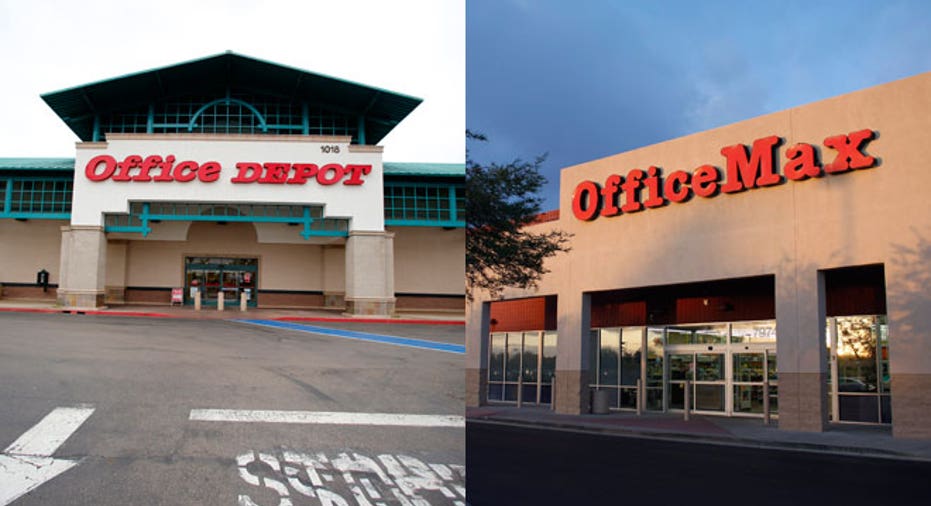 Office Depot (NYSE:ODP) and OfficeMax (NYSE:OMX) each rallied more than 7% Thursday after Janney Capital Markets issued a bullish report on the office supply retailers, upgrading them to "buy" ratings and boosting their price targets.
The two rivals agreed in February to a merger deal that valued the smaller OfficeMax at roughly $1.19 billion.
In August, they indicated a CEO would be in place the following month, but the search is still ongoing. Current OfficeMax chief Ravi Saligram withdrew his name from consideration last month.
Janney analyst David Strasser issued a research note Thursday and said FTC approval, the final obstacle to the merger, should be completed soon.
The upgrades for Office Depot and OfficeMax are in response to cost synergies that will follow the merger, Strasser explained.
He estimates about $400 million to $600 million in synergies, as well as incremental opportunities related to store consolidation. Strasser projects store closure synergies to be roughly $125 million based on the closure of 250 to 300 stores, or slightly more than 10% of the retailers' combined total.
"Benefits should start to accrue almost immediately as redundant tasks are eliminated," Strasser wrote, adding that advertising, such as weekly inserts and catalogs, presents "a big immediate opportunity" for synergies.
Janney also hiked its price target for Office Depot from $4 to $8, while OfficeMax got a price target of $21.50 versus the prior $13.
"We acknowledge that near term results could see headwinds from the government shutdown, but we believe the market will overlook this near term issue, when provided with additional details," Strasser added.
Office Depot shares leapt 7% to $5.03 in late morning trading, adding to gains of 43% this year as of Wednesday's close. OfficeMax was up 7.8% at $13.27.