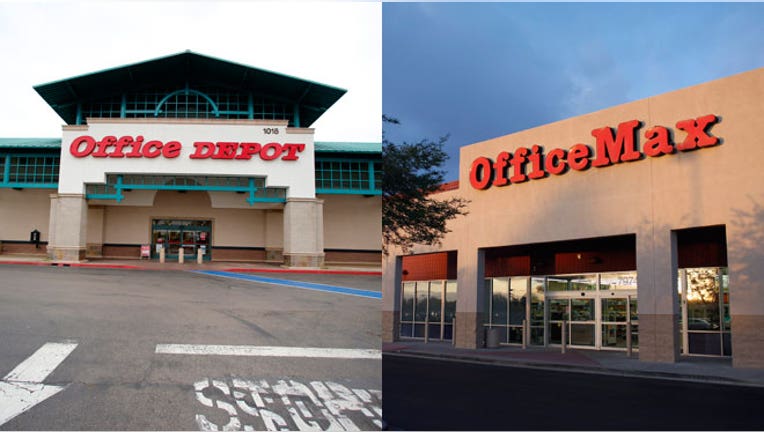 In a deal long believed to make sense for the two rivals, Office Depot (NYSE:ODP) and OfficeMax (NYSE:OMX) are combining forces.
But the announcement didn't go smoothly.
Early Wednesday morning, a press release from Office Depot appeared on the company's website. The release included details about the merger buried in a section titled, "Other Matters."
It was an unusual way to announce a $1.2 billion deal, so it didn't come as a surprise when the release was pulled and reports surfaced that Office Depot's announcement of a finalized agreement was premature.
Office Depot and OfficeMax later sent out a joint release to announce what the companies are calling a "merger of equals," though Office Depot is the larger company by market cap.
In a conference call Wednesday morning, representatives from both Office Depot and OfficeMax gave a brief explanation for the snafu.
Office Depot CEO Neil Austrian said the company's webcast provider inadvertently released the announcement. Later in the day, the blame was pointed squarely at Thomson Reuters (NYSE:TRI), which acknowledged the mistake in a statement.
Waiting for Approval
The companies addressed the merger during Wednesday's call and what they believe will be a trouble-free regulatory process. But outside of the financial terms of the agreement, few details were given about the all-stock transaction.
No word was given about a CEO for the new company, where the company will be headquartered or what they will call the combined company. Austrian and OfficeMax chief Ravi Saligram also declined to answer questions about specific markets or store plans, leaving investors without a full picture of how the combined company will look.
"I think they are really nervous about the [regulatory] approval," said David Strasser, an analyst at Janney Montgomery Scott, when asked about the missing details. "They didn't give any sense that they will have answers in three weeks."
The office-supply retailers expect the transaction to close by the end of calendar year 2013, by which time they expect to have approval from the Federal Trade Commission and international regulators.
Van Conway, CEO of financial advisory firm Conway MacKenzie, said the companies have to prepare for the possibility that the FTC prevents the deal from happening. It's wise for them to avoid making plans before being certain the merger will go through.
"But everybody sells the same stuff, so they can't get any type of control position," he explained. "I don't see at all that getting approval would be a problem. Their products are sold everywhere. Consumers have options."
Strasser suggested that any concerns at Office Depot may stem from the lingering memory of its failed merger. Staples (NASDAQ:SPLS) and Office Depot planned a merger in 1997 but were rejected by the FTC. The deal was struck down by the regulator amid concerns that prices would spike.
Much has changed since then, giving Office Depot and OfficeMax reason to believe their deal will go through without a hitch. Brick-and-mortar stores selling office products now compete with retail giants like Wal-Mart (NYSE:WMT) and online merchants like Amazon.com (NASDAQ:AMZN).
"We were advised on the regulatory process," Saligram said during the conference call, "and we're confident the market has changed rapidly."
'Consolidation is Survival'
According to the combining retailers, the new company will achieve annual cost synergies of $400 million to $600 million. Saligram and Austrian stressed that synergies played a key role in bringing Office Depot and OfficeMax together.
"In competitive industries, consolidation is survival," Conway said.
Conway added that Office Depot and OfficeMax have extensive "redundancy of retail locations," which provides an opportunity for cost savings.
"Synergies are not often realistic, but they make sense here. You just need to look a map of their stores," he said. "With the onslaught of online sales and purchasing power of Wal-Mart, you have to be leaner. If you have stores generally in the same location, you clearly don't need both. Combining gives them a better chance to weather the competition."
Staples remains the most direct brick-and-mortar competition for a combined company. Janney Montgomery Scott sees Staples as a winner following its rivals' merger agreement, upping its price target for Staples to $17 from $13.
In addition to benefiting from the closure of Office Depot or OfficeMax stores, Staples could decide to go on the offensive and open new locations, Strasser said. The combined retailer will also remain at a disadvantage in the Northeast, where Staples has been dominant.
"Staples is not in a lot of markets where Office Depot and OfficeMax both are," he explained, noting that those markets may see stores combine and leave room for Staples to expand.
While expectations remain modest for a combined Office Depot and OfficeMax, analysts see the merger as a necessary move that will make a stronger competitor in a business with narrow margins.
"The long-term viability of the company will come down to profitability after their synergistic plan is completed," Conway said.