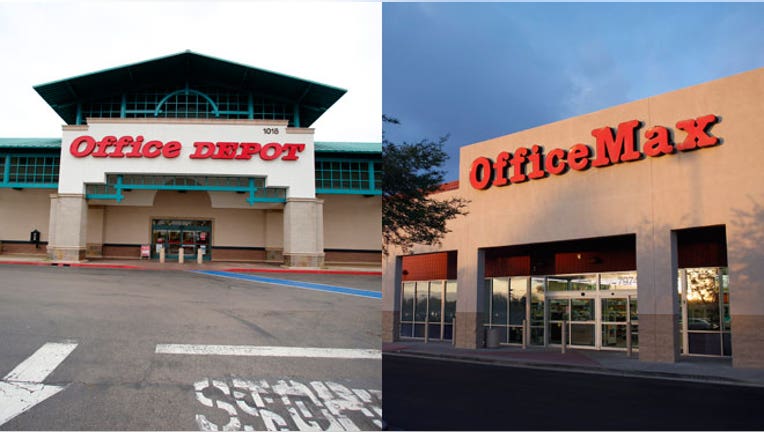 Office Depot (NYSE:ODP) and OfficeMax (NYSE:OMX) said Monday their search for a chief executive to lead a combined company is nearly complete, adding that a CEO should be in place by September.
Meanwhile, dissident shareholder Starboard Value, which owns a stake in Office Depot of about 14.6%, continues to wage a proxy battle that has received support from two proxy advisory firms.
Office Depot and smaller rival OfficeMax announced a merger deal in February that valued OfficeMax at $1.19 billion. The companies subsequently formed a joint selection committee to search for a CEO.
On Monday, the companies said more than 100 candidates were vetted, and then the top eight were interviewed. The committee narrowed the search to five candidates and aims to select a CEO by next month.
Starboard is seeking four seats on Office Depot's board ahead of the merger, urging the retailer to first improve is standalone performance. Proxy advisers ISS and Glass Lewis each backed three of    Starboard's four board nominees.
The office-supply retailers said the proxy fight could disrupt the CEO selection process. Office Depot board member Nigel Travis, who is also Chairman and CEO of Dunkin' Brands (NASDAQ:DNKN), said in a statement that "it is critical" for the CEO selection committee to "maintain its momentum."
"We are very concerned that the disruptive proxy campaign currently being led by Starboard to replace four Office Depot board members, including two that currently sit on the CEO Selection Committee, if successful, will prove counterproductive to the CEO selection process," Travis said.
Office Depot shares were up 5 cents, or 1.2%, at $4.28 in late morning trading. OfficeMax rose 10 cents to $11.09.