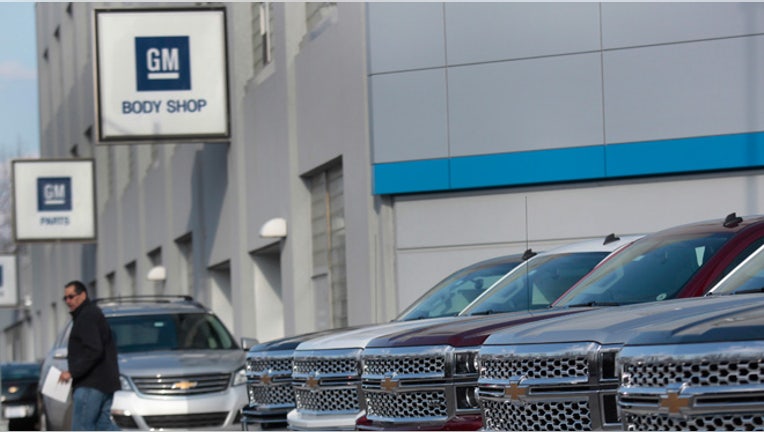 Automakers saw improved U.S. sales in October as pickup trucks and sport-utility vehicles continued to trend higher.
An aging car fleet and low interest rates have driven significant demand for new vehicles over the last two years. More recently, a rapid decline in gasoline prices has added to the appeal of trucks and SUVs.
According to AAA, the national average for a gallon of gas dropped below $3 for the first time since December 2010. Monday's average was $2.98 per gallon, 34 cents lower compared to the same day in October.
"Lower fuel prices are providing a nice tailwind for what we were seeing anyway," said John Krafcik, president of car-shopping website TrueCar (NASDAQ:TRUE). He added that consumers are increasingly shifting to SUVs and crossovers to get more functionality out of their vehicles.
Industry sales last month were good enough for a seasonally adjusted annual rate of 16.46 million vehicles, beating September's sales pace of 16.43 million units and a 15.38 million SAAR in October 2013.
Kelley Blue Book and Edmunds.com both expected a lower October SAAR of 16.3 million units. October had 27 selling days, the same as last year and three more than in September.
General Motors (NYSE:GM) reported October sales of 226,819 vehicles, about 400 more than the same month last year.
The nation's top seller of cars and trucks missed expectations from Kelley Blue Book and Edmunds, which forecasted gains of 4.2% and 2.1%, respectively. GM shares were down 0.9% at $31.11 in recent trading.
Higher sales at Chevrolet and Buick were almost entirely offset by a slight pullback in GMC sales and an 8% drop for Cadillac. GM's flagship luxury brand sold fewer SRX crossovers and ATS compact cars, while the CTS sedan had a solid month with sales growth of 49%.
Chevrolet sales rose 0.5% as 10% growth for the Silverado pickup truck was partially offset by weaker results for the Suburban SUV and Malibu mid-size sedan. Sales of the GMC Sierra pickup truck increased 12.5%.
GM's new mid-size trucks, the Chevrolet Colorado and GMC Canyon, began shipping to dealers in September. However, the company temporarily halted shipments and told dealers to stop selling the pickups until an airbag issue is resolved.
Last week, a GM spokesman said the problem affected 2,400 early production trucks, and 60% have been fixed.
The new mid-size trucks mark GM's return to the segment after it ceased production of the last generation in 2012. October sales of the Colorado climbed to 1,491 units compared to just 29 trucks a year earlier. GMC sold 667 Canyon trucks, up from five.
GM finished the month with a 94 days' supply of inventory. But Krafcik said a high mix of trucks in inventory puts GM in the driver's seat for the last two months of the year, when retail sales of pickup trucks typically do well.
"Of all the Big Three, GM has been the most disciplined as far as incentive spend. They are going into period with great inventory, and GM can probably spend a little more on incentives if they want," he explained.
Ford Motor Co. (NYSE:F) booked a 1.7% decline in October sales to 188,654 units. The second-largest U.S. automaker has warned that domestic sales will suffer until its redesigned F-150 pickup truck hits the market late this year.
The Ford brand recorded an overall decline of 2.7%, overshadowing 24.6% growth at Lincoln.
Ford's car sales narrowed 11.5% in stark contrast to a 10.3% gain for utilities. Although car segments are struggling across the industry, Krafcik said domestic automakers are starting to fall behind their foreign competitors in quality and features.
And with fuel prices on the decline, manufacturers will need to climb a bigger hill to boost sales of small and mid-size cars.
"Cars will be in higher demand once fuel prices go up, and they will go up eventually," Krafcik explained. "The quality of the Big Three's small cars really hasn't been up to snuff."
Ford was able to stay ahead of expectations, although shares declined 1% to $13.95. Kelley Blue Book and Edmunds projected a slightly steeper drop in Ford's October sales.
In order to build the aluminum-bodied F-150, Ford had to shut down its manufacturing plants over the summer for retooling. The company said it would prevent supplies of the current truck from depleting by keeping deliveries in check.
John Felice, Ford's vice president of U.S. marketing, sales and service, said the changeover at Ford's Dearborn truck plant remains on schedule.
Ford sold 63,410 F-series trucks, less than a percentage point below year-ago levels. GM, Ford's main truck rival, sold a combined total of 65,530 Silverado and Sierra pickup trucks.
Total truck sales were down 2.6%, and car sales fell 11.5%. Utilities showed 10.3% growth, mainly due to the addition of Lincoln's MKC and higher sales of the Ford Escape and Explorer.
During a conference call with analysts, Felice noted how growing interest in SUVs and trucks is providing support for transaction prices, and he expects that trend to continue during a period of low fuel prices. He also suggested Ford's incentive spending is at a healthy level.
Analysts are closely watching discounts offered by manufacturers, but the industry signaled current transaction prices reflect underlying strength.
According to TrueCar, the average incentive for light vehicles rose $56, or 2.2%, last month compared to October 2013. Incentive spending was down $345, or 11.6%, sequentially.
However, incentive spending as a percentage of average transaction prices (ATP) was 8% for the entire industry, down 0.2% year-over-year and 13.9% versus September.
"We would like to think the industry is getting behind a view that we have espoused at TrueCar," Krafcik said, referring to the ratio of incentives to ATP. "It's looking really healthy at 8% in October. More money is flowing down to automakers' bottom lines."
Chrysler Group, a division of the newly formed Fiat Chrysler Automobiles (NYSE:FCAU), reported its best October sales since 2001, thanks in large part to Jeep and Ram Truck.
The automaker delivered 170,480 vehicles, up 22% versus October 2013. The report matched expectations from Edmunds. Kelley Blue Book was looking for a 19% increase.
Jeep and Ram have been Chrysler's best performers this year. The new Jeep Cherokee SUV helped lift the brand's October sales by 52%, while Ram jumped 36% on strong pickup truck demand.
The Chrysler 200 mid-size sedan helped the namesake brand post overall sales growth of 17%. Dodge sales declined 8% amid weaker numbers from the Charger and Caravan. Fiat sales ticked 1% higher.
Shares of Fiat Chrysler retreated 2.5% to $11.17.
Toyota (NYSE:TM) revealed a 6.9% increase in October sales. The Japanese automaker sold a total of 180,580 vehicles, beating expectations.
Bill Fay, Toyota division group vice president and general manager, noted the impact of gas prices, saying the downswing drove strong SUV sales that grew 22%. Sales of the Toyota Highlander jumped 30%.
Honda (NYSE:HMC) also beat Kelley Blue Book's forecast with sales that advanced 5.8% to 121,172 units.
The updated CR-V was Honda's top seller in the U.S., beating the Accord and Civic in volume. The Honda brand logged its best October sales month ever. Sales at Acura, Honda's premium brand, were up 8%.
Volkswagen and Audi combined to post a surprise increase in October sales. The two brands sold 45,463 vehicles, up 10.5% over last year.
Volkswagen, which has been in a slump for much of the year, turned things around with 7.8% growth year-over-year. Audi sales jumped 16.5% to mark the 46th consecutive month of record U.S. sales for the luxury brand.
Nissan's October sales reached 103,117 units, a 13.3% improvement. Strong demand for Nissan-branded vehicles, including the Frontier pickup truck and Rogue SUV, more than offset an overall decline for Infiniti.
Hyundai Motor Group reported sales growth of 1.6% to 94,775 units. A sold month for Kia, whose sales were up 12.4%, outweighed Hyundai sales that declined 6%.
The Korean automaker was fined $100 million by U.S. government regulators Monday, the largest fine ever doled out under the Clean Air Act. The settlement ends an investigation into overstated gas mileage estimates for 1.2 million vehicles.