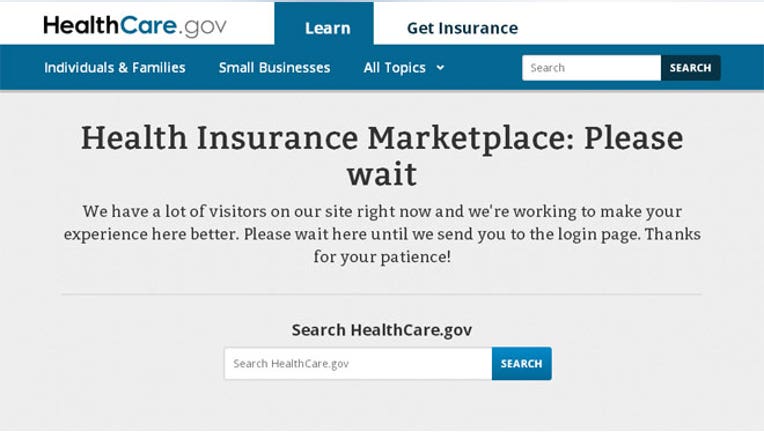 Americans have just one weekend left to sign up for coverage on the exchanges under the Affordable Care Act, and the latest figures show the White House has reached its revised enrollment goal.
On Thursday, President Barack Obama announced on a conference call with health-care navigators that six million Americans have now selected plans on both state and federal exchanges. The White House had originally aimed to have 7 million people signed up on the exchanges in year one—2.7 million of which being young and healthy enrollees between the ages of 18 and 34. The non-partisan Congressional Budget Office, as well as the administration, curbed their initial projections in February down to 6 million.
The latest announcement did not include a demographic breakdown, and it's still not known how many of the new enrollees have actually paid their first month's premium. As of mid-March, when the 4.2 million enrollee mark was hit, the Department of Health and Human Services reported that 25% of sign-ups were between the ages of 18 and 34.
The law mandates that individuals have until Monday, March 31, to enroll in a plan or they will face a fine of $95 a year or 1% of their annual income.
Larry Kocot, visiting fellow at the Brookings Institution, says the latest surge confirms expectations that people were waiting closer to the deadline to enroll. However, he fears many of these people have not yet paid their premiums. Typically, the insurance industry doesn't qualify a person as enrolled until that first payment is made.
"While we should be celebrating success here, we are far from mission accomplished," Kocot says. "We have to be careful about interpreting the numbers."
Insiders in the insurance industry have said that as high as 20% of the enrollees have not yet made their first month's premium payments.
Paul Howard, director of the Center for Medical Progress at the Manhattan Institute, says he was also impressed that enrollment hit 6 million, but that a lot hinges on just who has enrolled.
"…Who is in the risk pool?" Howard says. "The water may be great, but we don't know who is swimming in it. Right now being young is a proxy for being healthier, but these young people could be sicker enrollees who had the incentive to get in early."
The ACA prohibits insurers from denying coverage based on pre-existing conditions. If not enough young (and presumably more healthy) people enroll, analysts have warned of creating a  "death spiral" within the insurance industry, which would lead to higher premium costs up in the future.
Another Extension Announced
The Obama Administration has also granted an extension for enrollees who have struggled to sign up for coverage and are unable to meet the March 31 deadline. The news broke this week when the Washington Post reported that those experiencing issues would be directed to check a box on the site to indicate that they had attempted to enroll, but need more time.
Howard says the extension may be good for consumers, but it's negative for insurers.
"It will make it more difficult for insurers to understand what their real risk pool is," Howard says. "It sounds like an honor system created by the administration—it's not clear how long that grace period will extend. It is another headache that makes it hard to understand these risk pools."
Earlier this week, the industry group, America's Health Insurance Plans, told FOXBusiness.com that it was in support of giving Americans more time to enroll, but that there need to be a fixed deadline.
Kocot agrees that HHS needs to set clear parameters of the extension.
"Without clear deadlines, plans could have difficulty with estimates for next year's premiums; also, late enrollments could make May 1 coverage administration difficult for providers."