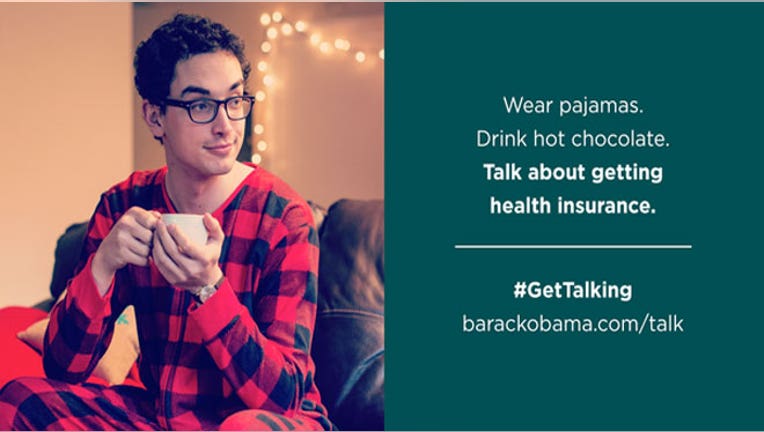 The 12th week of the Affordable Care Act's open enrollment period brought an 11th-hour change. The White House announced significant exemptions for people who recently lost their insurance coverage and are having a hard time getting covered.
On Thursday night, the administration announced that people who have lost their coverage since the law's roll out and are not eligible for subsidies can use the law's "hardship exemption" to buy a bare-bones plan. They will also not face the tax penalty this year if they fail to get insurance by Jan.1.
Nearly six million people have had their health-care plans cancelled since the ACA became law because the policies failed to meet the required essential health benefit guidelines, which provide  coverage for things like maternity care and ambulatory services.
"This latest rule change could cause significant instability in the marketplace and lead to further confusion and disruption for consumers," said America's Health Insurance Plans President (AHIP) and CEO Karen Ignagni in a statement.
In a press conference on Friday, President Obama said more than one million Americans have signed up for private health insurance through either a state or the federal marketplace.
With less than two weeks until the new year, the clock is ticking for Americans to start 2014 with insurance coverage.
Individuals now have until Dec. 31 to select and pay for a plan in order get coverage by Jan 1. AHIP announced Wednesday consumers have until Jan. 10 to make their premium payment, allowing coverage to be made retroactive to the start of the year.
"It is important for consumers to remember that they must pay their first month's premium before coverage takes effect," AHIP said in a statement.
This move comes after the Department of Health and Human Services announced last week that it will require insurance companies to give consumers coverage on Jan. 1, even if they do not select plans or pay until the day before. The initial deadline for Jan. 1 coverage was Dec. 15, which was later pushed back to Dec. 23, drawing criticism that this would not give insurance companies adequate time to enroll individuals.
AHIP's move is both interesting and important for consumers, says Devon Herrick, senior analyst at the National Center for Policy Analysis.
"If you miss that [Jan.10] deadline, theoretically, you won't have coverage until Feb. 1," Herrick says. "It seems like the administration and the insurance industry are reaching at straws to make this work."
Under the Affordable Care Act every individual in the country must have insurance by the end of open enrollment period on April 1 or face a penalty of up to $95 or 1% of their annual income for failing to comply.
Yevgeniy Feyman, Manhattan Institute Scholar, says insurance companies don't have much of a choice in extending that deadline.
"Insurers want this line of business, and based on the fact that HHS has exercised its regulatory hammer, quite a bit of insurers are afraid that if they don't comply with HHS completely, that in 2015 HHS and insurance commissioners in states may say their health plans are not qualified to sell on the exchanges," Feyman says.
The administration continued its push to get young people enrolled in on the markerplaces. The president and first lady hosted a group of mothers at the White House Wednesday to discuss health care, in an effort to get more people talking with their young adult children about getting coverage.
"The White House is trying to sell the law to parents as well," Feyman says of the president's meeting with moms. "It's another channel of getting young people in, I guess, but it's a stab in the dark."
Herrick says it's an attempt to put a positive spin on the rocky rollout of the ACA.
"Moms always make a nice storyline," he says. "Why not? It's Christmas season, and moms are concerned about health care. But I don't think it will solve any of their problems."
A recent Harvard Institute of Politics poll showed that 57% of 18 to 29 year olds disapprove of the Affordable Care Act, with half (51%) saying it will bring higher costs and 40% saying it will bring worse care. What's more, less than one-third of the uninsured in this group said they plan to enroll.
HHS released updated enrollment stats last week showing that through Dec. 1, 364,682 people had enrolled in coverage, including those who may not have yet paid their first month's premium. The administration hasn't provided a demographic breakdown of the enrollees, but critics have said that if young people do not enroll, premium policies may spike in the future.
However, good news about the law came from the Kaiser Health News this week which counters those projections. Kaiser reports the signup of young adults "is not as important as conventional wisdom suggests." Kaiser reports just slight premium increases in 2015 if enrollment falls well below the administration's targets of 2.7 million young people in the ACA's first year.
Pre-subsidy, HHS projects the average American will pay $328 per month for coverage. Those who are making up to 400% of the federal poverty level will be eligible for premium tax credits for insurance. This is about $45,000 for an individual and $94,000 for a family of four.
Another attempt at getting young people interested in coverage is the ACA's "Pajama Boy" advertisement. The young person in the ad is pictured in red plaid pajamas, next to a caption that reads "Wear Pajamas. Drink hot chocolate. Talk about getting health insurance."
"The ad is abysmal," Feyman says. "It's a sign of how bad the administration and states have been in outreach. They don't know how to reach young people."