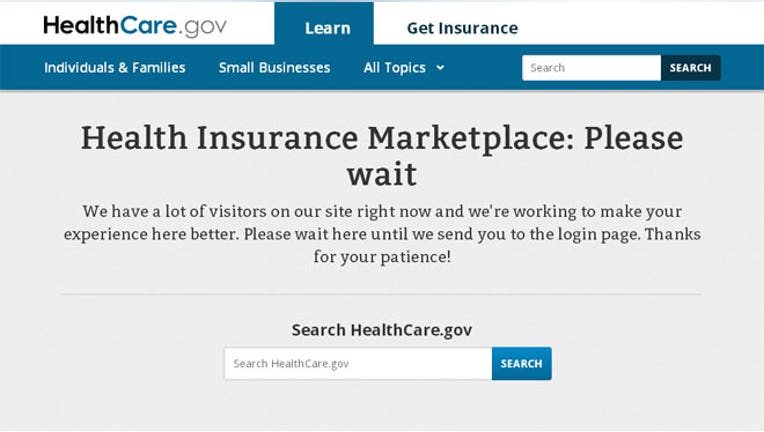 As ObamaCare exchanges go live Tuesday, the federal system and some state-run exchanges have run into technical glitches that threaten to make the rollout a bumpy road.
The insurance exchanges -- online marketplaces that will offer a selection of plans from insurance providers -- begin open enrollment today but have run into a number of software issues. And early on, consumers using the federal exchange were greeted with error messages that cited web traffic.
One of the most significant glitches will make it impossible for the federal system to determine which consumers are eligible for Medicaid or government subsidies under the Affordable Care Act.
Government officials and insurers were rushing to fix the pricing issue, according to The Wall Street Journal, as the system won't be able to reliably determine how much each enrollee would need to pay for coverage.
The problem would affect consumers in the 36 states where the federal government is operating exchanges.
In a separate issue, the Associated Press reported the Obama administration informed Hispanic groups that the Spanish-language version of the government healthcare website, healthcare.gov, will be not be ready to go for a few weeks.
The remaining 14 states chose to run their own marketplaces with their own software, and many of those exchanges are running into problems as well.
Nevada and Oregon have indicated some aspects of their exchanges won't be ready on time. Nevada officials said some functions, such as filtering plans by costs or provider networks, will not be available from the start. The state postponed its ad campaign in an effort to keep the number of people signing up early at a minimum.
Oregon pushed back the launch of its consumer website by weeks, saying people wishing to apply for ObamaCare coverage must instead go through a broker.
Meanwhile, Washington, D.C., officials said last week the city's exchange will not be able to calculate subsidies online, directing consumers to use a paper application.
The Obama administration expects seven million people to apply for coverage during the six-month open enrollment period, while there are some concerns that early issues could discourage consumers.
"Exchange operators are worried about [people getting discouraged," said Susan Dentzer, a senior policy adviser to the Robert Wood Johnson Foundation. "We won't know the full extent of the issues until tomorrow."
Dentzer added that it remains to be seen how many people ultimately sign up for coverage under ObamaCare.
"I think the ultimate question everyone asks is will everyone who wants coverage have it on Jan. 1? Probably yes," she said. "Will we get close to seven million? We'll see."
Adding to Confusion
During a healthcare speech last Thursday in Maryland, President Obama downplayed the mounting technological issues. Like rollouts for other programs, "there are going to be some glitches as this thing unfolds," he said.
But the early problems could further sour consumers on the law and add to the initial confusion. According to a FOX News poll, 55% have unfavorable opinion of the Affordable Care Act and 54% want to go back to the prior healthcare system. The poll also showed that 68% of respondents said they're concerned about personal health under the new law.
A recent survey from the Kaiser Family Foundation found that four in 10 Americans are unaware ObamaCare was signed into law, while 49% said they don't have enough information to know how the new law will impact their families.
Ben Conley, an employee benefits attorney with Seyfarth Shaw, said the issues that have cropped up   "don't look good from an optics standpoint" but will likely be smoothed over.
"I haven't seen anything substantial enough to derail the entire law," he added. "That's not to say it can't happen down the road. If there's a delay in the individual mandate, that would turn everything on its head, but it seems unlikely at this point."
Dentzer also noted how many people are still unsure if ObamaCare is being implemented, saying initial delays could added to that uncertainty.
Employers Face ObamaCare Glitches
Benefits aren't set to begin until Jan. 1, so early technical problems will primarily impact people looking to get an early start on enrollment, Conley said.
That includes small business owners, who will be able to apply for coverage through small-business exchanges called SHOPs. However, online enrollment in those exchanges has also fallen victim to a software glitch.
Small business owners enrolling through SHOP exchanges, which are operated by the federal government, must fax or mail their information when the new markets open on Tuesday. An administration official said online enrollment is expected to begin in November.
News reports also indicated that there's some confusion over how applications will be sent from SHOP exchanges to the insurers selling the health plans.
Conley said there were indications of a problem with the SHOP exchanges a few months ago, and in the long run, businesses won't be deterred by the delay.
"Those businesses have every incentive to go through the exchanges," Conley explained, noting the tax credits available to them. "They'd probably be willing to wait awhile."
Confusion for Part-Time Employees?
Adding to the potential confusion for some workers are directives from their employers to purchase health insurance through the glitch-ridden exchanges.
The Obama administration delayed the so-called employer mandate, which requires that companies with 50 or more employees provide health insurance benefits to full-timers, until 2015. But several notable companies, including Trader Joe's, Regal Entertainment (NYSE:RGC) and SeaWorld Entertainment (NYSE:SEAS), have moved to cut part-time hours to below the 30-hour threshold.
Under ObamaCare, employees who work more than 30 hours a week are considered full-time and must be provided insurance, otherwise the employer incurs a fine.
Trader Joe's, which already provided healthcare benefits for its part-time workers, plans to roll back the policy for employees who work less than 30 hours a week.
The California-based grocery chain determined that providing coverage for part-timers who log 18 hours or more will not be worth the cost under ObamaCare, since low-wage workers will be eligible for tax subsidies to buy insurance next year.
In lieu of providing insurance to those workers, Trader Joe's will cut a check for $500 in January to help cover the cost of coverage purchased through the subsidized exchanges.
"I think a lot of businesses put the cart before the horse," Conley said of employers cutting part-time hours.
Working Out the Kinks
Consumers as a whole should expect to experience greater functionality as time goes on, Dentzer said. She also noted how many Americans are still unsure whether ObamaCare is being implemented at all, but exchange operators don't expect a rush of people signing up until the first two weeks of December.
Consumers interested in getting insurance for next year must enroll by Dec. 15. Exchange operators expect to see a greater advertising push as that deadline approaches.
"Exchange functionality will build over time. Early on, many exchanges have the bare minimum," Dentzer said. "One exchange operator said, 'the American people aren't going to buy insurance on a layaway plan,' meaning most consumers probably won't sign up in October to get insurance in January."
The risk of discouraging consumers is something officials are keeping a close eye on, hoping most people won't even notice the early hiccups.
When asked if software glitches commonly occur in the insurance industry, Conley said ObamaCare exchanges are running into trouble primarily because of the program's scope.
"I don't think insurance companies would roll out a product that wasn't market-ready," Conley said. "The timeline for these exchanges was set by the law. There were some glitches that people expected, but some were not."