Obama Signs into Law Government Funding Bill, Tax Breaks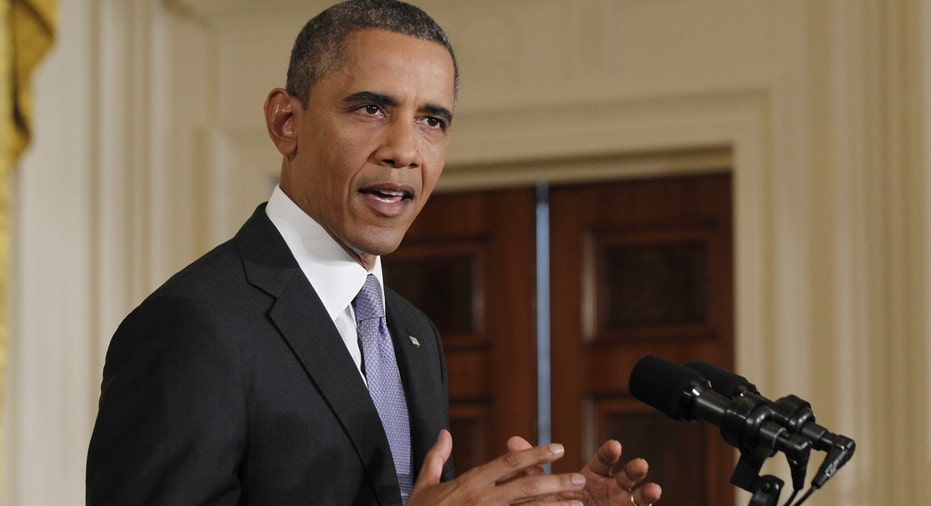 U.S. President Barack Obama signed into law on Friday a massive government funding bill and billions of dollars of tax breaks in a low-key Oval Office ceremony witnessed by photographers.
The $1.8 trillion package includes $1.15 trillion in government funding and tax breaks worth $680 billion over 10 years.
(Reporting by Roberta Rampton and Carlos Barria; Editing by Mohammad Zargham)
Below is an earlier reported version from Dow Jones Newswires:
Congress on Friday passed far-reaching legislation funding the government through next September and passing tax breaks for business and low-income families.
In a victory for the GOP, the bill also lifts a 40-year-old ban on oil exports.
President Barack Obama is expected to sign the legislation.
The bill cleared both chambers easily, first in the House, which passed it 316-113, followed by the Senate in a 65-33 vote. The $1.15 trillion spending bill avoids a shutdown next week, when the government's current funding was scheduled to expire at 12:01 a.m. on Dec. 23.
The bill came together after congressional leaders wrestled for weeks over which policy provisions should be included, then scrambled to convince skeptical rank-and-file lawmakers to back the sweeping legislation.
Among other policy shifts, the bill would delay contentious pieces of the 2010 health law, by suspending the excise tax on medical devices for 2016 and 2017 and delaying for two years the so-called Cadillac tax on high-cost employer-sponsored health insurance. The $622 billion in tax breaks would make permanent an array of breaks for individuals and businesses that had lapsed or were scheduled to expire.
"This legislation helps our economy, helps our national security, and strikes more blows to a partisan health law that hurts the middle class, " Senate Majority Leader Mitch McConnell (R., Ky.) said on the Senate floor Friday.
The bill's low-drama passage in the Senate followed days of suspense this week surrounding its fate in the House. Despite concerns from both liberal Democrats and conservative Republicans, the bill passed easily there, a major victory for both House Speaker Paul Ryan (R., Wis.) and House Minority Leader Nancy Pelosi (D., Calif.), who convinced lawmakers with an array of concerns to back the bill.
The bill won the support of 166 Democrats and 150 Republicans, a key number showing that a majority of the House GOP backed the spending legislation. It was opposed by 95 Republicans and 18 Democrats.
Rep. Raul Labrador (R., Idaho), who voted against the spending bill, said the high GOP support reflected Republicans' confidence that Mr. Ryan had sought to include lawmakers more in the process of writing the bill than his predecessor, former House Speaker John Boehner (R., Ohio.)
"There were a lot of people who didn't want to vote for this, but they were giving him a vote out of good faith," said Mr. Labrador, who said he nonetheless worried that Mr. Ryan had given Democrats too many policy concessions in the bill.
"The Democrats unfortunately just learned that they can mistreat him like they mistreated Boehner, which is a really bad thing," Mr. Labrador said.
Lawmakers agreed in late October to the bill's overall spending level, but congressional leaders spent weeks locked in negotiations over which policy provisions should be included. Both Democrats and Republicans blocked each other's most partisan demands, striking an agreement early Wednesday that made policy trade-offs and tucked bipartisan measures into the last significant bill to clear Congress this year.
In exchange for lifting the four-decade ban on exporting crude oil, for instance, Democrats secured measures extending wind and solar tax credits and reauthorizing a conservation fund for three years.
"They wanted big oil so much that they gave away the store," House Minority Leader Nancy Pelosi (D., Calif.) said Friday.
Republicans said they had gotten the better bargain in ending the oil export ban.
"We're getting permanent policy in exchange for temporary renewal of those credits," House Majority Whip Steve Scalise (R., La.) said in an interview. "If you can get permanent policy that you want in exchange for temporary policy that the other side wants, that's a victory."
Democrats, who are the minority in both chambers but whose votes were needed to pass the bill, blocked many other GOP efforts to include policies cutting off federal funding for Planned Parenthood, halting admission of Syrian and Iraqi refugees and paring back many financial and environmental regulations.
That angered some conservatives who said they couldn't support a bill that didn't freeze resettlement of Syrian refugees while the vetting process is overhauled.
"The concern on everyone's mind today--the security of our homeland against infiltration by radical Islamic terrorists--was not so much as even contemplated in this bill," Rep. Matt Salmon (R., Ariz.) said in a statement late Thursday.
The legislation does, however, incorporate a bipartisan push to limit certain travel privileges granted to citizens of 38 friendly foreign countries that are allowed to enter the U.S. without obtaining a visa.
The legislation also includes a reauthorization of programs to compensate and provide health care for first responders and survivors of the Sept. 11, 2001, attacks and a cybersecurity measure that could help businesses cooperate more closely with the government and each other in fighting online threats.
"This bipartisan compromise secures meaningful wins for Republicans and the American people, such as the repeal of the outdated, anti-growth ban on oil exports," Mr. Ryan said in a statement Friday. "Congress can now move into 2016 with a fresh start."
The bill would increase spending by $50 billion in fiscal 2016 above limits established in a 2011 deal and in effect since 2013, known as the sequester. Republicans had pushed to boost military spending and Democrats insisted on an even increase on the domestic side.
Democrats criticized the bill's negotiators for not taking any steps to address Puerto Rico's financial crisis. Mr. Ryan said on Wednesday that House committees would work with the Puerto Rican government "to come up with a responsible solution" by the end of March.
Siobhan Hughes and Amy Harder contributed to this article.
By Kristina Peterson