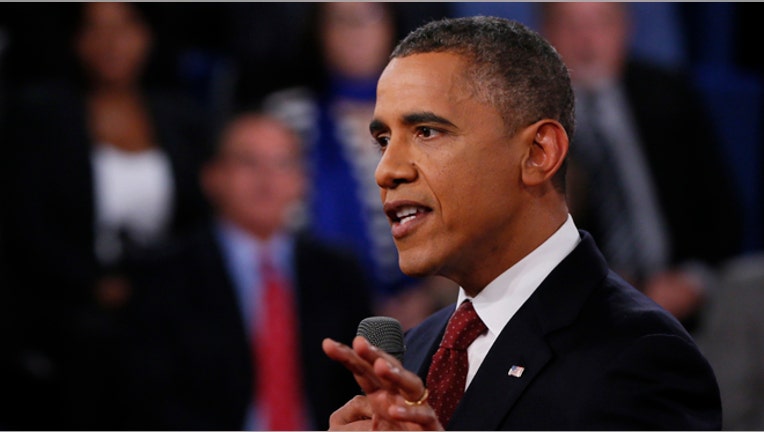 President Obama took executive action Tuesday that the administration says will strengthen enforcement of equal pay law.
"Pay secrecy fosters discrimination and we shouldn't tolerate it," Obama said before signing.
Obama signed an executive order that prohibits federal contractors from retaliating against employees who discuss compensation rates, and an Presidential Memorandum instructing the Labor Department secretary to establish new regulations that require federal contractors to submit compensation data by sex and race.
The White House's website says the Department of Labor will use this data to encourage "compliance with equal pay laws and to target enforcement more effectively by focusing efforts were there are discrepancies and reducing burdens on other employees."
In February, the president signed an executive order hiking the minimum wage for new federal contractors to $10.10 an hour, and he continues to push for a nationwide increase in the federal minimum wage, which has been sitting at $7.25 an hour since 2009.
The White House reports women will particularly benefit from a higher federal minimum wage as 55% of non-tipped workers making $7.25 an hour are women, and that females account for a higher concentration of workers in low-wage sectors. The administration's release also says raising the minimumwould increase the average wage among the "bottom quartile of female workers by 93 cents to $8.78 compared to 60 cents (from $9.65) for the bottom quartile of male workers."
Women today make 23% less than men nationwide. And according to the White House, African-American women earn 64 cents on the dollar compared to Caucasian men, and Latina women earn 56 cents for every dollar.
Despite this wage gap, research from young women's career forum Levo League finds that millennial women (ages 18-34) don't feel the pay gap applies anymore. The research shows the gap widens over time, as the likelihood of asking for a raise decreases as women's careers continue. What's more Levo's research finds that if a woman does not negotiate her salary in her first job, she will lose an average of $431,000 by the time she is 65.
Nell Merlino, CEO of Count Me in for Women's Economic Independence and founder of Take Our Daughters to Work Day, says women need to be more confident in asking for higher wages.
"I am always perplexed why women don't ask [for raises] and why employers aren't more clear on this," Merlino says. "When you start to do this, in whatever sector, other companies will start to feel pressure to do this as well. When there is a stake in the ground, it sets a standard and once people see the difference, they want to keep it."
However, a study released Tuesday from the Employment Policies Institute, finds women would be disproportionately harmed by the president's proposed minimum wage hike, and that it would eliminate 285,000 for women. This is based on a report from the non-partisan Congressional Budget Office, which estimated that 500,000 jobs would be lost if the minimum wage were hiked nationwide.