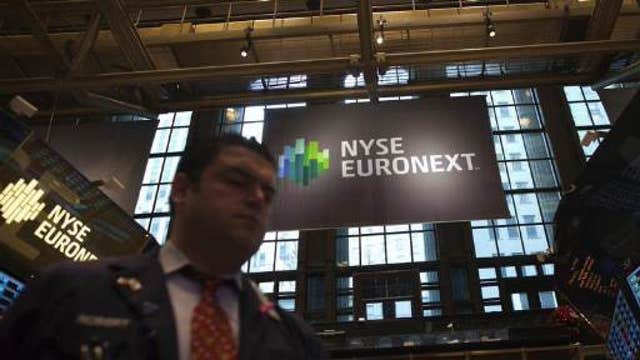 Exclusive: The merger of IntercontinentalExchange (NYSE:ICE) and NYSE Euronext (NYSE:NYX) could lead to massive layoffs as new management targets redundancies at the Big Board in a bid to improve profitability,  FOX Business Network has learned.
Jeffrey Sprecher, the CEO of the combined company, recently told people NYSE is significantly overstaffed, and cuts could begin shortly after the $10 billion purchase of NYSE is scheduled to close in the Fall, according to people with direct knowledge of the matter. Sprecher has indicated to people that much of the cuts could come from the NYSE unit.
No final decision on the job cuts has been made, these people tell FOX Business. But Sprecher has indicated that if he had his way he could reduce headcount of the new company by as much as 30%. Such possible drastic cost-cutting could further heighten the post-deal tensions between executives at ICE and NYSE, including NYSE honcho Duncan Niederauer,who is said to believe NYSE's relatively larger headcount is necessary to maintain client-intensive businesses. Niederauer has said he would stay with the combined entity for a year after the deal closes as the new company's president.
Atlanta-based ICE, an electronic exchange that specializes in the trading of commodities, employs slightly greater than 1,000 people compared to NYSE's 3,151 employees. People close to the matter said it is unclear whether the deep cuts are independent of his decision to eventually sell off a chunk of NYSE's European stock-market business, known as Euronext .
If they are carried out, the job reductions could be the most intensive of any major financial institution amid Wall Street's current round of cost cutting.
"ICE runs lean and mean and they've had adequate time to study the NYSE's operations," said Richard Repetto, an analyst for Sandler O'Neill & Partners. "The trick would be to balance headcount versus business demands."
Several of NYSE's most profitable businesses require significant staffing, and Niederauer would resist such sharp reductions, people with knowledge of the matter said. For example, NYSE's "listing business," where it woos companies to have their shares available to trade on the exchange for a fee, needs salespeople and marketers. ICE, on the other hand, needs less manpower because it's largely a computer-operated exchange.
Kelly Loeffler, a spokeswoman for ICE, said the company has not officially indicated any specific headcount reductions, pointing to a statement that the post-merger outfit will seek "synergies" in order to reduce costs. She would not deny that layoffs are coming, and would not comment further on the possible size of any cuts.
But privately Sprecher has indicated that he believes NYSE needs to slash its massive overhead, these people add. He has quipped to people that NYSE has too much redundancy, including close to two dozen lawyers on staff that he believes do essentially the same job.
Such overhead has eaten into NYSE profit margins. ICE, for example, has a 60% pre-tax profit margin, while NYSE's is just 35%.
"Sprecher is ready to cut the NYSE like never before," said one Wall Street executive with direct knowledge of the matter.
Already, NYSE officials have complained about Sprecher's management style, namely that he rarely consults with his new partners at NYSE, and consults largely with his Atlanta-based management team. "At the NYSE they feel slighted," said one person close to the matter.