NY Times Gains Online Subscribers; Other Woes Linger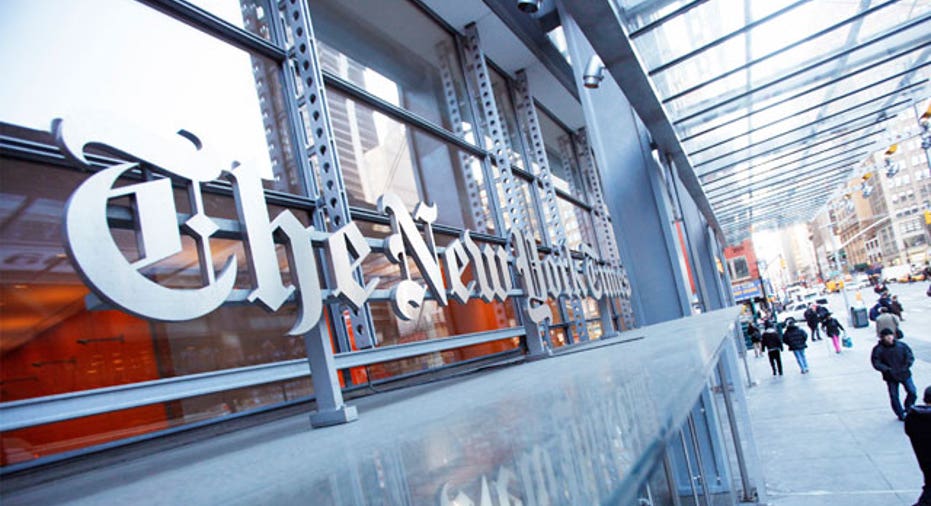 New York Times Co's risky attempt to charge fees to website readers looks to be paying off.
The company gained more than 100,000 new subscribers since it introduced its digital subscription service on March 28, representing at least an estimated $26 million in annual revenue and trouncing early expectations for the service.
"It's an excellent figure," Evercore Partners analyst Doug Arthur said about the digital subscribers. "I (was) only looking for 200,000 subscribers in year one."
The pay model is being closely watched by general interest newspapers, which are all seeking new forms of revenue in the face of declining advertising revenue and print readership.
Only a handful of newspapers that specialize mainly in financial news, namely News Corp's Wall Street Journal and Pearson PLC's Financial Times, have been successful in charging readers for online access.
Rupert Murdoch's News Corp, for instance, introduced a pay service at the Times of London and the Sunday Times in July. Collectively the papers so far have 79,000 monthly digital subscribers as of the end of February, up from 50,000 on October 31 2010.
The Daily, News Corp's digital newspaper startup for the iPad and other tablet computers, has not said how many subscribers it added since it launched in early February.
The New York Times online subscriber figures do not include the Lincoln automaker sponsorship that offered readers a free trial but does include a discounted 99 cent promotional offer.
Earlier estimates for the New York Times pay model pointed to a slight drop-off in readers. Online research firm Experian Hitwise said last week that the number of people visiting NYTimes.com fell between 5 percent and 15 percent during a 12 day period following the launch compared to the 12 days prior.
The search for new revenue streams underscores the problems beset by newspapers. The New York Times, publisher of its namesake newspaper and the Boston Globe, also reported on Thursday that lower print advertising sales dragged down first-quarter revenue and profit.
Unlike other media, newspapers have not reaped the benefits from an advertising rebound.
Total revenue fell 3.6 percent to $566.5 million. Analysts on average forecast $568.9 million, according to Thomson Reuters I/B/E/S.
Advertising revenue at the company declined 4.4 percent on a drop in print ad revenue. Digital ad revenue rose 4.5 percent in the first quarter.
Shares of the New York Times were up in early trade before falling 2.4 percent by mid morning.
Net income for the first quarter was $5.4 million, or 4 cents per share, compared with $12.8 million, or 8 cents per share for the same period last year.
Excluding the sale of its investment in job listing site Indeed.com, adjusted EPS was 2 cents per share in line with analysts average estimate.