NY radio host Craig Carton speaks out on Ponzi scheme charges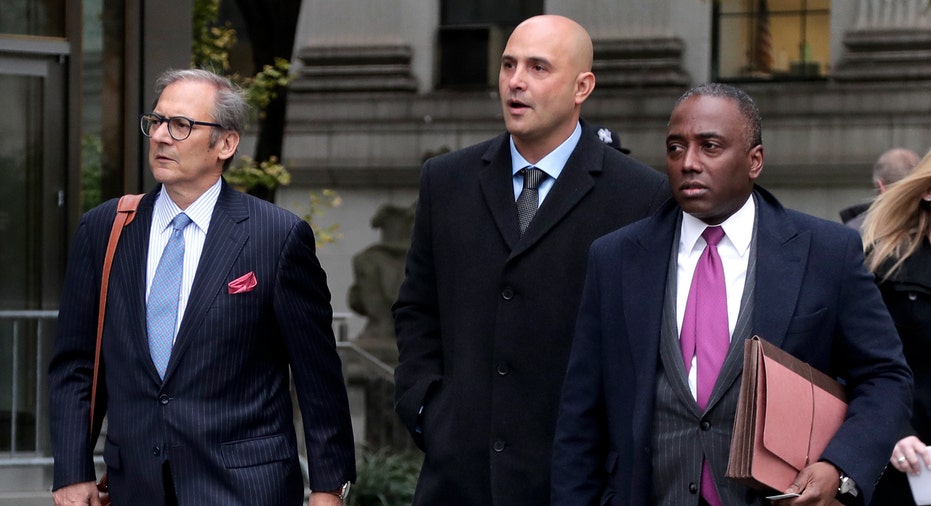 Radio host Craig Carton, who teamed up for years with former NFL quarterback Boomer Esiason on a New York City sports show, said Wednesday that he was shocked by his arrest and will prove his innocence.
Carton, 48, spoke outside Manhattan federal court after pleading not guilty to fraud charges in an indictment returned last week. He told reporters he entered the plea because he was "unequivocally not guilty."
The longtime co-host of WFAN's "Boomer and Carton" show was arrested in September on charges that he misappropriated at least $5.6 million from two investors in a ticket reselling business designed to raise millions of dollars so he could pay off gambling debts. Free on $500,000 bond, he quit his job shortly after the arrest.
"I was shocked when I was arrested and even more surprised that the government was accusing me of running a complete sham as they put it," Carton said with his lawyer at his side.
Outgoing New Jersey Gov. Chris Christie, who is a close friend of Carton and made several appearances on WFAN as a fill-in host, addressed the situation in an interview with USA Today.
"I believe in Craig and I believe in his goodness as a person," Christie said. "I asked him when this all broke to be honest with me and he said he has done nothing wrong and he is the victim here. Craig has never lied to me before and so if a friend of mine tells me they are being wronged and I believe them – and I do believe Craig – (then) friendship is not just for good times but for difficult times too. That's when you need to stand up."
Carton said prosecutors were wrong to say that a concert ticket reselling business was a scam. He said the business was licensed by the state of New York and that he bought and sold thousands of tickets and had deals in place to buy and sell many more tickets.
Carton also said the government told his lawyers about 10 days ago that he had a legitimate ticket selling business and that he'd been selling tickets for a long time.
"Unfortunately, the damage caused by the government's false accusations cannot be undone," he said. "I firmly believe that law enforcement and our courts are committed to seeking out the truth and ensuring that the truth sees the light of day. I fully intend to see this all the way to a not guilty verdict from a jury of my peers."
A spokesman for the government declined to comment on Carton's remarks.
The Associated Press contributed to this report.