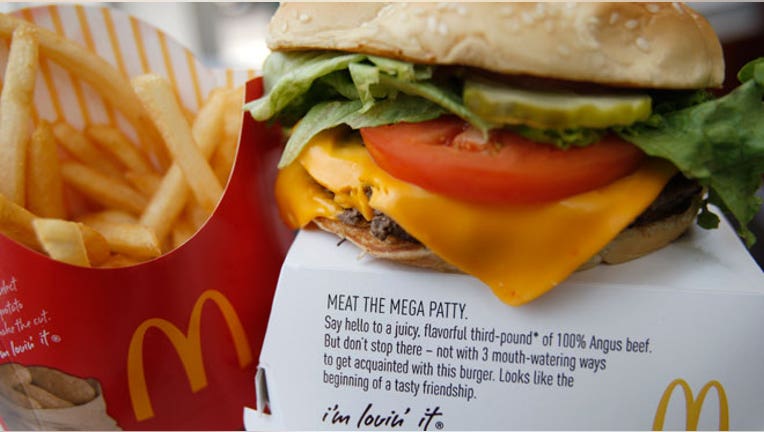 Together they're served, and apparently, together they fall.
Wall Street punished McDonald's (NYSE:MCD) and Coca-Cola (NYSE:KO) on Tuesday after both posted disappointing quarterly results. Shares of both blue chips plummeted 2% and 6% respectively.
Coca-Cola revealed a mixed bag of results when it came to the third quarter. Profits-per-share of 53 cents were in line with analysts' expectations, but revenues of $11.8 billion came in well under forecasts for $12.1 billion, with net sales falling 2% year-to-date.
The company noted sales of its sparkling beverages ranged across the world. In North America, sales volume of both sparkling and still beverages slid 1% year-to-date thanks to a more challenging macroeconomic picture, competition in certain markets and adverse weather in certain areas. However, on a quarterly basis, the company saw an uptick in its sparkling business globally. The Coca-Cola brand was flat for the quarter, while Sprite and Fanta grew 1%.
America's biggest burger chain revealed 3Q adjusted earnings of $1.51 per share after excluding 42-cent, one-time charges related to a foreign tax ruling, a China food supply issue, and temporary closures overseas. The results topped Wall Street expectations for profits of $1.37 per share.
For the quarter, McDonald's saw a 5% drop in revenue, booking sales of $6.99 billion, which came in well below the $7.18 billion forecasted -- resulting in the fourth-straight quarter of sales declines for the burger giant. In the United States, the company said a 3.3% drop in comparable-store sales, along with negative guest counts resulting from sustained competition in the market weighed heavily on the top-line.
McDonald's also saw a decline in revenue in Europe due to expansion and refranchising efforts, while a slowdown in the Asia/Pacific, Middle East and Africa region was attributed to a currency decrease for the quarter, weak comp-sales driven by supplier worries in China and Japan. Overall, the company saw a 3.3% drop in global same-store sales versus a 0.9% drop during the same period the year prior.
On the company's earnings call Tuesday afternoon, McDonald's CEO Don Thompson said he and the company were "disappointed" by the fast-food chain's performance which not only fell short of Wall Street's expectations, but the company's own forecast as well.
"The key to our success will be our ability to deliver a more relevant McDonald's experience for all of our customers. We have listened to our customers and we've listened around the world and better understand what their future experience should look like," Thompson said.
Mark Kalinowski, restaurant analyst at Janney, said the sales trends in the U.S., Europe and Asia continue to be disappointing, especially in the September period when U.S. and European comp-sales saw their worst numbers in more than a decade.
"To me, if I'm viewing this from McDonald's perspective, I view this as a call to action…a mandate for change," he said. "They need to fix their issues they're in control of to the best of their ability."
Staying Relevant in a Changing World
McDonald's and Coca-Cola face increased pressure from customers in all areas of the globe to maintain their relevance as those customers enjoy a wide range of competitive options from the likes of Chipotle (NYSE:CMG) and Panera Bread (NASDAQ:PNRA), among others.
In an effort to prove to consumers they should stick with the brand, McDonald's Thompson said he plans to continue to push his company's outreach efforts, dubbed the "McDonald's Experience of the Future." Increased focus on outreach began earlier this year, but intensified overseas shortly after resolution of the overseas food-safety scare, which aided in driving customers away from the brand.
Other aspects of the effort include the "Made for You" platform which offers customization to the brand's consumers, and last week's U.S. debut of the "Our Food, Your Questions" initiative, which is a way for customers to pose questions to the company about its products and receive an answer from McDonald's. Issues addressed have included the so-called "pink slime" issue surrounding the company's Chicken McNuggets offering, and what goes into making a McRib sandwich.
Thompson reiterated several times on the call the focus on customization is intended to be a clear revenue driver in future quarters.
Kalinowski said the customization factor poses an interesting question for McDonald's future. In Australia where the effort has been viewed positively, he said it's an obvious good sign for the company. But when you go back to basics, does it veer too far from their original business model?
"McDonald's as a brand in the U.S. generally enjoyed a lot of enormous success for several decades through the opposite of customization: Predictability and simplicity. It's an intriguing issue because McDonald's needs some change, but that doesn't mean change is easy, and that doing the right thing in the long run creates hiccups in the short run," he said.
In a similar way, Coca-Cola understands the impact of a more focused investment on customer outreach as well. On the company's earnings call Tuesday, CEO Muhtar Kent said there's no question execution in many markets needs to improve, especially the consumer marketing and consumer strategies segments. He outlined the most challenging part of that is increased competition from competitive pricing strategies.
"That said, we are not discouraged nor are we any less enthusiastic about the opportunity in front of us. In markets where we executed our strategies well, we saw solid progress," he said.
Kent pointed to North America where competitive pricing and more media investments like the company's "Share a Coke" campaign drove real results the company's sparkling portfolio revenue growth, which saw a 1% volume increase globally.
"As outlined earlier this year, we will continue to work to improve the quality of our marketing and scale our global investments (in sparkling) through a network marketing model to improve topline growth across trademark Coca-Cola and Sprite," Kent said.
He added more investment in still beverages and partnerships with companies like Keurig Green Mountain (NYSE:GMCR), Monster Beverage (NASDAQ:MNST), and other acquisition or merger opportunities will add to future top-line growth as well.
A New Generation, a New Direction?
When it comes to appealing to customers, there's no question traditional "old fast food" brands have to consider what the Millennial generation and younger individuals want from a fast-food experience. It's also clear, considering fast-casual giant Chipotle's 19.8% sales increase for the third-quarter, and the momentum they see in the dining experience they offer, they're a clear competitor to chains like McDonald's. And their "fresh" offerings pose a threat to other more traditional giants like Coca-Cola.
That's where the customization factor comes into play once again.
"Clearly customization seems to be something Millennials want more than perhaps Baby Boomers and Gen X does," Kalinowski said. "But that's only one aspect of it to me. When I think of Millennials, they do seem more interested in thing like ethics-related issues about food sourcing."
Thompson addressed that issue outlining the company's focus in the coming quarters on slimming down its menu offerings, engaging more heavily on social media outlets, and offering customers a diverse way to order through kiosks, and sourcing from local resources.
"They're asking to know what's in the food. They're asking for integrity of the food," Thompson said. "There is an appeal, and you'll see us in some categories looking to different products, possibly organics. We actually are doing it in certain markets. But I would say it's not the main driver, if you would. Were it the main driver, we wouldn't have clearly the number of customers that we have today visiting the McDonald's restaurants."
To that point, the bottom line is people enjoy companies like McDonald's and Coca-Cola because of the product offerings. They understand the quality and taste they're getting when they order, and there will always be a customer base to appeal to.
"McDonald's answer is not to get into fast casual. McDonald's answer is to be the best brand they can be. And that can be done in the context of traditional fast food," Kalinowski  said. "There's rightly or wrongly some stereotypes and stigma attached to the fast-food sector in America…But…a lot of fast casual restaurants do offer quality and service people want."
He added what could also help the company in its effort to grow its top line is a reduction in menu items to streamline into a more efficient offering. That's also a point the company's CEO said he and the company plan to look more closely at in the coming quarters.