Not Everyone on Wall Street Hates Bernie Sanders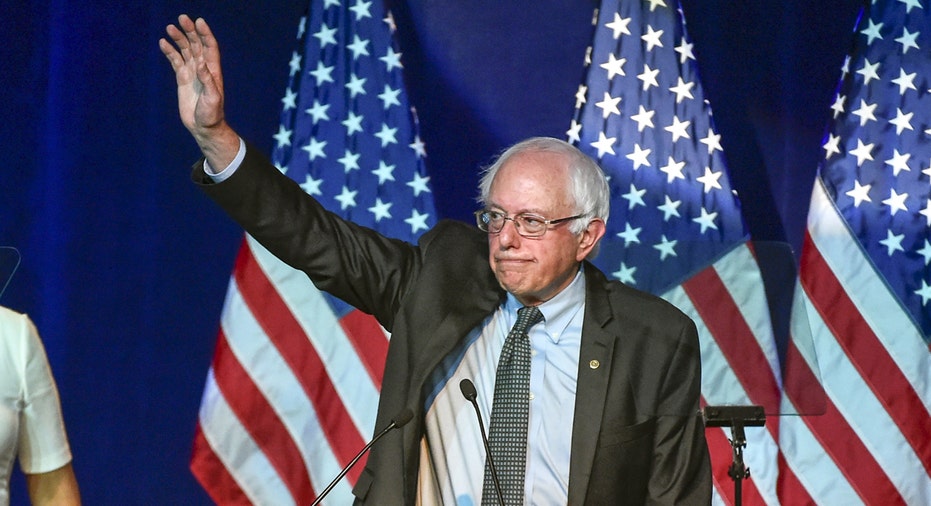 Not everyone on Wall Street hates Bernie Sanders.
The socialist presidential candidate, who wants to break up the big banks and place a tax on every Wall Street trade, has received campaign contributions from at least two financial industry executives, who have contributed $3,700 to Sanders, FOX Business Network has learned.
The money is still a fraction of the $25 million Sanders has raised through the first three quarters of the year, and far less than the Wall Street support going to his democratic challenger, Hillary Clinton. But, it is surprising that anyone in financial services would openly support a self-described socialist, who has called for  "revolution" against Corporate America through higher taxes and more regulation. Clients of big Wall Street firms would be among the hardest hit by Sanders' economic policies of tax increases he has proposed to pay for a vast expansion of government if he became president.
"Wall Street is no different than the rest of New York — lots of Democrats and even a few Bernie Sanders supporters," says Arthur Schwartz, co-founder of Axium Advisors, a strategic communications and crisis management firm that specializes in the financial services industry.
"But going on record in your capacity as a brokerage employee, and supporting a guy that is openly hostile to the financial services industry is probably not a great idea."
A spokesman for Sanders, a Vermont senator, declined to comment about his Wall Street support. One of the brokers, Joseph Curiel, a financial adviser for the Commerce Company in Vashon, Washington, contributed $2,700 to Sanders' presidential campaign in June, records show.
In a telephone interview, Curiel explained his support for Sanders this way: "My wife and I began supporting Sanders around 1996 because he's a progressive voice. We disagree with the way we tax people and how they use our money. The Republicans need to go back to their roots -- they are too focused on social issues. The Republicans won't win until they do that."
The other broker, William Donnelly, who works at a Merrill Lynch office in Seattle, contributed $1,000 to Sanders in April, filings show. When contacted by FOX Business about his support for Sanders, Donnelly chuckled and said he would seek permission from his supervisions to comment on the matter. A Merrill Lynch spokesman declined to comment.
Sanders grassroots campaign to unseat Democratic front-runner Hillary Clinton as the presidential 2016 nominee has been picking up steam of late. Polls show him gaining ground on Clinton, and through the first three quarters of the year, he has also narrowed the fundraising gap with Clinton by raising $26 million.
Most of the money Sanders has comes from small donors, indicative of his grassroots Liberal base of support. He has, however, received a smattering of corporate support besides the brokerage contributions, including contributions from executives at Google ($14,000), Microsoft ($5,080), Boeing ($3,450) and United Parcel ($3,202).
Clinton, the former first lady and secretary of state for the Obama Administration, meanwhile, continues to attract support from large law firms and big banks, these records show. Not surprisingly, her biggest supporter on Wall Street is Morgan Stanley, where her former aide from the State Department, Tom Nides, is vice chairman.
A Morgan Stanley spokeswoman had no immediate comment.