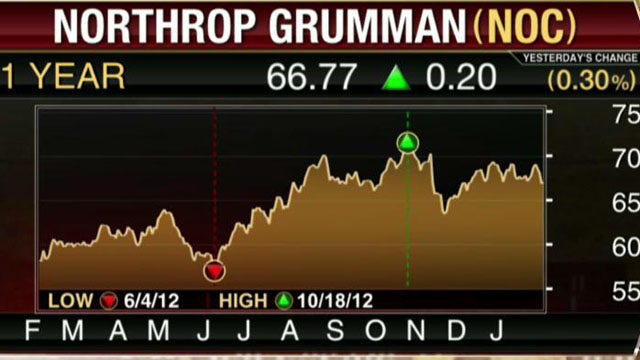 Hit by slipping sales and pension expenses, defense contractor Northrop Grumman (NYSE:NOC) disclosed a 2.7% contraction in fourth-quarter profits on Wednesday but still managed to easily top Wall Street's expectations.
Despite the big earnings beat, shares of Northrop ticked lower in premarket trading as shareholders mull the company's cautious tone about 2013 amid budgetary uncertainty in the U.S.
Northrop said it earned $533 million, or $2.14 a share, last quarter, compared with a profit of $548 million, or $2.09 a share, a year earlier.
Excluding one-time items such as pension-related costs, it earned $2.06 a share, up from $1.85 a year earlier and well above consensus calls from analysts for $1.74.
Revenue inched 0.5% lower to $6.48 billion, but that surpassed the Street's view of $6.33 billion. Operating margins expanded to 12.7% from 12.3%.
"Our focus on performance, effective cash deployment, and portfolio alignment continues to create value for our shareholders, customers and employees," CEO Wes Bush said in a statement. "As we look ahead, we expect challenges, but we are confident in our team's ability to address those challenges and continue to create value for all our stakeholders."
Defense contractors like Northrop and Lockheed Martin (NYSE:LMT) have been pressured by looming budget cuts in the U.S., which is grappling with mounting deficits.
For 2013, Northrop forecasted non-GAAP EPS of $6.85 to $7.15 on sales of $24 billion. By comparison, Wall Street analysts had been calling for EPS of $6.99 on stronger revenue of $24.36 billion.
Most of Northrop Grumman's sales contracted in the fourth quarter, highlighted by a 7% decline in technical services revenue to $738 million and a 5% slide in electronic systems revenue to $1.78 billion.
While information systems sales slipped 2% to $1.88 billion, aerospace systems generated a 7% jump in revenue to $2.6 billion.
Shares of Falls Church, Va.-based Northrop fell 1.15% to $66.00 ahead of Wednesday's opening bell, putting them on track to extend their 1.2% slump so far in 2013.