Nokia Wins Rare Victory as Apple Settles Legal Row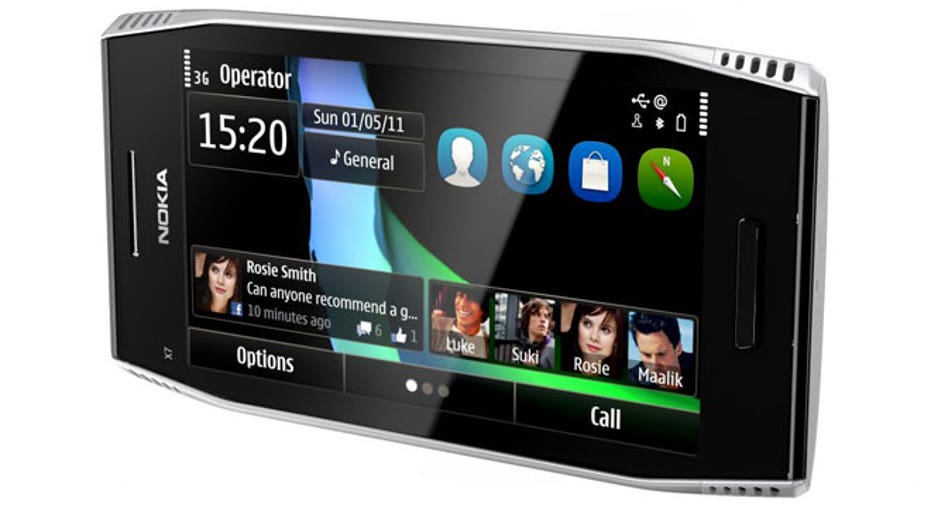 Nokia notched up a rare victory against arch-rival Apple as the iPhone maker agreed to settle a long-running row over patents.
Nokia said on Tuesday the deal would boost second-quarter earnings, having warned at the end of May that it would miss targets.
Shares in the struggling cellphone maker rose 3%. Analysts welcomed the news and said
it would help Nokia concentrate on core business at a time when it faces huge challenges.
"This is the first positive news from Nokia for a long time. They can both focus on their businesses now, and the dispute was settled to Nokia's advantage," said Mikael Rautanen, analyst at Inderes in Helsinki.
Analysts said Nokia could be estimated to get between 1 and 2% of iPhone revenues, which are seen at around $43 billion this year according to a Reuters poll.
The figures demonstrate that while Nokia may have won a legal victory, it still faces a daunting task to catch up with Apple in the high end of the smartphone market, where it has fallen behind both Apple's iPhone and Google Inc's (NASDAQ:GOOG) Android devices.
Earlier this week Nomura forecast Nokia would lose its position as the world's largest smartphone maker this quarter to Samsung Electronics and that Apple would surpass it next quarter.
Apple and Nokia have been locked in a legal tussle since October 2009, when Nokia sued Apple in the United States, arguing the iPhone-maker was getting a "free ride" on technologies patented by Nokia.
"The deal structure -- a one-time payment as well as running royalties -- suggests a fairly good outcome for Nokia," said Florian Mueller, independent specialist and blogger on patent battles.
"Maybe Nokia could have continued to play hardball and got an even better deal if it didn't face the challenges it undoubtedly has. But this looks like a fairly important victory," Mueller said.
An Apple spokesman confirmed the deal on Tuesday.
"We're glad to put this behind us and get back to focusing on our respective businesses," he said.
By 0914 GMT, Nokia shares were up 3.3% in Helsinki. Apple shares traded in Frankfurt were up 0.4% in low volumes.
APPLE PAYMENTS
Nokia said the deal -- which settles all litigation between the two and means both sides will withdraw complaints to the U.S. International Trade Commission -- would boost its second-quarter earnings, but said details were confidential.
"It is clear that Apple will be the payer here, and the sums will be significant," said Swedbank analyst Jari Honko.
Nokia warned on second quarter sales and profits at the end of May, abandoning hope of meeting key targets just weeks after setting them and raising questions over whether new CEO Stephen Elop can deliver on the turnaround he promised.
Following the warning analysts have slashed their estimates and expect the firm to report losses this quarter and next.
MORE BATTLES AHEAD
Legal battles have become increasingly common in the cellphone industry since Apple and Google carved out a large chunk of the lucrative and quickly expanding smartphone market at the expense of older players.
Nokia, which has said it will be more aggressive in licensing its patents, flagged further legal battles were ahead.
"This settlement .... enables us to focus on further licensing opportunities in the mobile communications market," CEO Elop said in a statement.
Analysts said makers of Google Android phones were the next likely target.
"Emerging victorious from such a war, Nokia is in a strong position to collect royalties from other industry players, particularly from makers of Android-based devices," Mueller said.
However, analysts warned the company still had a long way to go towards any recovery.
"This (the Apple deal) could cause the stock to have a bit of a relief rally today, but does very little to address the stark reality that the company is facing," said Richard Windsor, analyst at Nomura.
"Hence we see no reason to remain anything other than negative on the stock."
Technical analysts said Nokia shares had been in oversold territory since late May and momentum indicators had been signalling that it was ripe for at least a short-term, technical rebound.
The shares are still down about 25% since May 30, representing a 5.5 billion-euro wipeout in market capitalisation for one of Europe's biggest technology companies.