No Tricks: Higher Expected Halloween Spend a Treat for Economy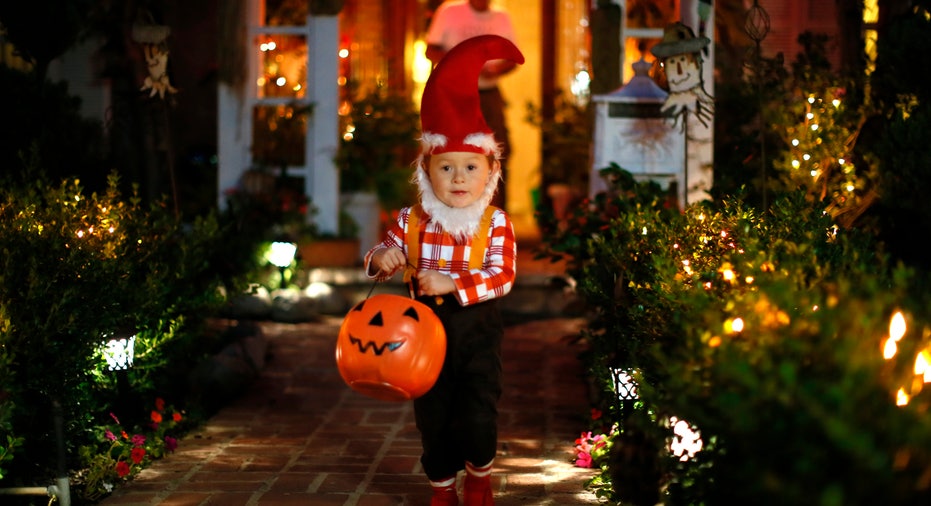 No bones about it, Halloween is shaping up to be a real treat for the U.S. economy this year thanks to lower candy prices and an expected bump in holiday sales.
Consumers planning to dole out sweet treats to dressed up trick-or-treaters are predicted to spend 5.5% more on Halloween candy compared to last year, bringing the anticipated total spend to $3.8 billion – or $30.60 per household. If realized, it would be the most robust growth rate since 2011, according to data from IHS Global Insight. The firm calculates Halloween candy spending as estimated seasonally-adjusted October personal consumption expenditures on candy and chewing gum.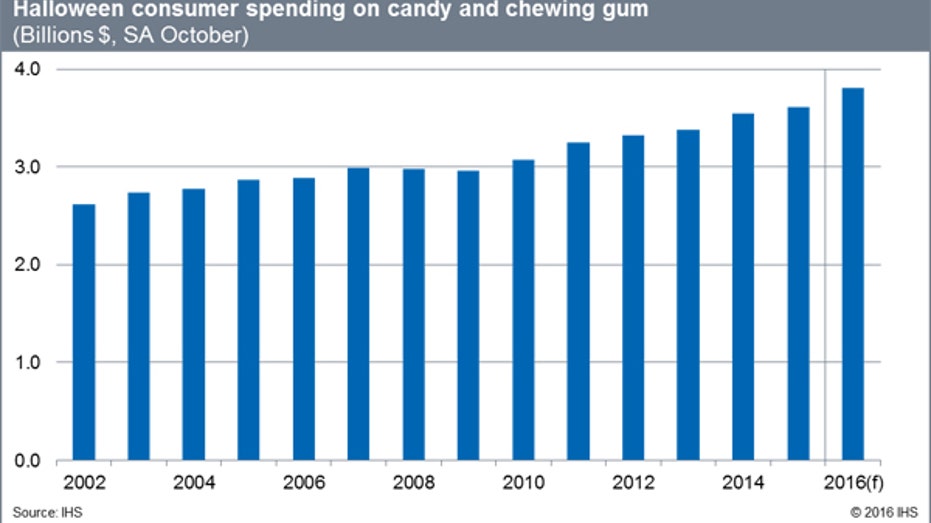 The reason for the added spooky spending is simple: Consumers continue to feel confident about the overall economic outlook, and are willing to stretch their pocketbooks a little wider. Consumers have been doing much of the heavy lifting for the economy so far this year, and Halloween spending isn't expected to be any different, said Chris Christopher, IHS director of consumer economics.
"Overall, real consumer spending has been relatively strong since last Halloween due to modest consumer price inflation, low gasoline prices, better employment opportunities and improved household finances," he explained.
Since last Halloween, IHS data show gas prices have crept up about three cents per gallon and are nearly 80 cents below where prices were two years ago. That extra cash has helped thrill-seeking Halloween shoppers pay down debt, continue to save and dine out more often. Also helping to lure customers to stock up on candy is a drop in price for the first time in three years. Shoppers will see a bit of sticker relief as candy prices have slipped 0.4% since last year thanks in part to changes in sugar trade policies and demand for non-GMO sugar. IHS said sugar-beet sourced sugar, which is mostly GMO, has been running at a discounted price to sugar-cane based sugar.
For specialty retailers like Party City (NYSE:PRTY), which counts Halloween as its biggest holiday, the expected spike in overall spending is welcome news.
"Halloween accounts for 25% of our retail sales, and 20% of our entire company sales," Party City President Gregg Melnick said. "We start preparing at the beginning of August when we change one-third of the store from summer and graduation to Halloween."
The company also triples the number of its employees as it brings on 35,000 temporary workers this time of year to help with sales at its more than 900 permanent North American stores and 275 Halloween pop-up shops. Party City, Melnick said, aims to keep inventory stocked right up until Halloween night – that's a component of what he said is the company's competitive advantage against online retail giants like Amazon (NASDAQ:AMZN).
"It's very easy for a customer to buy a costume in a bag online, that's where Amazon has its strength. But that business is only a portion of what we do for Halloween. A growing part of our segment is mix and match, an accessories shop where you can put four or five pieces together to be Spidergirl or Batman," he explained.
The idea is for customers to be able to design new versions of their favorite costumes, or dream up a new one altogether. The downside of this year's Halloween, though, is the day on which it falls: Monday.
"When you move from Saturday Halloween to a Monday, you definitely still have the kid business. Because they want to dress up at school and go trick or treating – they want all that candy. But when we move to a weekday, there's a propensity for adults to shop less and celebrate less," Melnick said.
Still, he said they've seen costumes already flying off the shelves. The most popular among them are the villains and anti-super heroes rather than the traditional batman and princess outfits. Specifically, he pointed to Disney's (NYSE:DIS) Descendants costumes like Mal and Evie, Deadpool characters, and even emoji costumes and accessories to make people look like popular Snapchat filters – think: glowing skin and flower headbands. Traditional fallbacks are also a favorite among this year's consumers – and presidential candidates are no exception.
Unlike a dressed-up Cinderella at the ball, the fun doesn't have to stop at midnight. For shoppers still hunting for deeper discounts, the best strategy, IHS's Christopher said, is to wait until the day after Halloween when haunted houses are packed up and jack-o-lantern lights have been extinguished.
"The cyber stores and traditional retailers start heavy price discounts in early November," he said. "Expect retailers to come out swinging on the price discounts and that'll get people in the mall, especially once the election is over."
Christopher said the expected increase in Halloween spend could be a good sign for the all-important holiday-shopping season lurking just around the corner. IHS expects holiday retail sales to jump 3.7% this year.