NJ Transit spent $1M on Penn Station project ad campaign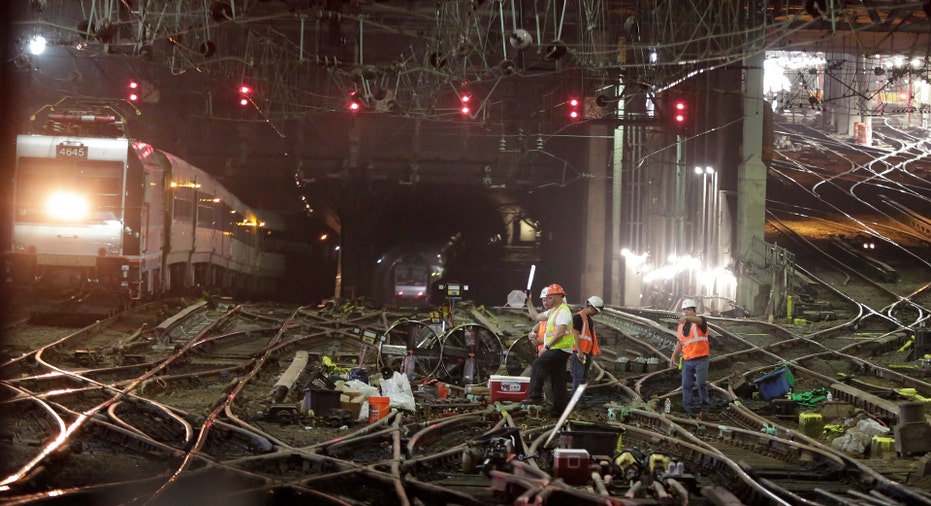 TRENTON, N.J. (AP) — New Jersey Transit spent more than $1 million on a digital advertising campaign this summer to inform riders about changes caused by a massive two-month repair project at Penn Station that limited service on its second-busiest rail line.
The campaign to promote a special website on service disruptions while making sure riders knew Amtrak is responsible for the project at the nation's busiest rail terminal cost about $300,000 more than New Jersey Transit says it typically spends in a full year on marketing.
"Given the magnitude of the summer rail service disruption, combined with its enduring impact to our customers, a unique and multi-faceted communications plan was crucial," said NJ Transit spokeswoman Nancy Snyder. "To that end, NJ Transit enlisted outside assistance in formulating a comprehensive communications campaign that was efficient, effective and timely to keep our customers informed every step of the way and optimize their travel experience."
Some of the $1,009,775 was spent to target ads to those directly affected by the work, according to invoices that NJ Transit provided to The Associated Press after a records request. Snyder said the campaign drew 600,000 people to the website. NJ Transit is the nation's third-largest provider of bus, rail and light rail service, with a current operating budget of $2.2 billion.
A transit advocacy group said the campaign kept riders informed.
"I don't think I heard many reports of riders not knowing what was going on," said David Peter Alan, chairman of the Lackawanna Coalition, a group that advocates for better service on the Morristown & Essex lines.
Democratic state Sen. Loretta Weinberg agreed that was valuable but questioned the need to spend any of the money to cast blame on Amtrak.
A section of the special website reads, "The reality is that Amtrak has been neglecting this work for years, but it must happen now to prevent even more delays and to create a safer commuting environment."
Weinberg said, "A dollar spent on advertising to prove whose fault this was or to embellish themselves is a dollar misspent away from the problems that the everyday commuters face."
A spokeswoman for Amtrak declined to comment.
Amtrak, which owns Penn Station, drew the ire of Republican New Jersey Gov. Chris Christie this spring after two derailments and a series of other problems that caused travel headaches throughout the Northeast Corridor.
Amtrak's replacement of aging tracks and other equipment, much of which dates to the 1970s, was originally to be done over two or three years but was condensed into a summer project scheduled to wrap up the end of August.
NJ Transit responded by having trains on the Morris & Essex line serving the northern part of the state end in Hoboken, where riders had to catch another commuter line or ferries to get into New York.
The ad campaign, managed by MV Digital Group, included about $200,000 spent on search engines, $153,451 on Facebook and $82,991 on Twitter. Consulting firm Kivvit received about $66,000. MV Digital Group is the digital ad company owned by Advance Media, which publishes NJ.com, the Star-Ledger and other newspapers in the state.
Riders told the agency before work began that communications on disruptions was a priority, and a large majority said in a follow-up survey they had received the right amount of information, with some saying there could have been more, Snyder said.
Though many commuters have experienced longer trips and some delays, the "summer of hell" predicted by Democratic New York Gov. Andrew Cuomo and others largely has failed to materialize. The timing of the work to coincide with summer vacations played a role, and rail officials have praised commuters for being flexible and keeping apprised of service changes through social media and official outreach efforts.
Most NJ Transit riders said in a survey they did not change how they traveled this summer.