NJ sports gambling case: Supreme Court leans toward allowing bets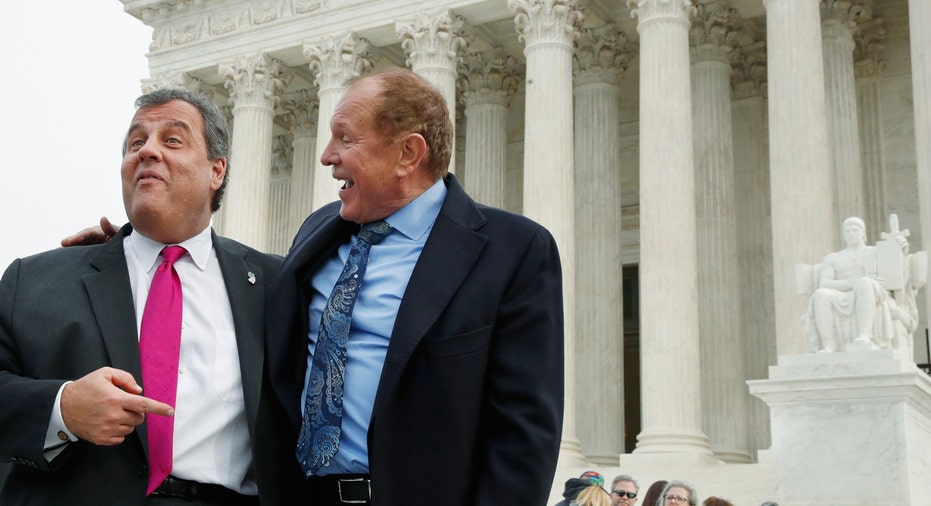 U.S. Supreme Court justices on Monday signaled a willingness to let New Jersey legalize sports betting in a case that could pave the way for other states similarly interested in allowing such gambling as a way to fill their coffers to do the same thing.
The nine justices heard an hour-long argument in an appeal brought by outgoing New Jersey Governor Chris Christie that aims to revive a 2014 state statute legalizing sports betting. New Jersey's measure, challenged by the biggest U.S. sports leagues, was struck down by lower courts as a violation of a federal law that prohibits sports gambling in most states.
Christie, wearing a dark suit and a bright magenta tie, had a front row seat to the proceedings in the ornate courtroom.
Chief Justice John Roberts and fellow conservative Justice Anthony Kennedy expressed skepticism about the restrictions that the federal law places on states. Liberal Justice Stephen Breyer also asked questions that indicated he could side with New Jersey. Some of the court's liberals appeared less sympathetic to the state's arguments.
New Jersey argues that a 1992 federal law called the Professional and Amateur Sports Protection Act infringes upon state sovereignty as laid out in the U.S. Constitution by compelling them not to license or regulate sports betting.
The conservative justices, who hold a majority on the court, often are sympathetic to arguments in favor of the assertion of the individual sovereignty of states at the expense of the federal government, a principle called federalism.
"This blurs political accountability. It's precisely what federalism is designed to prevent," Kennedy said of the 1992 law that prohibits sports gambling in all states except for Nevada and, to a much more limited extent, Delaware, Montana and Oregon.
Kennedy's forceful remarks suggested he believes that law is written in a way that unlawfully commandeers the states into carrying out federal policy.
Under the same theory, Roberts wondered whether the federal government could place limits on the amount of income tax that states collect. Roberts said there was "something a little odd about" the federal law that goes against "the powers and prerogatives of the states."
'LANGUAGE OF PREEMPTION'
Liberal Justice Elena Kagan indicated that she viewed the federal law as similar to measures passed routinely at the national level that regulate all kinds of commerce and prevent -- or preempt, in legal terminology -- states from legislating on those issues.
"This sounds to me like the language of preemption," Kagan said. Fellow liberal Sonia Sotomayor made similar remarks.
Industry analysts predicted that upwards of 20 states would legalize sports betting if the federal law is voided by the high court. They estimated that the current illegal sports betting market is worth hundreds of billions of dollars annually.
New Jersey's sports gambling law was challenged in court by the National Football League, Major League Baseball, the National Basketball Association, the National Hockey League and the National Collegiate Athletic Association.
They have raised concerns over the years that expansion of sports betting could undermine the integrity of sports, although they differ in their views toward eventual legalization. Both the NHL and NFL have allowed teams to be located in the gambling city of Las Vegas.
Courts have voided two New Jersey laws, also including one in 2012, designed to raise revenue for state coffers through sports betting. The law now at issue would ban wagers on state college teams and limit bets to people age 21 and older at casinos and racetracks.
A ruling is due by the end of June.
A ruling undercutting or overturning the 1992 law could set a new legal precedent threatening other attempts by the federal government to force states and cities to follow its lead on policy issues. That could have an effect on contentious matters such as the Trump administration's bid to crack down on so-called sanctuary cities that limit cooperation with the federal government on efforts to detain and deport immigrants who entered the country illegally.
Christie, a Republican, served as an advisor to President Donald Trump during the 2016 presidential race but was ousted as the head of Trump's transition team after the election. The Trump administration is on the opposite side of the case, opposing the New Jersey law championed by Christie.
(Reporting by Lawrence Hurley; Editing by Will Dunham)