Nine Ways to Have Thrifty Theme Park Thrills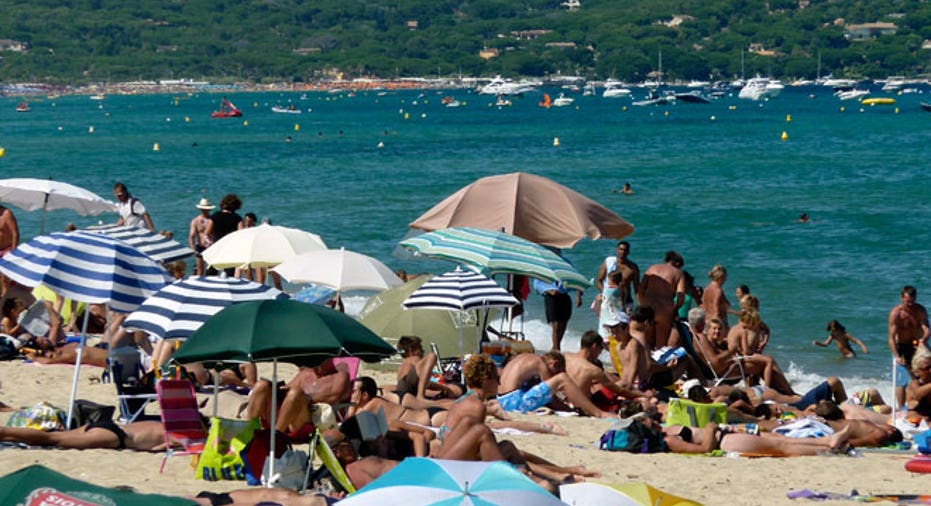 Every year, the kids clamor to head to a theme park, water park or Disney property, and if all that noise doesn't give you a headache, the prices just might.
After paying entry fees, it can feel like you're being blindsided by little extras that can add up to an extra $100 per day or more.
Forgot sunglasses? That will cost you! Along with food, drinks, snacks, souvenirs, emergency apparel and other items. Bankrate has outlined nine ways to save on your theme park escape, whether you're headed down on a water slide or up on a roller coaster.
Start your homework early. Check the attraction's website in advance to scout out information on seasonal coupons, half-off entry fees (often at the end of the day) and annual passes.
Do a little digging for discounts on heftily priced theme park tickets, and don't forget to check in unusual places for deals. Your workplace, bank, credit union, airline (if you're flying to the destination), grocery store chains or discount club may reveal surprising deals.
For example, Costco offers discount passes to LegoLand, and Lego magazine often includes coupons, according to Debbie Dubrow, the well-traveled family blogger at DeliciousBaby.com.
Subscribe to online newsletters. Julia Rudden, a Seattle-based mother of two girls and frequent theme park visitor, subscribes to official and unofficial newsletters about the destination she's visiting. For example, before heading to Disneyland, she subscribed to the MouseSavers newsletter, which gave her tips on advance tickets, shows going on in the park, ride closures, current deals inside the park's restaurants and special rates. Be warned: Not all destinations are covered.
"Ideally, subscribe two months before you go to allow time to prepare yourself, but last-minute works, too," she says.
Arrive early. Make the most of your money by arriving when the theme park gates open. "Go early in the day to take advantage of smaller crowds and the ability to see and do more," says Nancy Bobby, Disney travel agent at Destinations in Florida Travel. "You want to be able to get the most value out of time spent on site."
"With shorter morning lines, you'll be able to go on more rides. Late evening can also offer the same experience, if you don't mind waiting," Bobby says. Also, some parks offer discounted hours in the evenings.
Drink up. Dubrow suggests bringing an empty water bottle to fill from drinking fountains around the park throughout the day. Dubrow also offers a clever additional tip that turns a blah drink into something special. Pack powdered drink mixes, which you can add to water for a flavor boost.
"At $3 to $6 each, drink costs can really add up, so this saves a bundle over the course of a day," Dubrow says.
Pack your own snacks. "Disney does allow you to bring food items, and you are permitted a backpack or small, soft-side cooler," Bobby says. "If you don't want to carry it around all day, the parks all have lockers where you can store it till ready!"
Put together protein-rich trail mix, your favorite sliced-and-diced fruits and other great grub. Each theme park has different rules. Some water parks and theme parks do not allow any outside food or beverages or have restrictions about glass containers or the size of coolers. Check the park's Web page or call before you go.
Skip the kids' meals. If you want to eat at least one meal in an on-site restaurant, you may be able to order one big burger and fries and split it with your child or park companion. Look at other diners' portions before ordering full plates for everyone, Bobby says.
"Most food portions are quite large. If you have kids, you can definitely save money by splitting meals," she says. However, watch for split-plate charges in restaurants, which will show up in the fine print on the menu. Or, ask your server to be sure.
Save on souvenirs. "Look for inexpensive souvenir items that everyone will find fun, but won't break the bank," Bobby says. "Pressed pennies are great for this and pins can be as well as long as you set a budget and stick to it."
Or, "tell each child that they will be able to select one thing and have them plan in advance what it will be," Dubrow says. "That way, you won't be dragged through every store or be sucked into buying one toy after another."
Go frugal on Disney bling. Disney properties are well-known for their stores of kid and parent friendly bounty. If you want to participate in Disney's pin-trading tradition on the cheap, pick up inexpensive trading pins on eBay before your trip, Bobby says. "Then, bring them with you and trade with cast members," rather than purchasing them on site, she says.
Dubrow says you can also pre-purchase those princess- or mouse-themed gifts at a local store. "Either give the gifts as you enter the park or promise that a gift will be on their pillow when they return to the room," Bobby says.
Prep to avoid urgent purchases. "Make sure you are well-stocked with essentials before leaving home," Bobby says. "Things like ponchos, first-aid items and sunscreen are a lot cheaper where you live."
At water parks, don't let the purchase of expensive goggles and nose plugs drown your wallet, and don't allow theme parks to charge you an astronomical cost for sunglasses and other "oops I forgot" items.