Nike's Self-Lacing 'HyperAdapt' Sneaker: More Than A Gimmick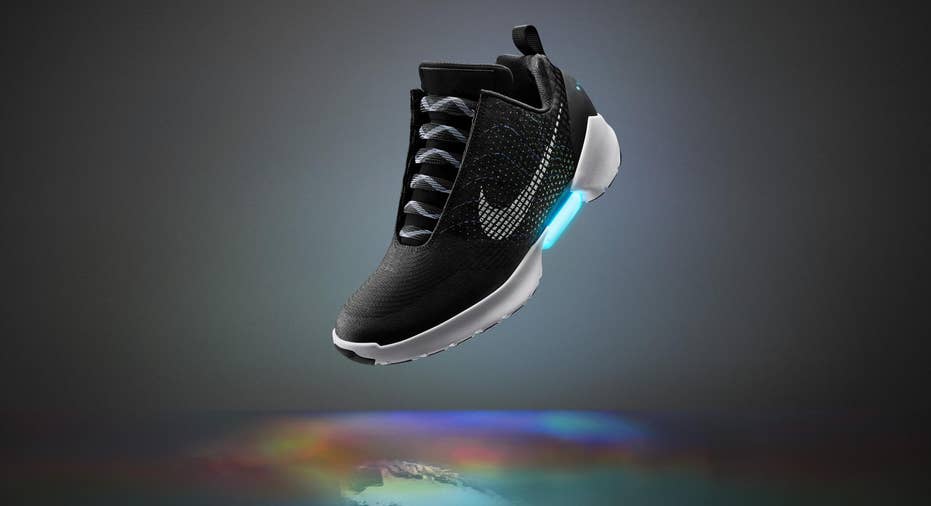 The release of Nike's (NYSE:NKE) self-lacing "HyperAdapt" sneaker on Thursday is more than a gimmicky nod to Marty McFly's footwear of choice in "Back To The Future" – it's a crucial part of the venerable apparel brand's effort to distinguish itself from burgeoning competition.
The HyperAdapt 1.0, which features an adaptive sensor that automatically adjusts the sneaker's nylon "laces" to fit the wearer's feet, will be available in "limited quantities" with a price tag of $720. Purchasing the sneakers will be no easy feat, as they will initially only be available at select Nike stores in New York City and customers must make an appointment through the NIKE+ app or the company's website.
Given its limited release and prohibitive cost, HyperAdapt's value to Nike's overall brand is more about marketing than sales figures. As Under Armour (NYSE:UA) and Adidas pursue increasing shares of the United States sports apparel marketplace, Nike is leaning on its penchant for innovation to lure consumers away from its competitors.
"Innovation at Nike is not about dreaming of tomorrow. It's about accelerating toward it," famed shoe designer Tinker Hatfield said in a press release last March. "We're able to anticipate the needs of athletes because we know them better than anybody. Sometimes, we deliver a reality before others have even begun to imagine it."
HyperAdapt's entrance comes at a critical time in the sports apparel marketplace. After reaching a record high in 2015, Nike's stock price has plunged significantly in 2016 amid the collapse of retail partner Sports Authority and shifting consumer tastes. Several Wall Street firms have expressed concern about Nike's ability to hit its target of $50 billion in revenue by 2020, given Adidas' recent success in North America and Under Armour's rapid growth.
Analysts from several firms have repeatedly identified innovation as a key area in which Nike can separate from the pack – especially if customers are willing to pay a premium for select products.
"With increasingly innovative product not only enhancing Nike's credibility with athletes (leading to enhanced crossover appeal) but helping to support average sales prices, we view launches such as these as beneficial not just to Nike, but to the industry overall," Brean Capital equity analyst Eric Tracy wrote in a research note last March, shortly after "HyperAdapt" was formally announced.
Aside from the self-lacing technology, HyperAdapt features buttons that allow users to tighten or loosen the sneaker to suit their preferences. Initially available only in New York City, Nike will expand sales of its self-lacing sneakers on December 20 to stores in Chicago, Los Angeles and San Francisco. A second colorway is also slated for a late December release.
Early returns on HyperAdapt and other upcoming innovations will be a key litmus test for Nike's short-term outlook.
"[Nike management] reiterated their pipeline to be robust," Piper Jaffray analyst Erinn Murphy wrote earlier this month, after meeting with Nike's investor relations team. "We await consumers' response on some of these innovations, given our view that Adidas, Puma and Under Armour are accelerating in North America."