Nike 4Q Net Income Tops Views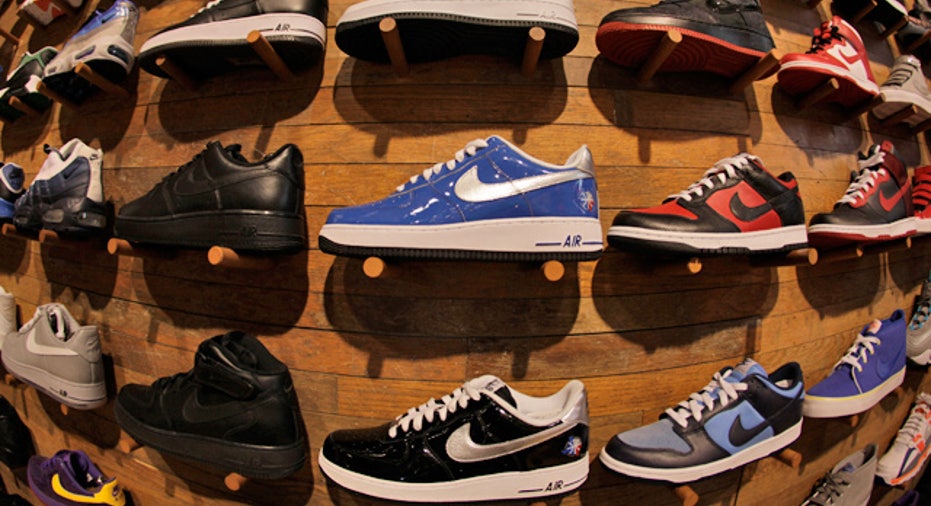 Famed footwear vendor Nike Inc. (NYSE:NKE) delivered a strong fourth-quarter earnings beat, posting results that handily topped expectations, as North America revenues rose 22% in the quarter.
All three divisions of the company saw revenue growth. Footwear sales rose 19% to $3.26 billion, as apparel revenue increased 8% to $1.4 billion and equipment revenue improved 5% to $271 million.
The sports apparel behemoth, which came in shy of expectations last quarter, relieved investors who worried the retailer might have another difficult quarter. Net income rose 14% to $594 million, or $1.24 a share, up from year-ago earnings of $522 million, or $1.06 a share.
Sales rose to $5.77 billion, up from last years fourth-quarter revenue of $5.08 billion. Gross margin narrowed to 44.3%, down from 47.4% in the year-ago period, as product costs increased.
The results beat consensus, as analysts had predicted earnings of $1.16 a share on revenue of $5.53 billion.
In a positive indicator for sales, worldwide futures orders rose 15%, or 12% excluding currency changes, to $10.3 billion, the company said. Inventories totaled $2.7 billion at the end of the quarter, up 33%.
"Our business is organized to drive growth across multiple brands, geographies and categories, as we manage through the ever-changing macroeconomic landscape." said Mark Parker, Nike President and CEO, in a statement. "We continue to deliver compelling innovation to athletes and consumers, and strong returns for our shareholders. The global appetite for sports has never been stronger."
The company also disclosed that it bought back 7.5 million shares for a total of $607 million during the fourth quarter, as part of its four-year, $5 billion share buy-back program.
Shares of Nike rose 44 cents, or 0.5%, in Mondays session, closing the day at $81.62 a share. The stock was up another $2.78, or 3.4%, in after-hours trading.