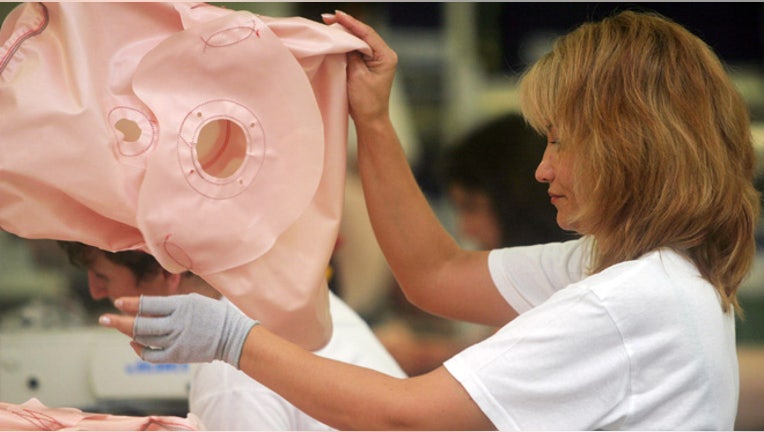 Federal safety regulators are calling for automakers to expand recalls covering defective airbags made by Japanese supplier Takata.
The airbags, which can explode and spray metal shrapnel upon inflating, were used by several of the world's top manufacturers of cars and trucks. Since 2008, about 16 million vehicles with Takata airbags have been called back for repairs.
The National Highway Traffic Safety Administration recently raised the alarm for 7.8 million vehicles whose airbags are at high risk of malfunctioning, according to the agency. Those vehicles are primarily located in areas with humid climates, such as the Gulf Coast.
Now regulators want five automakers, Ford Motor Co. (NYSE:F), Honda (NYSE:HMC), Fiat Chrysler Automobiles (NYSE:FCAU), Mazda and BMW, to recall all vehicles in the U.S. with faulty driver-side airbag inflators from Takata.
Most car companies have limited recalls to high-humidity areas, since moisture can cause the airbag's propellant to burn too fast. BMW's recall is already nationwide.
However, an accident in North Carolina, which is not included in the regional recalls, spurred NHTSA to demand a broader effort to replace Takata airbags. The owner of a 2007 Ford Mustang was injured in August by metal fragment from the car's airbag.
Takata spokesman Alby Berman said the supplier is prepared to assist in an expansion of the recalls "should the scientific analysis and evaluation as conducted by Takata and NHTSA indicate a risk to safety beyond the current scope of the field actions."
"Takata is concerned that a national recall under these circumstances could potentially divert replacement air bags from where they're needed, putting lives at risk," Berman added.
A Honda spokesperson said the company will continue to cooperate with NHTSA and, "as warranted by the developing investigation," expand the recalls affecting Honda vehicles.
Mazda also said it will work closely with regulators. Chrysler Group is examining the request and "will remain transparent with NHTSA about this issue," the automaker said in a statement. Ford said it's quickly evaluating the request and "will take the appropriate action as expeditiously as we can."
NHTSA said it didn't include passenger-side airbags in its request because they use different inflators. So far, no incidents involving passenger-side airbags have been reported outside of humid areas, according to NHTSA.
The agency has asked the auto industry to conduct more tests to ensure that regional recalls include all defective passenger-side airbags.
The request for nationwide recalls was made just ahead of a Senate hearing related to the defective airbags. Officials from Takata and NHTSA, as well as Honda and Fiat Chrysler, are scheduled to testify on Thursday.
Honda accounts for about 5.1 million of the 7.8 million vehicles included in NHTSA's recent bulletin. Ford, Fiat Chrysler, BMW, Mazda, Toyota (NYSE:TM), General Motors (NYSE:GM), Nissan, Mitsubishi and Subaru were included in the bulletin as well.
The five deaths so far linked to Takata airbags each occurred in Honda vehicles. Manufacturers are also aware of nearly 50 injuries.
According to a New York Times report, Takata engineers conducted secretive tests on airbags taken from scrapyards in 2004. The tests revealed defects in some of the airbags, but employees were reportedly told to discard all materials.
The company said tests took place in 2004 but were unrelated to the defective inflators. Engineers in the U.S. weren't aware of the first known accident tied to the troubled part until the middle of 2005, Takata argued.
However, Honda has said it shared information about the 2004 incident with Takata and safety regulators in the second quarter of that year.
Takata, which received a subpoena from a federal grand jury, acknowledged it changed the chemical mix of its airbag propellant in an updated design, NHTSA said.