NHL Bets On Las Vegas: Which Sports League Is Next?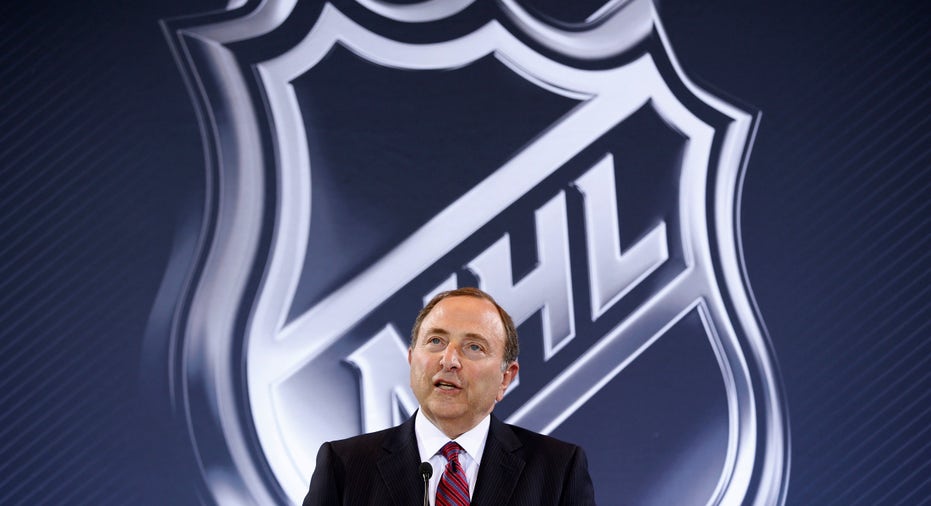 The NHL's decision Wednesday to add an expansion franchise in Las Vegas could pave the way for other major pro sports leagues, especially the NFL, to plant their flags in Sin City. After decades of resistance to even the slightest link between sports and gambling, the NHL's move is the strongest indication yet that leagues are softening their stance toward the United States' gambling capital.
Traditionally, sports leagues have feared that placing a franchise in Las Vegas, so near to the nation's hotbed of gambling culture, would put the "integrity of the game" at risk via match-fixing or point-shaving scandals. Estimates vary, but the American Gaming Association, a casino industry lobbying group, says Americans have spent at least $150 billion over the last year on illegal wagers.
But top officials have begun to reconsider the concept in recent years amid an explosion in sports gambling volumes. NBA Commissioner Adam Silver has come out in support of legalized, regulated sports betting, while MLB Commissioner Robert Manfred recently said the league wouldn't rule out a Las Vegas franchise. In the NFL, Oakland Raiders owner Mark Davis has already begun lobbying the league's other owners to allow him to relocate to a new $1.3 billion facility on the Vegas strip.
The NHL's experiment is a litmus test for whether a sports franchise can thrive in Las Vegas despite a less-than-ideal television market, unique business challenges and the city's various temptations.
"I think it makes it easier if there are old guard NFL owners who still have a fear of gambling – that primal, original sin of sports that fixed games are a concern," said Robert Boland, a former NFL agent and sports administration professor at Ohio University. "If the NHL is able to go and operate successfully there, that might reassure a few of them."
Starting with the 2017-18 season, the NHL will add a 31st franchise that will play its home games at T-Mobile Arena, a brand new, 17,000-seat facility on the Las Vegas Strip. Real estate magnate Bill Foley and his partners paid a record expansion fee of $500 million for the right to join the league, NHL Commissioner Gary Bettman confirmed at a press conference Wednesday. Bettman said the integrity of professional hockey is "less susceptible" to corruption through gambling because it draws a smaller volume of bets than other sports.
"I'm more focused on the atmosphere in the arena, and that's something we're comfortable with going forward," Bettman said at a press conference. "While we know gambling is part of the industry in Las Vegas, we're not going to make it all that easy for you to pick up a ticket, a gambling ticket, on your way into the arena."
Of the remaining three professional sports leagues, the NFL is the league most likely to place a franchise in Las Vegas in the short term. Of the league's 32 teams, 28 have partnerships with daily fantasy sports operators like FanDuel or DraftKings – whose contests are considered a form of gambling in several states. Twenty-six of the NFL's franchises play their home games within an hour of a casino, the American Gaming Association notes.
The Raiders' stadium project is garnering support from uber-rich casino magnates Sheldon Adelson and Steve Wynn, as well as Las Vegas Mayor Carolyn Goodman. A rough financing plan is already in place – Davis would commit $500 million, to go along with $200 million from the NFL, $150 million from other investors and $750 million to be funded through increased tourism taxes.
The NFL is also a "much clearer option" from a business perspective, according to Boland, whose private firm Boland Sports Practice is currently examining the situation. Unlike the NHL or the NBA, whose longer schedules include at least 40 home games per season, an NFL franchise would only have to sell eight regular-season games and two preseason games.
"A Las Vegas move would take one of the lower-performing teams, the lower-valued teams, and turn them suddenly into a much more highly-valued team," Boland said.
Rather than relying on season-ticket holders to fill out a stadium on a nightly basis, as the NHL did, a Vegas-based football franchise could market its weekly contests toward fans of opposing cities. Tourists who already planned to experience the Vegas nightlife could stay for their favorite team's game on Sunday, transforming what is typically a low-traffic night for Vegas hotels and casinos.
While NFL franchises typically rely on corporate sponsors to secure lucrative naming rights deals and suiteholders, a Las Vegas franchise also has the ability to tap into casinos and hotels as a source of marketing revenue – provided that the league is willing to ignore past taboos.
"What football potentially has the ability to change by [playing on Sundays] is they essentially add a stay in a lighter night for a hotel," Boland said. "So the natural idea of wanting to support a football stadium and a team, from a corporate standpoint, if I'm a hotel chain or a casino chain, becomes larger."
Las Vegas' gambling culture isn't the only obstacle for pro sports leagues. While the city's population is growing, its television market currently ranks 40th in the United States. That's a hard sell for organizations constantly in search of ways to expand and monetize their audiences.
Any franchise that moves to Vegas will also have to contend with the unique makeup of the city's residents, many of whom hail from outside of Nevada and root for the teams in their home states. Critics worry that the segmented audience, combined with the odd work hours of local employees and Las Vegas' fairly low median household income, will make it difficult to build out a fan base.
"It will be a challenge to design a stadium that meets the revenue needs of that market, which really will be different than a traditional market," Boland said.