NFL's Jameis Winston: 'No fear' of suspension after Uber assault allegation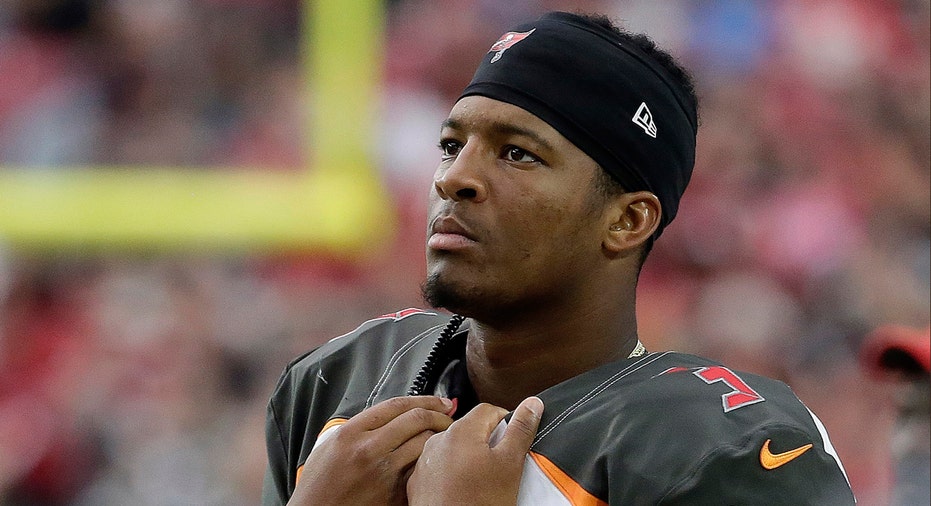 Tampa Bay Buccaneers quarterback Jameis Winston said Thursday he is confident he will be proven innocent of an allegation that he groped a female Uber driver in March 2016, in his first public comments since the accusation surfaced earlier this month.
"I have no fear at all. But I have to respect their process," Winston said, according to ESPN. "I'm just going to respect the process, most importantly. That's all I can do."
The Uber driver, identified as "Kate" in a BuzzFeed News report, alleges Winston grabbed her crotch while they waited in a fast-food drive-thru line during a March 2016 ride in Scottsdale, Arizona. While no police report was filed on the incident, the driver filed a complaint with Uber, which has permanently banned Winston.
The NFL is currently investigating the allegation against Winston, who has denied any wrongdoing. The Buccaneers quarterback says the driver's claim that he was the only passenger in the car at the time is inaccurate.
"The accusation is false, and given the nature of the allegation and increased awareness and consideration of these types of matters, I am addressing this false report immediately," Winston said in a statement posted to his Twitter account at the time. "At the time of the alleged incident, I denied the allegations to Uber, yet they still decided to suspend my account."
Winston was previously accused of sexually assaulting a fellow Florida State University student in 2012, though police in Tallahassee, Florida opted not to pursue criminal charges against him. Winston later reached a settlement with his accuser in a subsequent civil suit.
A third-year NFL player, Winston is expected to start at quarterback for Tampa Bay on Sunday.